Shocking video has emerged of a daycare worker slamming an 18-month-old face down on the ground while trying to get him to go to sleep.
Jazmine Torres, 22, was filmed on surveillance cameras at The Children's Courtyard in Plano, Texas, lifting the toddler up by his arms and planting him on his nap mat on Friday.
The boy's mother Caitlin Gilmore was watching on a live feed during her lunch break at Wells Fargo when she saw the daycare worker roughly laying him down. What she initially saw was not recorded.
When she left to collect her son, friends in her office continued watching and started filming the live stream on their iPhones.
It was then that Torres was recorded slamming him down again. She now faces a child endangerment charge from Plano Police Department.
The footage shows her carrying one child under one arm while Gilmore's 18-month-old, who has not been named, stood nearby.
She first pushed him to the ground to make room on the mats for the other toddler she was carrying.
After laying the first child down, she was then seen lifting the boy up abruptly by the arms and swinging his feet back to plant him face down.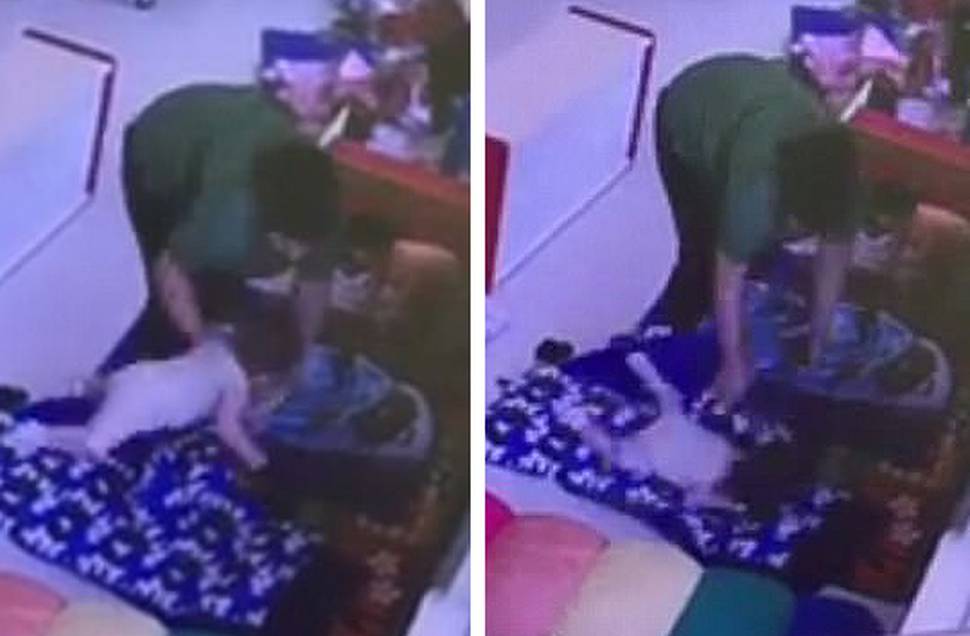 Gilmore's friends shared the video on Facebook to alert other parents. It has been viewed more than 800,000 times since it was uploaded.
The child's mother took him to hospital afterwards where doctors checked him over. He was not hurt.
"It was horrifying for her to watch. They took him to the ER immediately after the incident and he checked out to be okay. Doctor said you'd be surprised how resilient kids are," Amber McHenry, who posted the footage online, told DailyMail.com.
Police issued a warrant for Torres' arrest after being alerted to the footage by both the boy's mother and the daycare center.
She is expected to turn herself in on Tuesday on a count of felony child endangerment.
Authorities deemed the video "unacceptable" but said Torres had been co-operative with investigations.
She has until the end of the day on Tuesday to hand herself in to police.
"Any parent out there, it's going to be something that's just horrific. Any human being to see a toddler treated that way is just, that's just unacceptable," spokesman for the police department, David Tilley, said.
The Children's Playground said it supported the police investigation. It fired Torres after being made aware of the video.
"Upon being made aware of this situation, we immediately notified the authorities and partnered with the state as well as conducted our own investigation.
"Those involved are no longer employed with us."