A huge fire tore through at least half of the Grande-Synthe migrant camp outside the northern French city of Dunkirk injuring at least ten.
Witnesses said the fire broke out following a row between Kurdish and Afghan migrants which left six with knife wounds, according to Daily Mail.
The camp was shelter to some 1,500 people by the end of March living in closely-packed wooden huts, hundreds of whom may now be homeless.
Local officials said the blaze had affected around 20 of the huts, each of which typically accommodates four people.
A massive plume of smoke rose from the camp into the night sky and was visible from several kilometres away.
"There is nothing left but a heap of ashes," Michel Lalande, prefect of France's Nord region, told reporters at the scene as firefighters continued to battle the flames.
"It will be impossible to put the huts back where they were before."
Lalande said the blaze had been started after a fight on Monday afternoon between Afghans and Kurds at the camp.
French officials had said in mid-March that security forces were planning to start dismantling the camp following clashes at the site.
The population of the Grande-Synthe camp has swelled since the destruction last October of the squalid "Jungle" camp near Calais, about 23 miles away.
Grande-Synthe was billed as the first camp opened with 'humanitarian standards' in March 2016.
It was meant to be a world away from the squalid mess of the former Jungle camp situated 23 miles away in Calais.
It was set up in a joint venture between the charity Doctors without Borders and the local Dunkirk authority at a cost of £2m.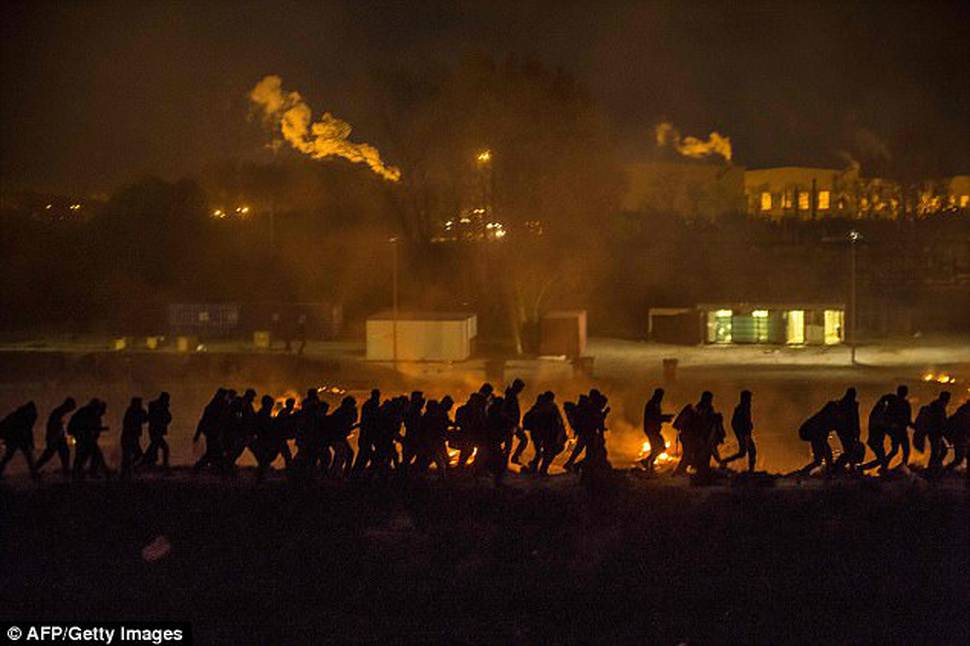 For more than a decade France's northern coast has been a magnet for refugees and migrants trying to reach Britain, with French authorities repeatedly tearing down camps in the region.
Migrants gather along the northern coast in France seeking to break into trucks heading to Britain or pay smugglers to help them get across the Channel.
Following its official opening in March last year, Help for Refugees said: "We recognise this as a very positive and ground-breaking step taken by the local authority in Grande Synthe.
They have acknowledged the basic human rights of the people within the camp and are striving to restore dignity to those in need."
However, there have been several violent incidents at the Grande-Synthe camp, with police intervening last month after five men were injured in a fight.
While another man was stabbed in November.
"It's no longer just a question of re-establishing public order in the camp" said Bruno Le Roux, France's interior minister, during a hearing at the French Senate.
Adding that France should proceed with a "progressive dismantling of the camp which should start as soon as possible."