A young British backpacker who endured a five-week kidnap ordeal in Australia at the hands of an obsessive boyfriend tried to alert her family in Liverpool to her plight.
The 22-year-old was repeatedly raped and abused at the hands of her kidnapper before being rescued by police on Sunday.
It has now emerged that the young woman tried to contact her family to let them know she was in trouble.
Relatives of the woman had reportedly issued an appeal to friends in Australia for information about her after she "fell off the radar" last month.
READ MORE:
Backpacker horror: British tourist held captive for weeks in Australian outback
Backpacker's nightmare road trip a catastrophic ordeal, say police
British backpacker saved by routine stop after road trip from hell
A friend in Australia said: "She told her relative about her injuries earlier this week.
"Her relative got in touch with me and other friends saying she was worried about her because she had gone off the radar.
"But she got back in touch on Monday to say that she had spoken to her and said she had been beaten up by this guy."
The friend told the Daily Mail: "It was not the first time the relative had asked for help to track her down. She sent me and other friends another Facebook message earlier in February after she had not heard from her for a while.
"I was trying to call her for weeks but her phone was not responding. He smashed it, apparently."
The young woman will get further treatment at Brisband Hospital today and is waiting to be reunited with members of her family, some of whom are expected to be preparing to travel in the next few days.
The man allegedly responsible for kidnapping her and subjecting her to weeks of sexual abuse, include rape, has been charged by police and detained in custody.
During the abduction he is understood to have destroyed the backpacker's passport, forcing her to remain in Australia until a new one has been processed.
A friend of the backpacker said the alleged kidnapper had become obsessed with the woman and changed his Facebook profile to "married" shortly after meeting her.
The friend said: "He was really clingy it was like he just blew in to town and latched on to the first single girl," he claimed.
"When he changed his relationship status on Facebook I thought it was too fast - she never changed hers."
The friend added: "I didn't worry too much because going away for a few weeks was normal for her. I tried calling her a few times but couldn't get through. I have spoken to her aunt from the UK since."
Two friends of the alleged offender told the Telegraph yesterday that they had several encounters with the man and his British girlfriend around Cairns in recent weeks, but did not notice anything amiss.
One friend said he first saw the pair swimming together at Crystal Cascades, a natural pool in a rainforest near Cairns, in January. He then saw them again in the centre of Cairns about two-and-a-half weeks ago: the pair were in the Pajero and apparently planning a trip.
"She just said 'hello' and that's it," said the friend, who did not want to be named.
"It just seemed normal to me."
Another friend of the offender said the pair came to visit her at her work on February 18. The woman, who did not want to be named, said she was in contact with him again on February 25 and he was still in Cairns.
"She said hello," she said. "She looked fine to me."
But she added: "He is pretty much into drugs. He has a ton of anger stuck in his head - I just feel really sorry for the girl."
In the end it was the look of sheer terror on the woman's face that may have saved her life.
The rescue came after the pair walked into a garage in the isolated Australian town of Mitchell on Sunday, looking deeply traumatised and distressed.
Beverley Page, the owner of the Caltex service station, immediately realised something was wrong.
Fortunately she had the presence of mind to alert the police and tell them about the distressed young woman who had just left her premises.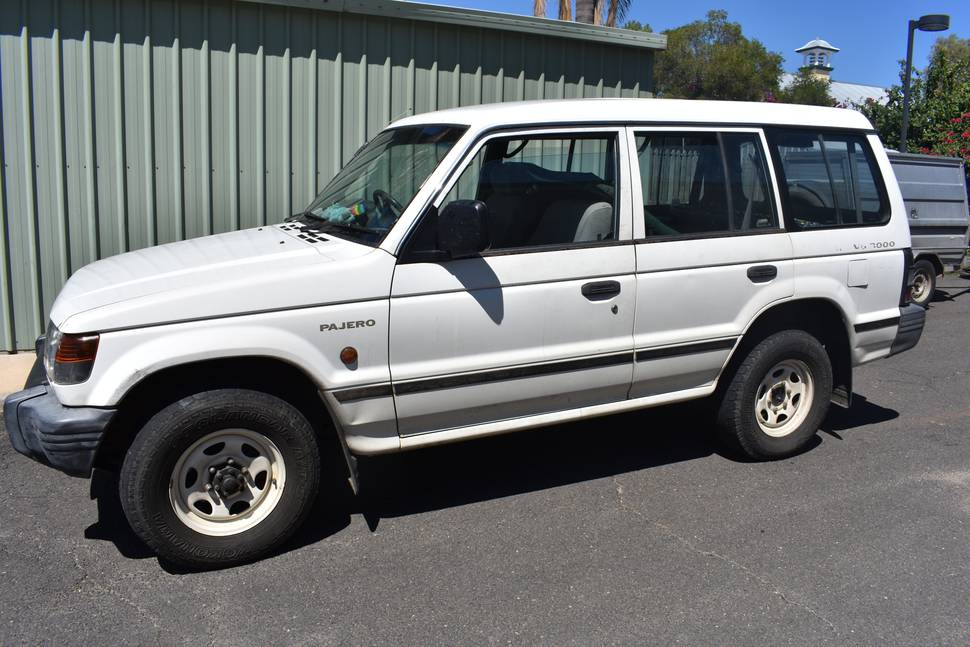 When police stopped the four-wheel-drive Mitsubishi Pajero they found the distraught backpacker at the wheel and a 22-year-old man hiding in a specially constructed compartment in the rear.
It emerged that she had been kidnapped and allegedly subjected to prolonged abused by the man, who. she had initially had a relationship with after meeting him at a trance music festival, known in Australia as a "bush doof", outside Cairns, on January 27.
The man, originally from New South Wales, has now been charged with a string of offences, including four counts of rape, eight counts of assault, four counts of strangulation, and counts of deprivation of liberty, all between February 3 and March 5,
The woman, who has been in Australia on a working visa since April 2015, told officers he had begun abusing her shortly after they met.
Police said the man held her against her will in a hotel room in Cairns for a month before dragging her on the terrifying journey across country.
At one stage he allegedly gagged her with a towel in the hotel room and left her so terrified she was too afraid to attempt to escape or seek help.
After leaving Cairns last week, the pair travelled more than 1500km across western Queensland, stopping at towns along the way, including Bowen and Gordonsvale.
The woman told police she was forced to do the bulk of the driving while he hid in the back to avoid detection.
The abuse continued throughout the journey until they were forced to stop for fuel on Sunday.
It was here that Page noticed something was deeply amiss with the person in front of her.
"She came in, she couldn't pay for her fuel," Page said. "She was crying and shaking the whole time. She was really upset. There were two marks on her neck along with the black eyes."
When Page offered to ring the police, the woman refused and returned to the vehicle and drove off.
Page followed in her car and reported the woman to a police vehicle parked up the street.
Officers stopped the car on the Warrego Highway and found the woman at the wheel, badly cut and bruised, before discovering the man hiding under clothes in the alcove at the back of the four-wheel-drive.
Detective Inspector Paul Hart said the backpacker had shown remarkable courage in being able to provide a detailed account of her ordeal.
He said: "She advised that over a period of weeks she'd been held against her will by the male person located in the vehicle.
"What she's experienced is no doubt horrific and terrifying. It has taken great courage for our victim to provide the detail she has."
DI Hart said that the young woman would have had few opportunities to escape.
"She is a tourist, a lot of the areas where she would have been would have been unknown to her, and she wouldn't have known anyone there, so it would have been difficult for her to make an escape," he said.
"From the information we've been provided she had very limited opportunity to try and do that anyway."
Arresting officer Acting Sergeant David Harper added: "I can't really go into detail into the exact threats but he did verbally threaten and physically assault the victim."
A spokeswoman for the British High Commission said: "We are supporting a British woman following an incident in Queensland and remain in contact with local authorities."
- Originally published in Telegraph UK