He's only been in office for a month - but President Trump wants you to know he's already boosted the economy and cut the national debt.
"The media has not reported that the National Debt in my first month went down by $US12 billion vs. a $200 billion increase in Obama first mo.," Mr Trump tweeted, reports News.com.au.
Mr Trump didn't say that some of the debt increase Mr Obama faced after he took the oath of office in January 2009 had been added by Congress the year before as part of a spending package meant to pull the nation out of the global financial crisis, reports the New York Post.
Mr Trump also celebrated the rising stock market.
"Great optimism for future of US business, AND JOBS, with the DOW having an 11th straight record close. Big tax & regulation cuts coming!" he wrote.
He hinted that more Americans should rally to his side.
"Maybe the millions of people who voted to MAKE AMERICA GREAT AGAIN should have their own rally. It would be the biggest of them all!" he mused on Twitter.
Credit: Twitter / @realDonaldTrump
Call for unity at rally for immigration rights
As most of Hollywood gears up for the Oscars on Sunday and the whirlwind of events and parties this weekend, celebrities and top talent agents gathered in Beverly Hills to do something a little different: rally for immigration rights.
Jodie Foster, Michael J. Fox and Keegan-Michael Key were among the speakers at Friday's rally, organised by the United Talent Agency outside their Beverly Hills headquarters.
The talent agency, better known as UTA, planned the nearly two-hour United Voices rally in lieu of holding its annual Oscars party. Security officials estimated there were 1,200 people in attendance.
Key, who kicked things off, said the event was intended to "support the creative community's growing concern with anti-immigration sentiment in the United States of America and its potential chilling effect on the global exchange of ideas, not to mention freedom of expression."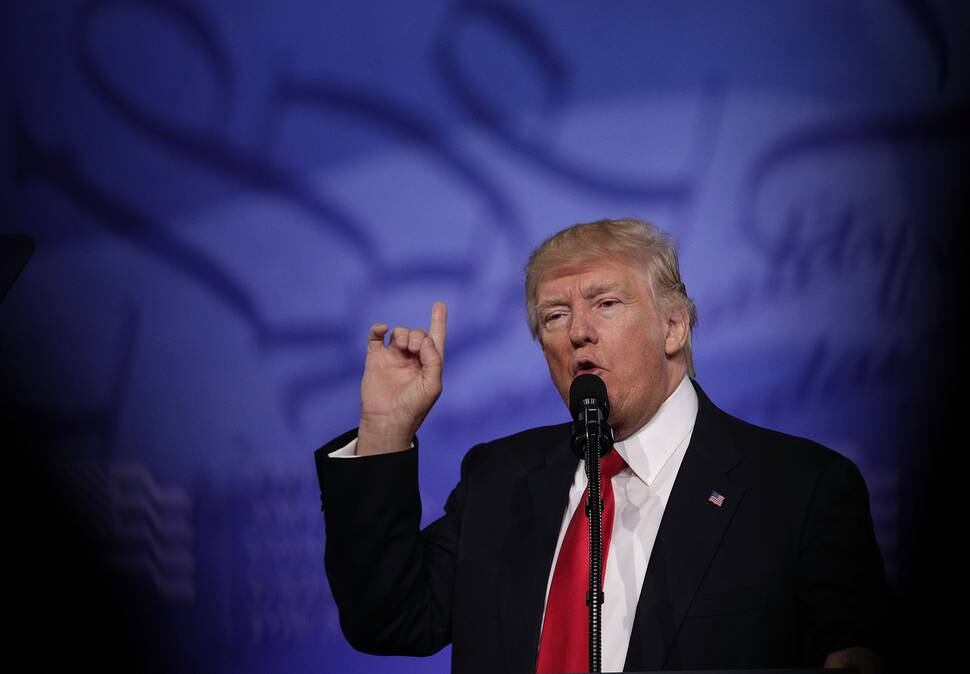 Outcry as White House bars media from briefing
Major US media outlets condemned as "unacceptable" and an "insult to democratic ideals" a decision by Mr Trump's White House to bar several organisations, including CNN and The New York Times, from a daily press briefing.
In an escalation in the administration's war on the media, the White House on Friday excluded some outlets that have provided critical coverage from an off-camera event that replaced the traditional on-camera daily briefing.
Friendly conservative outlets like Fox News, the One America News Network and Breitbart News were allowed to attend, while the BBC, The Los Angeles Times and others were excluded.
Trump on Friday decried the media as the "enemy of the people," a day after his top strategist promised relations with the press will get "worse every day."