Some of Queensland and New South Wales' most popular beaches have been closed due to dangerous surf conditions, as the mercury climbs towards 40C.
And in Queensland, at least, it may remain that way throughout the weekend, with powerful surf conditions forecast to continue, just as the state swelters through the summers most extreme heatwave.
Residents of both states in the grip of the extreme heat have limited options when it comes to beach relief this afternoon, which has been one of the hottest days of the year so far.
In Sydney, blustery conditions forced the closure of eastern suburbs beaches Bronte and Tamarama, after lifeguards deemed the combination of high winds and rough surf deemed the water too dangerous for swimmers.
Environmental authorities have also warned swimmers not to go in the water at nearby Coogee Beach, with elevated levels of faecal matter likely after heavy rainfall earlier in the week.
Swimmers are also advised to avoid the unpatrolled Little Bay beach further south and nearby Mallabara Beach, both of which are considered likely to be polluted.
The beaches remain open however official advice from the department to swimmers is to give them a miss.
Currently in Sydney's eastern suburbs, only Bondi, Clovelly and Maroubra beaches are open and recommended for swimming.
North of the Harbour Bridge, Warriewood and Whale beaches are closed.
The remaining north shore beaches are open and free of pollution.
Mereweather beach in Newcastle has also been closed to swimmer due to a surfing competition due to kick off tomorrow.
In NSW, winds are expected to ease as the scorching weekend progresses, meaning most of the state's beaches should be open for business throughout the two days.
A Surf Life Saving NSW spokeswoman said volunteer life savers are preparing for their busiest couple of days of the summer, with crowds flocking to the coast and the extreme conditions tipped to keep them on their toes.
It could be a different story in Queensland, however.
Friday's NSW beach closures came after 13 popular Gold Coast swimming spots, including Tugun, Palm Beach, Broadbeach, Surfers Paradise and Miami beaches, were closed early in the morning, when lifeguards decided strong winds and big swells were too dangerous for them to remain open.
Two Sunshine Coast beaches, Twin Waters and Buddina, were also closed, along with North Stradbroke Island's Main Beach.
A Surf Life Saving Queensland spokeswoman said a safety briefing would be conducted early on Saturday to determine which, if any, beaches throughout Queensland's south east would be closed.
Meanwhile, authorities are bracing for "catastrophic" conditions over the next 24 hours caused by the monster heatwave.
Temperatures today soared to 44.5C in Penrith and other parts of Sydney's west and as high as 46.9C at Ivanhoe Airport, in lower western NSW.
The Bureau of Meteorology has reported the hottest February day on record at Sydney Airport today. It has broken the previous record of 42.6C, set on February 21, 1980.
Temperatures are forecast to reach a high of 39C tomorrow with extreme weather conditions expected to continue into Sunday.
Saturday's Randwick races have been postponed to February 13 because of the extreme weather expected over the weekend.
Racing NSW and the Australian Turf Club made the decision out of concern for the welfare of horses and punters.
Tropfest director John Polson said the event would still go ahead in Parramatta this weekend.
It is now officially the hottest summer in Sydney's 158 year recorded history - with 10 summer days over 35C, according to BOM.
The 40C mark has also been exceeded in Gosford on the Central coast and at Tocal in the Hunter Region.
New South Wales, South Australia, Queensland and parts of Victoria are currently in the grips of a heatwave from hell with cooler weather not in sight until at least Sunday, with experts warning to plan ahead to avoid heat-related illnesses including dehydration and heat stroke. Earlier today, Darwin was the coolest capital city in the country.
Queenslanders will have to wait even longer for a respite with cooler conditions not expected until next week.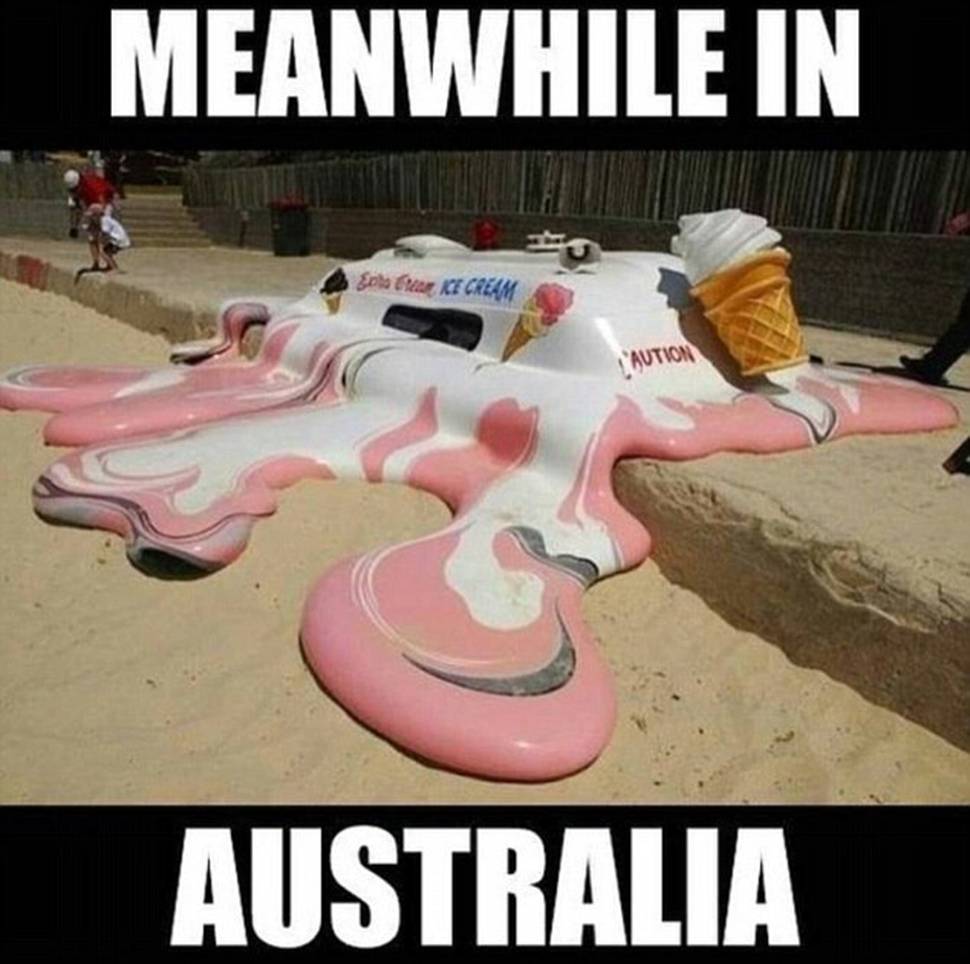 The Courier Mail has reported that three children, all aged 13, have been taken to hospital after they succumbed to the warm weather at a North Lakes school in Queensland.
Paramedics were called to the school on College Rd about 10am after several children reportedly suffered from heat related illnesses, the newspaper reported.
People living in northern Victoria are also working up a sweat before a cool change sweeps through the state, bringing much-needed relief on Sunday.
And South Australians are set to suffer even more with the northern outback town of Tarcoola recording a high of 48.2C yesterday, making it Australia's hottest town.