President Donald Trump wasted no time after his official White House arrival today, heading straight to the Oval Office where he signed his first executive orders since arriving at the White House.
President Trump christened the Resolute Desk by signing an order to confirm General James Mattis as Secretary of Defense and another to 'ease the burden of Obamacare'.
He has already made changes to the Oval Office decor, swapping its formerly crimson drapes for gold curtains and putting back in their former places busts of former British prime minister Winston Churchill.
Later, he will attend three inaugural balls with the first lady before spending his first night at 1600 Pennsylvania Avenue.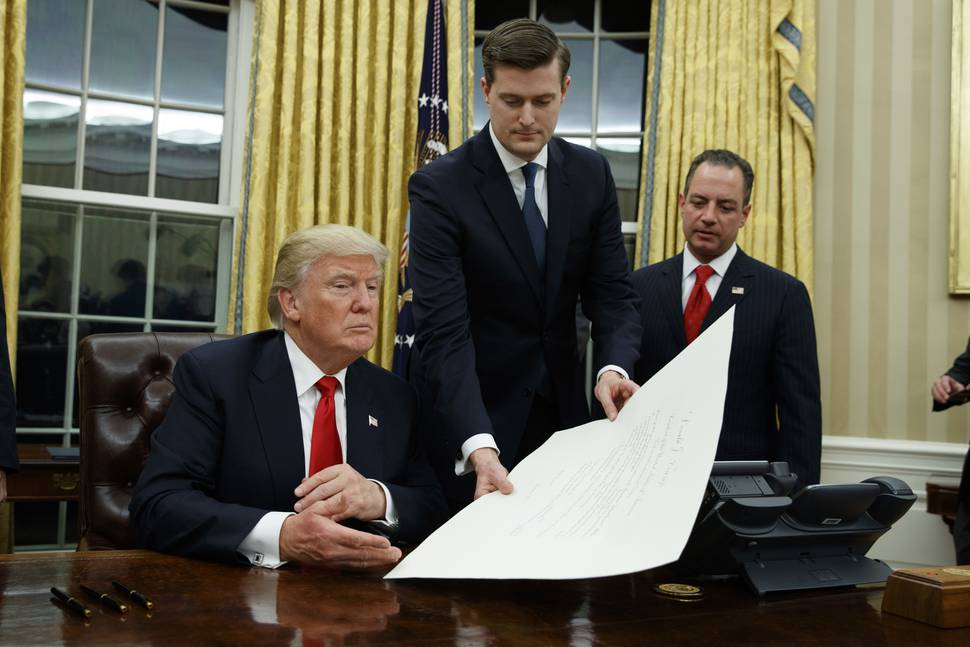 President Trump's Obamacare order directs every government agency that implements or enforces the 'Obamacare' law to grant waivers, deferments, exemptions and delays in order to minimize or eliminate any costs associated with implementing Obama's signature medical insurance scheme.
It also orders agencies to bend over backwards in order to "provide greater flexibility to States and cooperate with them in implementing healthcare programs".
And in a nod to Trump's oft-stated goal of erasing geographic boundaries that established state-specific monopolies for insurers, his order requires federal agencies to "encourage the development of a free and open market in interstate commerce for the offering of healthcare services and health insurance, with the goal of achieving and preserving maximum options for patients and consumers".
Moments earlier Trump had signed government commissions making James 'Mad Dog' Mattis the secretary of Defense and John Kelly the Homeland Security secretary.
Both men are retired U.S. Marine Corps generals, and were sworn in moments earlier by Vice President Mike Pence.
Trump's first official act as president was to sign a law allowing Mattis to serve as the Pentagon chief before he had been retired for the required seven years.
"Oh, boy, oh boy," Trump told House Speaker Paul Ryan as he held it in his hands after his US Capitol swearing-in.
Trump has already begun to put his mark on the office that will be his workstation for at least the next four years.
Minutes before taking his seat in the Oval Office, the president and First Lady Melania Trump made their way inside after watching the Inaugural Parade from the Reviewing Stand on the North Lawn.
They will attend three inaugural balls on Friday night, capping off a marathon day of events for the couple and their family.
The president and First Lady Melania Trump entered the White House in their new roles on Friday at around 6.30pm for a quick change before attending their first Inaugural gala.
The couple and the rest of their family arrived at 1600 Pennsylvania Avenue shortly before 5pm and immediately made their way to the North Lawn Reviewing Stand to take in the Inaugural Parade.
After spending around an hour or so taking in the Inaugural Parade from a Reviewing Stand on the North Lawn, the couple went back inside to change for the first of three galas they will attend tonight.
Earlier, they waved to crowds on Pennsylvania Avenue after emerging with his family from the presidential limousine for a brief appearance.
President Trump held hands with his wife as they and their 10-year-old son greeted crowds who had gathered despite the drizzling rain.
Later, he will attend three inaugural balls thrown in his honor.
The first two events, Liberty and Freedom: The Official Presidential Inaugural Balls, were open to the public. There, the president and first lady are expected to have their first dance together since his inauguration.
Addresses, protests, a goodbye from Obama and a new President - here are all the moments from the inauguration of President Donald Trump.
The third ball, the The Salute To Our Armed Services Ball, is by invitation only and honors the country's Armed Forces.
They will cap off a marathon day of events for President Trump and his family who began their day with a morning church service.
They then visited former President Barack Obama and former First Lady Michelle at the White House before making their way to the Capitol for the swearing in ceremony.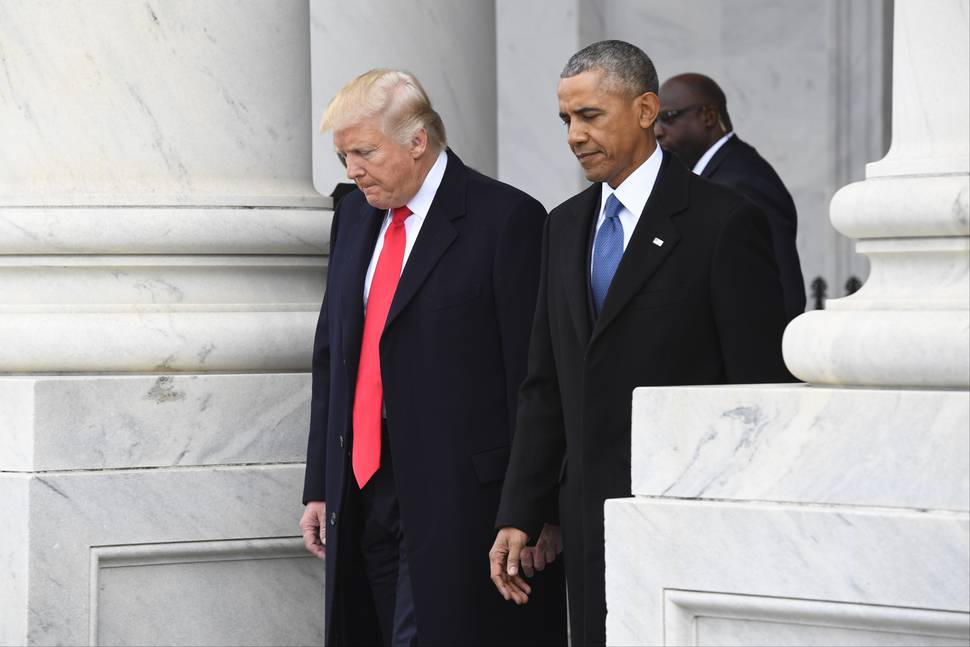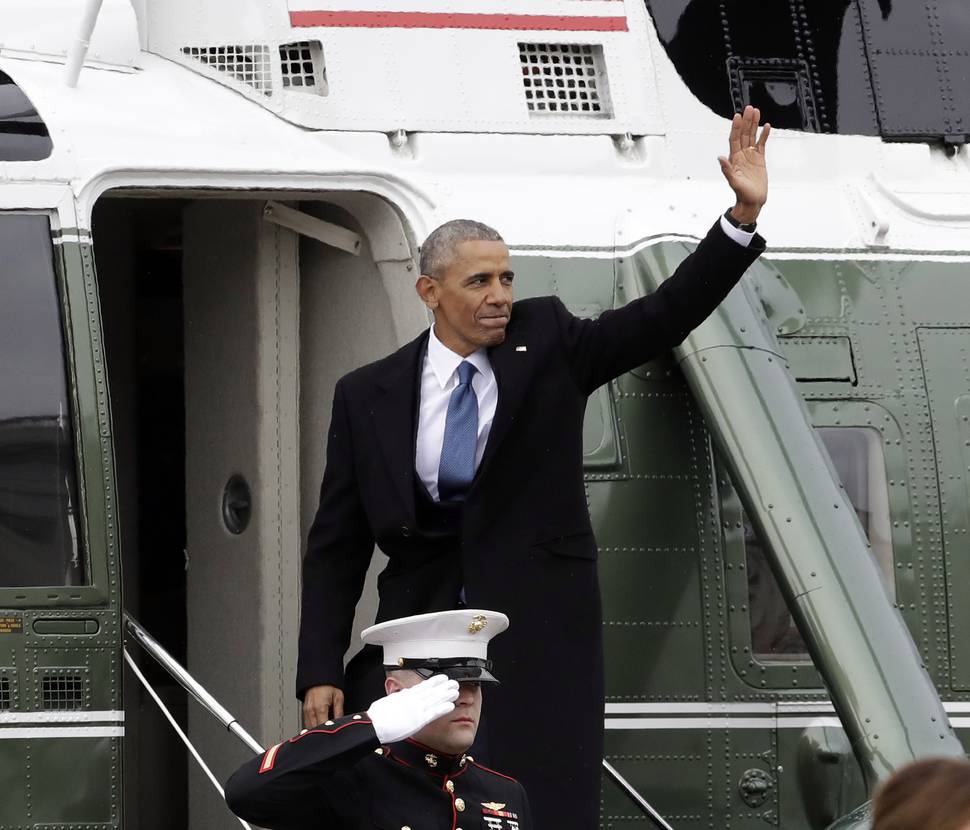 Afterwards, and following a luncheon inside the Capitol building, they greeted fans on Pennsylvania Avenue while making their way to the Reviewing Stand.
President Trump made two appearances along the parade route; stepping out first with his wife and 10-year-old son then later again with the rest of the family.
Ivanka Trump held hands with three-year-old son Joseph, smiling as she took in the momentous occasion.
After his swearing in ceremony and inaugural address, the president attended a luncheon in the Capitol Building.
There, he gave a gracious acknowledgement of former foe Hillary Clinton who was sat at the same table as his daughter Tiffany.
"I was honored - very, very honored when I heard President Bill Clinton and Senator Hillary Clinton was attending today and I think it's appropriate to say...I'd like you to stand up.
"And honestly, there's nothing more I can say because I have a lot of respect for those two people," he said.
Earlier, in his highly anticipated Inaugural Address, the president spoke of 'American carnage' and 'rusted factories', vowing to restore the country to its former glory and bring it forward to new prosperity and global success.
"I will fight for you with every breath in my body,' he pledged. 'And I will never, ever let you down."
Trump promised 'America first' would become the central organizing principle around which his government is organized.
"We will follow two simple rules. Buy American and hire American," Trump declared.