Believe it or not, Donald Trump is due for inauguration on January 20.
As President Barack Obama prepares for his Farewell Address on January 10, core members of his team have shared their most memorable moments from his eight years in office.
In a term that has covered everything from the financial crisis to the Newtown massacre and Boston Bombings, there has been no shortage of poignant moments.
Here are some of the best as chosen by his staff.
THE PHOTOGRAPHS
Ever-present chief White House photographer Pete Souza has also released a series of his favourite pictures from inside the White House to mark the end of the Presidency.
'THE CHARACTER OF OUR COUNTRY'
Former speechwriter Jon Favreau who served from 2005 to 2013 said one of his most memorable moments was rushing back from a friend's wedding to edit Obama's speech on health care to a joint session of Congress in 2009.
He had begun the speech based around a letter from Ted Kennedy which mentioned the "character of our country". After departing for the wedding, he returned to a page of scribbled edits and scrambled to work them into the final text.
Favreau said it reminded him building a country is "hard, unending and always worthwhile".
'WE THE PEOPLE'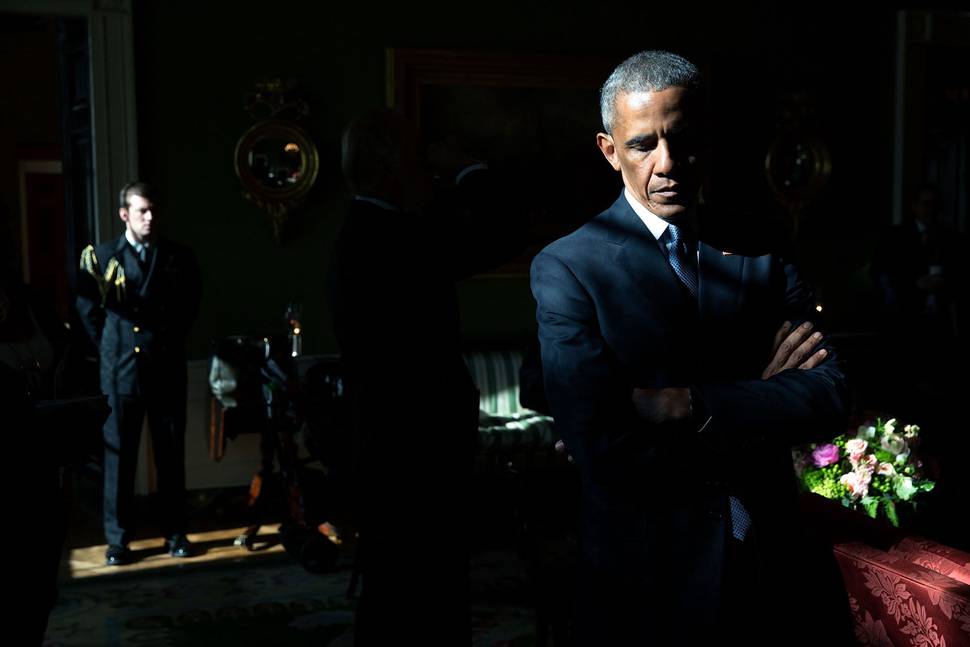 Another critical moment, according to speechwriting director Cody Keenan, came amid the
Black Lives Matter Movement in March 2015 at the anniversary of Selma to Montgomery marches - a key moment in African-American civil rights history.
"The single most powerful word in our democracy," the President said that day, "is the word 'We'. We the People. We Shall Overcome. Yes We Can. It is owned by no one. It belongs to everyone. Oh, what a glorious task we are given, to continually try to improve this great nation of ours."
The iconic image of the President and his family marching with civil rights leaders across the bridge where protesters had been met with violence years earlier became a defining image of his years in office.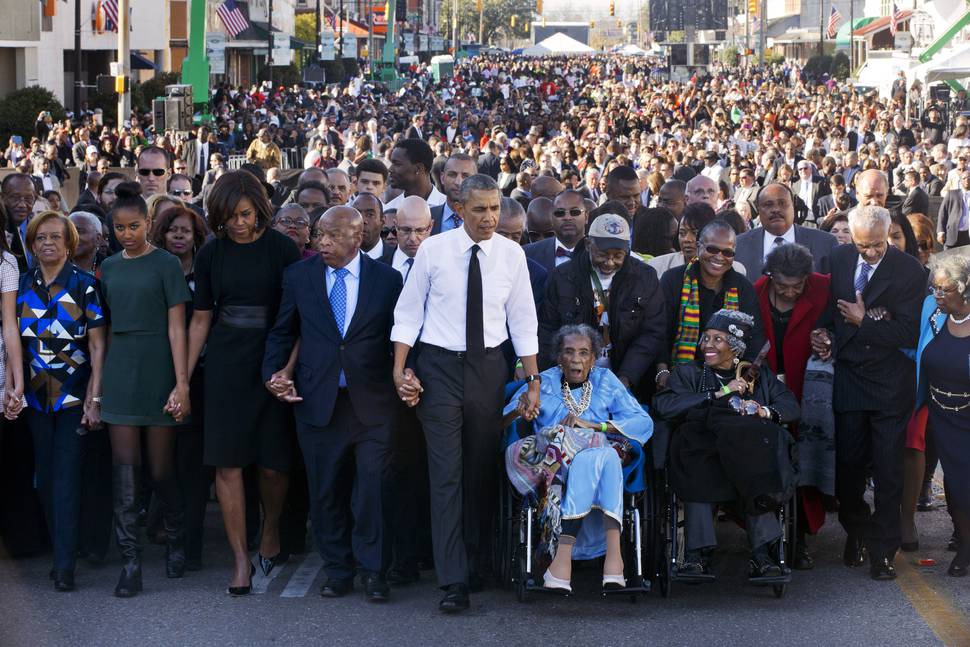 Obama's Selma speech regarded as one of his best by his speechwriters:
It's one of several moving moments on race relations throughout his leadership, including in July 2013 when he spoke about the death of Trayvon Martin.
"When Trayvon Martin was first shot I said Trayvon Martin could have been my son. Another way of saying that is that Trayvon Martin could have been me 35 years ago ..." he said.
BETWEEN TWO FERNS
Deputy chief digital officer Kori Schulman has also revealed his top 10 digital moments from the past eight years including appearing on Between Two Ferns with Zach Galifianakis, delivering a YouTube State of the Union, using a Snapchat filter for the first time and wishing Vice President Joe Biden happy birthday on Twitter.
For a full look at the The Obama Presidency in review, visit The White House page on Medium.