The Rust Belt is synonymous with the fortunes of the American Dream.
The string of northern states between New York and the Midwest were the heartbeat of the economy.
Steel, tyres, cars: Heavy industry dominated, thanks to factors such as proximity to abundant water and the availability of cheap labour.
Things have changed, though, with international competition one reason for the region's economic decline since the 1950s.
Pennsylvania is a big part of the Rust Belt and of considerable significance to the presidential race.
It's voted with the eventual winner in eight of the last 10 elections. Seven times in that period it's gone Democrat, including at the last six elections.
No wonder it's one of the six states in Hillary Clinton's so-called Firewall. The others are Colorado, Michigan, New Hampshire, Virginia and Wisconsin.
A clean sweep would give her breathing space in battlegrounds Florida, North Carolina and Ohio. She has polled well in all six, although Donald Trump has enjoyed a late surge in New Hampshire.
Pittsburgh, Pennsylvania is still known as Steel City, even if there are no longer any working steel mills within the city limits.
Like many cities along the Belt it's had to adapt to survive - depopulation and crime just two byproducts of its money troubles.
Tech companies are among those springing up as the economy becomes increasingly diversified.
In the Bakery Square area in the inner east, a site that once belonged to food manufacturer Nabisco has been done up and part-occupied by Google.
A few blocks down, in East Liberty, the former Young Men's Christian Association building has been turned into part of the achingly hip Ace hotel chain.
There are concerns that the replacement of other old buildings with apartments will force out the poor African Americans who have traditionally been the dominant demographic.
Clinton should win Pittsburgh. Allegheny County, in which it sits, has been blue in all but one of the previous 14 presidential races, usually by double-digit margins.
And where there is gentrification there are white liberals who will vote Democrat. The owner of the very groovy Union Pig and Chicken barbecue restaurant in East Liberty was so incensed by the boss of much-loved Pennsylvania brewery Yuengling's support for Trump that he literally gave his beer away.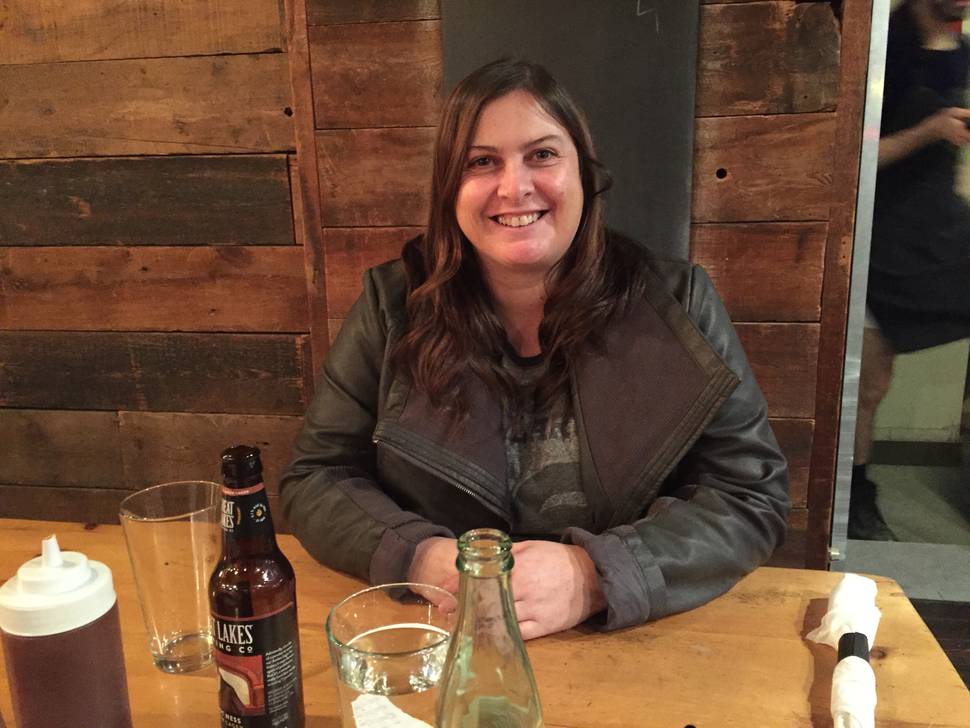 Kiwi (and Herald alumnus) Heather McCracken has lived in Pittsburgh for two years. She doesn't know anyone planning to vote Trump.
"I think in my neighbourhood there are far more signs of Hillary support than support for Trump, but when you do see Trump signs outside a house there's not necessarily any pattern to it - sometimes it's big fancy houses in nice neighbourhoods, sometimes it's more modest places.
"I parked next to a car tonight that was plastered with Trump bumper stickers, as well as stickers reading "9/11 was an inside job" and "I'm on Obama's most wanted list". When you get outside of the city into rural areas though it's all Trump - you notice a really big change as soon as you get out into the country."
Broadly speaking the Democrats have two strongholds in Pennsylvania - urban Pittsburgh and Philadelphia, at opposite ends of the state.
But some of their traditional blue collar support looks set to switch sides, fed up with what they perceive as broken promises under eight years of Barack Obama and political cronyism.
In Pittsburgh there are plenty of Trump signs on buildings along a riverside corridor between downtown and the inner suburbs. The area was once part of the city's thriving manufacturing sector but now seems semi-abandoned. Surely waterside apartment developers are circling.
Trump has also found an audience in places like Scranton, the coal mining town in the centre of the state where Clinton's dad was born and raised before running off to Chicago and becoming a Republican.
Both campaigns have focused attention here as the campaign comes to a close.
Clinton will be in Pittsburgh on election eve, her second visit in four days. Vice President Joe Biden made two stops in central Pennsylvania on Sunday, one in Scranton, where Clinton's father was born before running off to Chicago and becoming a Republican. Trump's in Scranton too, on election eve, part of an eight-state, two-day final charge.
But it's Philadelphia where the Democrats are going for broke.
Chelsea Clinton made five appearances on the western and northern fringes on Sunday, hours after her mother gave a speech heavy on religious references to the Mt Airy Church of God.
Both will be back in the City of Brotherly Love for the campaign's penultimate rally - part of a serious line-up designed to rack up monster numbers.
Mother and daughter will be joined by Bill Clinton, Barack and Michelle Obama, Bruce Springsteen and Jon Bon Jovi.
In Montgomery County, one of the state's richest, on Sunday, Chelsea Clinton thanked campaign supporters gathered in Norristown and said America's "core values" were at stake.
She told a crowd of about 100 people about a Guatemalan woman she met at an event in Pennsylvania in September. The woman, now an American citizen, said her son had been the victim of racial abuse at school. Other children had told him to go back to Mexico and that they couldn't wait until America built a wall to keep "people like you out", a reference to Trump's policy to protect the border.
McCracken says even living here she struggles to understand the "Trump phenomenon".
"I don't know anyone who's supporting Trump. Even the Republicans I've spoken to are supporting Hillary, so when I see footage of Trump rallies and hear some of the more outrageous claims his supporters are making, the anti-immigrant, anti-Muslim stuff, that doesn't feel like the America I know at all."
If nothing else the abrasive nature of the campaign - on both sides - seems likely to prompt a record turnout.
Here's our simple video guide to understanding the American presidential election system
In West Chester, a gorgeous historic community on the outskirts of Philadelphia, Phil and Betty McGarrigan are sitting in picnic chairs on the sidewalk.
They're out-of-staters touring a Volkswagen convertible with effigies of Clinton and Trump in the back seat. Their mission: to promote engagement not either party.
Phil is an ex military man and says voting is too important a right to ignore.
Strict laws mean McCracken will have to wait two more elections before she can vote. She's still playing a part though.
"I work here, I pay taxes, I pay for healthcare. A lot of the policies that the candidates talk about will directly affect me, so I feel like I have a stake in this election, but I can't take part. I think that's what's motivated me to get involved in other ways - I've never been actively involved in politics in New Zealand but I've volunteered for Hillary's campaign, and I'll be door-knocking. I feel like it's important to not just sit this one out."