These are taxing times for Donald Trump.
Trump just endured "one of the worst weeks for any presidential nominee in recent memory", if you believe the experts. It started with his disappointing debate performance against Hillary Clinton, soured further as Trump feuded with a former Miss Universe, and now it has ended with a bombshell report about his taxes.
According to three pages from Trump's 1995 tax returns, which were leaked to the New York Times, Trump declared a colossal $US916 million (NZ$1.26 billion) loss that year. The Times spoke to tax experts, who concluded the massive deduction would have allowed Trump to "legally avoid paying any federal income taxes" for up to 18 years.
There is no suggestion Trump did anything illegal, and there are many other kinds of taxes he would have paid during that period, but that won't necessarily matter. The average voter could just see him as a billionaire trying to screw over the little guy by paying as little as possible.
Trump, for his part, says he was being smart.
"I know our complex laws better than anyone who has ever run for president and am the only one who can fix them," he said on Twitter. His campaign echoed that sentiment in its official statement.
"Mr Trump is a highly-skilled businessman who has a fiduciary responsibility to his business, his family and his employees to pay no more tax than legally required. That being said Mr Trump has paid hundreds of millions in property taxes, sales and excise taxes, real estate taxes, city taxes, state taxes, employee taxes and federal taxes," the campaign said.
"Mr Trump knows the tax code far better than anyone who has ever run for president and he is the only one that knows how to fix it."
You'll notice Trump and his team didn't deny the veracity of the Times' report, nor did they deny the suggestion that he'd paid no federal income taxes. They have, however, threatened to sue the newspaper.
'Something terrible he's trying to hide'
The revelation is especially explosive because Trump has refused to release his tax returns, even though presidential candidates have done so for decades. He says his recent returns are being audited by America's Internal Revenue Service, and he will release them when the audit is complete.
Hillary Clinton used Trump's stubbornness against him in last week's debate.
"For 40 years, everyone running for president has released their tax returns," Clinton said.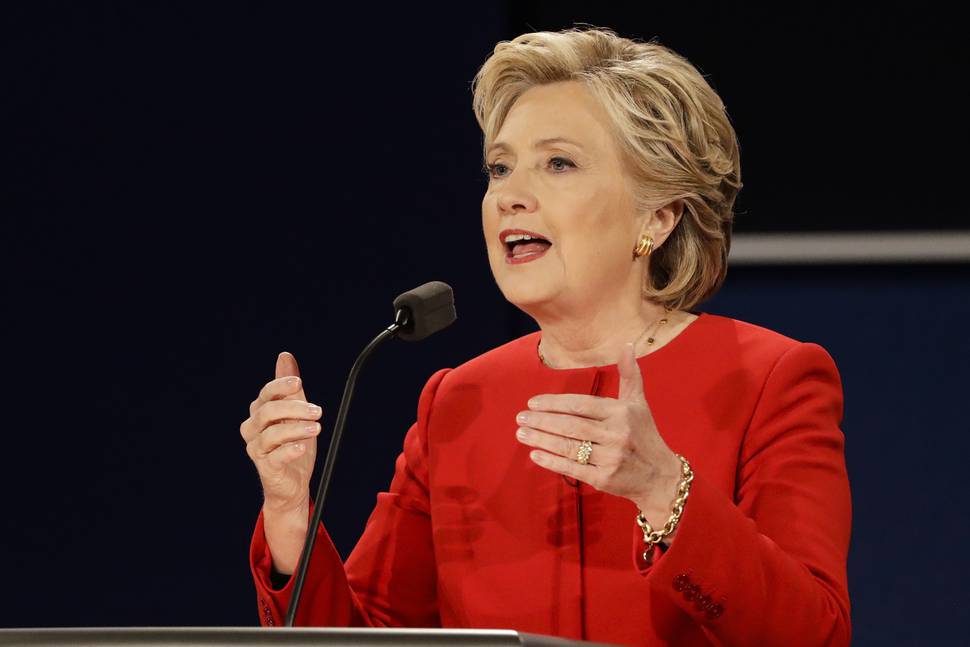 "You've got to ask yourself, why won't he release his tax returns? And I think there may be a couple of reasons. First, maybe he's not as rich as he says he is. Second maybe he's not as charitable as he claims to be.
"Or maybe he doesn't want the American people, all of you watching tonight, to know that he's paid nothing in federal taxes, because the only years that anybody's ever seen were a couple of years when he had to turn them over to state authorities when he was trying to get a casino license, and they showed he didn't pay any federal income tax."
At that point, Trump interjected: "That makes me smart." Clinton wasn't deterred.
"So if he's paid zero, that means zero for troops, zero for veterans, zero for schools or health. And I think probably he's not all that enthusiastic about having the rest of our country see what the real reasons are, because it must be something really important, even terrible, that he's trying to hide."
'The genius of Donald Trump'
Trump's tax returns have been a touchy subject for months. Clinton renewed the media's focus on them in the debate, and now the New York Times story has ensured they will haunt him until election day - even as he and his allies insist the revelation casts him in a good light.
"My response is he's a genius. Absolute genius," former New York Mayor Rudy Giuliani told ABC yesterday.
"The genius of Donald Trump has been to make sure he follows the law," New Jersey Governor Chris Christie said in an interview with Fox News.
Genius! We're guessing Trump's accountants really deserve the praise here.
Meanwhile, Clinton's surrogates are out and about as well, and they're turning up the hyperbole.
"Trump is a billion-dollar loser who won't release his taxes because they'll expose him as a spoiled, rich brat who lost the millions he inherited from his father," said the Democrats' leader in the Senate, Harry Reid.
"Despite losing a billion dollars, Trump wants to reward himself with more tax breaks on inherited wealth while stiffing middle-class families who earn their paychecks with hard work."
When you get past all that inane political chatter, the truth seems fairly obvious: Trump's tax returns are a real problem for him. If they weren't, he would have released them long ago.