Dozens of people were injured yesterday in the Chelsea neighbourhood of Manhattan in an explosion that New York Mayor Bill de Blasio called "an intentional act".
At least 29 people suffered non-life-threatening injuries in the blast, which occurred on the street and not inside a building, according to the New York Police Department. One person was seriously injured, said Daniel Nigro, the New York fire commissioner.
US media reported that a pressure cooker with tape, wires and a cell phone had been found at a second location a few blocks away.
Police officers, firefighters and other first responders rushed to the blast scene, which closed a major roadway, forced people out of nearby buildings and brought onlookers to the area.
De Blasio said that in the initial hours after the explosion, authorities had found "no evidence at this point of a terror connection to this incident".
De Blasio said that the explosion was "an intentional act," but during a briefing, he said little other information was available because the investigation was in its early stages.
"The exact nature and cause of this explosion has not yet been determined," James O'Neill, the New York police commissioner marking his first day in the position, said at the news conference. O'Neill did say that natural gas had been ruled out as a possible cause.
The New York Police Department's counterterrorism bureau said it was responding to the explosion, which came hours after a pipe bomb exploded in a Jersey Shore garbage can shortly before a scheduled charity race there benefiting Marines and Navy sailors.
De Blasio said authorities had not found anything connecting the Chelsea and New Jersey incidents. He also said that there was no specific, credible threat against New York from any terror group.
While O'Neill said authorities were still trying to determine what, precisely, exploded, the New York Police Department's counterterrorism bureau posted a photo online showing what appeared to be a dumpster or garbage container mangled by a blast.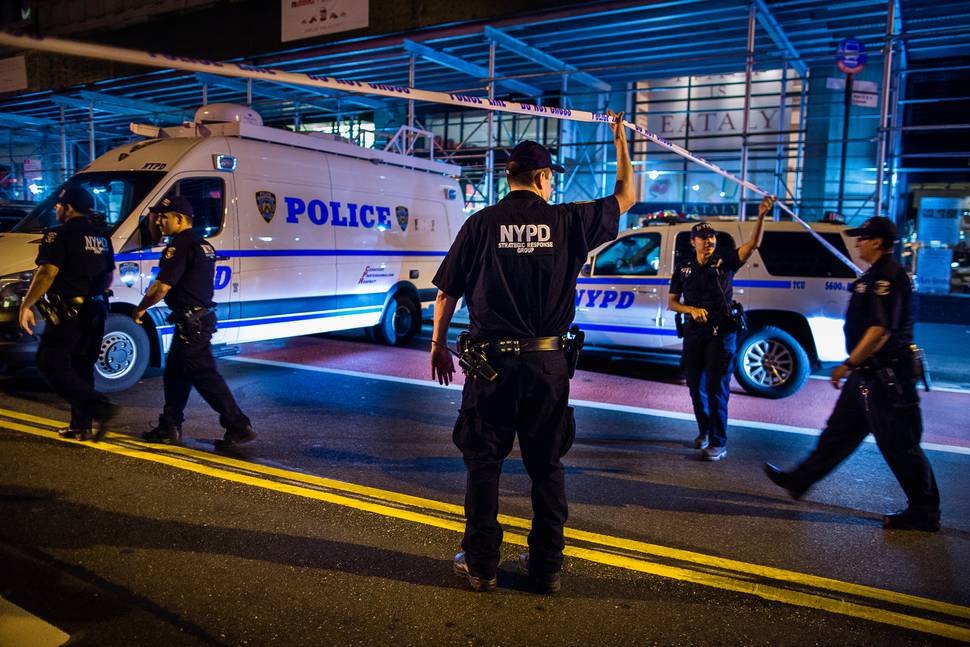 MSNBC reported that law enforcement officials said there was surveillance video showing a person dropping something into the dumpster before the explosion.
The FBI said it was involved in the response and the Bureau of Alcohol, Tobacco, Firearms and Explosives said its arson and explosives task force was being dispatched to the explosion scene.
Police in New York also reported that they had found "a possible secondary device" a few blocks away from the explosion scene.
Officers were directing people away from this other intersection, and one could be heard telling pedestrians that "there is a possible explosive" in the area.
Three law enforcement sources told NBC News that investigators at the second location were examining what appeared to be a pressure cooker with "tape, wires and a cell phone" left out on the pavement.
The explosion in the area of 23rd Street between Sixth and Seventh avenues happened at about 8.30 pm local time, police said. "Several" of those injured were brought to area hospitals, Peter Donald, a police spokesman, posted on Twitter.
Photos and accounts posted on social media showed large crowds - as well as a large law enforcement presence - in the area near where the explosion occurred.
Soleil Filomena, 64, was leaving a convenience store at 7th Ave and 23rd street when she heard the explosion.
"It was so loud it just went through my whole body," she said. "People started running up 23rd Street and I started running with them."
Filomena said she saw a "big black cloud in the sky". After the explosion, she said her "ear was ringing for 15 minutes".
When Keith Salomon of Delaware felt the explosion, he was having dinner a block and a half from blast. His chair and table shook and he saw people being taken away in ambulances.
"We didn't know what it was and so at first we just kept eating. But then we realised something was wrong."
Others did not hear the explosion but saw the aftermath. When Jacob Schulman left his apartment a few blocks away shortly before 9 pm, he saw people running and screaming.
"I didn't know what was going on but everyone looked so panicked I started running too," said Schulman, 26, who has lived in the neighbourhood since 2014.
Two blocks from the blast scene, a group of people emerged from a screening of the animated movie Beauty and the Beast and saw the flashing lights.
One man who came out of the theatre said he could not hear anything and had no idea about the explosion not far from where he was sitting.
President Barack Obama was attending an annual dinner of the Congressional Black Caucus Foundation and was briefed on the situation in New York. He will be updated as more information becomes available, a White House official said.
The explosion in New York comes as foreign leaders, including many heads of state, are heading to Manhattan for the United Nations General Assembly. Secretary of State John Kerry arrived, while Obama is scheduled to head to the city tomorrow.
This annual meeting - held more than 3.2km from the site of the explosion in Chelsea - is traditionally a tricky time for New York, as many roads are shut down and the heavy security leads to increased traffic.
Speaking in Colorado not long after the explosion, Republican presidential candidate Donald Trump quickly commented on the situation before much information was known. "I must tell you that just before I got off the plane, a bomb went off in New York and nobody knows exactly what's going on," said Trump shortly after getting off of his plane. His comments were made before authorities confirmed the nature of the explosion. Trump told the crowd, "we better get very tough, folks."
Meanwhile, in his address, Obama said he would consider it "a personal insult" if the African-American community does not turn out to vote in great numbers in November and help carry on his legacy by supporting Democratic nominee Hillary Clinton. "If you care about our legacy, realise everything we stand for is at stake. My name may not be on the ballot, but our progress is on the ballot."