"Seeking single white male, 28-38 years of age, white and in shape. One who is loyal, preferably educated, financially and emotionally stable for a long-term committed relationship."
At first glance, this reads just like any other run of the mill online dating profile, that is, if these weren't the written words of infamous Canadian cannibal killer Luka Magnotta.
The former pornographic actor and model is currently serving life in prison for grisly crimes that made international headlines, convicted in 2012 of killing and dismembering his former lover, Jun Lin, and mailing the victim's body parts to schools and political parties around the country.
The now 34-year-old is also one of more than 160 criminals in Canada to have signed up and created a profile on Canadian Inmates Connect Inc., a matchmaking website for inmates.
The unique dating service came under fire last year when Magnotta's profile popped up online, with many criticising those behind the site for even allowing him to apply.
But Melissa Fazzina, who started up Canadian Inmates Connect Inc. nearly six years ago, says she doesn't discriminate between criminals and none are barred from registering, no matter how heinous their crimes. Some are behind bars for violent offences like first-degree murder, while others are in for armed robbery, aggravated assault or drug trafficking.
"There are no rules for that, especially legally," Ms Fazzina told news.com.au. "I can't say that only certain inmates can join the website, it doesn't matter what they're in for. They should all be given a second chance."
Magnotta, one of the most notorious killers in recent Canadian history, was eventually removed from the site after he reportedly "found what he was looking for".
Ms Fazzina, a 39-year-old healthcare worker from Toronto, explains she originally started the website as a way to pair male and female inmates with pen pals - both platonic and romantic - on the outside.
"I thought, 'this is a neat concept', I did some research, saw that there wasn't anything like this in our country," she explained.
"I thought it would be a good little side business to make some extra money.
"At first I just reached out to a few federal inmates that I did know in the system, I asked them if it was a good idea, I got some advice on how to proceed, like how to get word out there in the system."
Today, Ms Fazzina says she is in contact with hundreds of people around the world - "from Australia, from France, from Saudi Arabia" - all keen to strike up a penpal friendship with an inmate, and she described her work as "life changing".
"I've gotten to know them [the inmates] over the years, they were real people before they went into prison, and they're going to be real people after they leave," she said.
Ms Fazzina specified that she's not responsible for pairing any of the applicants. The inmates join and members of society can go on and view their profiles and choose to write to whoever they like.
"The biggest thing [that it gives the inmates] is hope. It starts with hope that somebody is going to write to them, somebody is going to acknowledge them to give them an opportunity, not to judge them, not to know them by their crime, but as human beings."
Ms Fazzina also clarified that the site was never intended to be a dating service. While the inmates are often hoping for love, and many of the friendships have turned romantic over time, what they're looking for initially is "a life that they never had".
"Hope then turns into a positive attitude. They have got something to wake up for, they start going to the gym, interacting. Through kindness and compassion, not through punishing - I've even seen for myself violent criminals become these happy, positive people." There have even been multiple weddings, both inside the prisons and once the inmates have been released.
Speaking about the widespread criticism her service has attracted, Ms Fazzina said she couldn't understand why it had caused to much anger.
"People just want to punish and punish and punish instead of trying to make these people better. Why let them come out and be worse? Why not give them the tools and the foundations and let them be better?"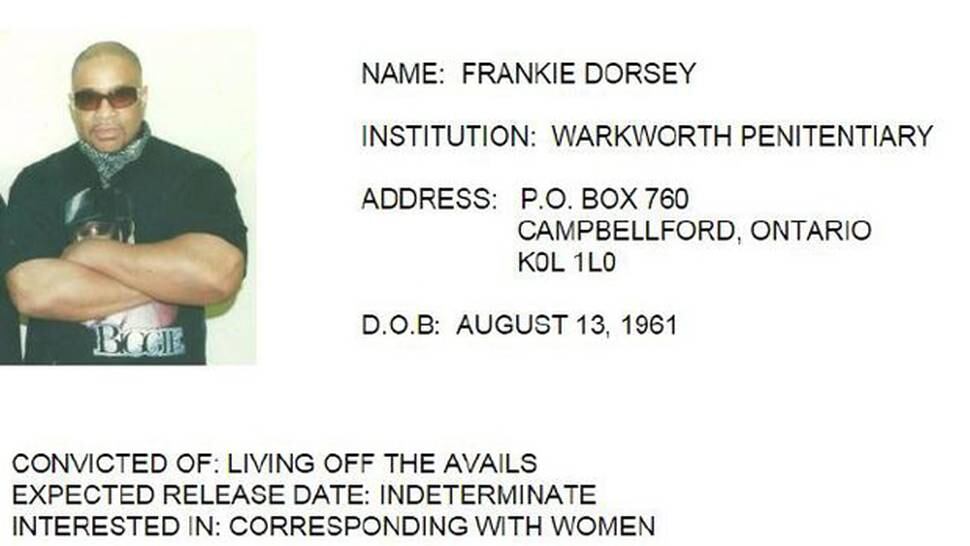 Canadian Inmates Connect describes the value of their organisation's mission on the website, saying: "Whether it be poor choices, 'in the wrong place at the wrong time' or lifestyle, it doesn't matter ... Inmates are people too. Unfortunately over time they are forgotten about by family and friends who were once there for them.
"Consider doing a random act of kindness and get to know an inmate through letters. Consider taking a few minutes to write a letter or send a card. It's something simple like this that could lift their spirits and brighten their day."
Ms Fazzina says she has absolutely no regrets with how the site has grown and transformed over the past six years. "I've worked in healthcare my whole life ... I've lived a total opposite life from most of these guys, I've had a good education, a good upbringing ... but this has changed my life."