One of the Brussels bombers was arrested in Turkey and deported back to Belgium in June with a warning that he was a militant.
Turkish President Recep Tayyip Erdogan said Ibrahim El Bakraoui, who yesterday blew himself up at Brussels Airport, was arrested in Gaziantep in southern Turkey close to the Syrian border last summer.
Officials said he was deported to Holland before being passed back over to Belgium.
The president said Belgian authorities had failed to confirm the suspect's links to terrorism "despite our warnings that he was a foreign fighter".
The revelation came as it was dramatically revealed this evening that the identity of the "Man in White", who was previously thought to be explosives expert Najim Laachraoui, remains a mystery. He is now Europe's most wanted man and a major international manhunt to find him remains ongoing.
It emerged as it was revealed that Laachraoui was actually the other airport suicide bomber, who was pictured on the left-hand side on CCTV footage showing the three Isis suspects wheeling their suitcases into the terminal prior to the deadly bombing which occurred at 8am local time yesterday.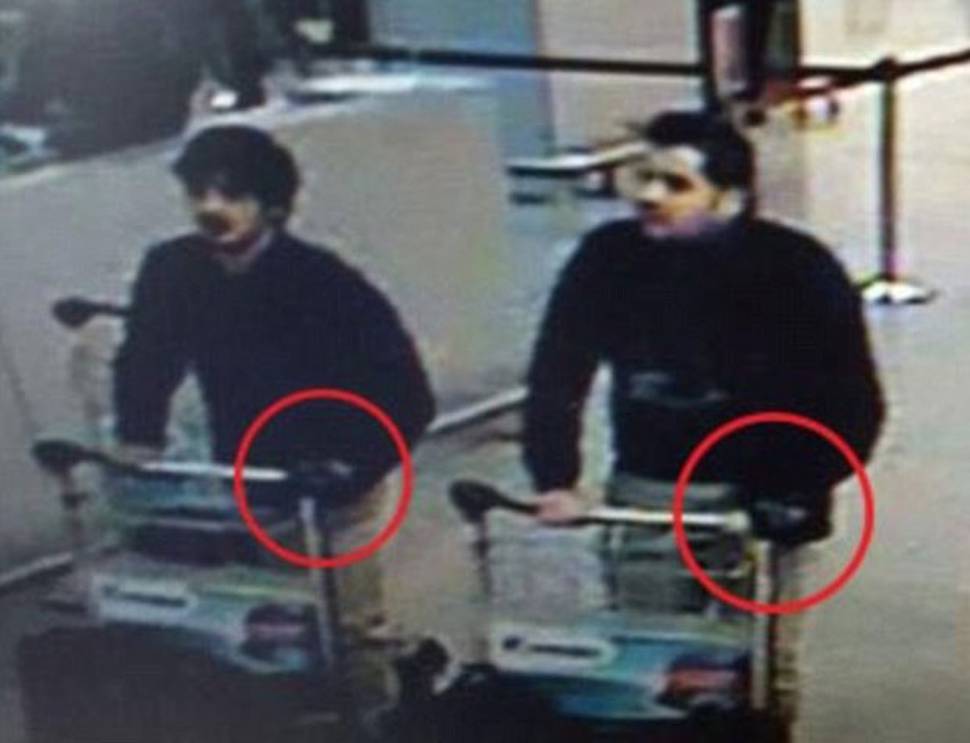 Ibrahim and Laachraoui killed 14 people and injured dozens of others when they set off suicide vests and explosives-packed suitcases at the airport. They were accompanied by the "Man in White" who abandoned his suicide mission and fled the terminal when his nail-shrouded bomb failed to explode.
Just 79 minutes later, Ibrahim's brother - Khalid El Bakraoui - detonated his suicide vest on a Brussels Metro train at Maelbeek station killing 20 people.
It emerged that Ibrahim left a suicide note telling how he was desperate to blow himself up because he did not want to go to prison like his friend, the Paris logistics chief Salah Abdeslam.
The latest twist came after it was revealed the Belgian El Bakraoui brothers escaped police in a gunfight during an anti-terror raid just eight days ago.
Laachraoui - now revealed as the second airport suicide bomber - was already one of the world's most wanted men, having built the suicide vests used in the Paris attacks and went on the run with Salah Abdeslam, one of the other Paris massacre masterminds, before hiding in Brussels for four months.
He is suspected of rigging up the suicide vests that helped kill 34 in twin attacks yesterday and is believed to have done the same for the Paris attacks.
It emerged there could have been another suitcase bomb set off in the airport but the Isis fanatics couldn't fit all their explosive-packed bags into a taxi outside their safehouse. They refused to let the driver touch the bags - prompting him to later contact the police about their suspicious behaviour.
Investigators are now desperate to track down the "Man in White" as well as Mohamed Abrini, who was thought to be a close friend of the "Man in White" and Abdeslam.
Yesterday's twin terror attacks on the Belgian capital left at least 34 people dead and are believed to have been revenge for Saleh Abdeslam's capture. Experts believe the jihadists launched the Brussels attacks because the net was closing in on their terror cell.
Belgium's prosecutor said this afternoon that Ibrahim El Bakraoui's suicide note, found in a bin, said: "I don't know what to do. I'm in a hurry. I'm on the run. People are looking for me everywhere. And if I give myself up then I'll end up in a cell... I would rather die than end up in a cell."
All of the men named as bombers today were well known to detectives because of their links to Isis and all had significant criminal records. The El Bakraoui brothers had been in jail recently for gun smuggling, burglary and car crime.
Most recently they had been on the run since March 15 following a shoot-out in a terrorist hideout in the Belgian capital's Forest suburb. They opened fire on police and fled.
The raid carried out last Tuesday on a flat in the suburb of Forest saw a sniper kill terror suspect Mohamed Belkaid while the El Bakraoui brothers managed to escape police.
There was initial speculation that the raid had aimed to capture Paris-terrorist Abdeslam, but he escaped through a loft window, but this was later denied by a police spokesman.