A shocking X-ray shows a bolt inside a survivor of the Brussels attacks which left 34 people dead.
The 7.5cm bolt is seen just inches from the heart of the patient at the Military Hospital in Neder-over-Heembeek in northern part of the Belgian capital.
At least 34 people have been killed and many more have been left injured after a series of bombs blasted inside an airport terminal and Metro station.
Video will play in
Play now
Don't auto play
Never auto play
Source: AFP
It has been reported that at least one of the bombs at Brussels Airport contained nails.
Terrified passengers at Brussels Airport have told how there was "just blood" everywhere.
Blood-soaked passengers sprinted for their lives as smoke filled the area near the check in desks.
One witness struggled to hold back tears as he described victims who had lost their legs lying in pools of blood in the airport's main hall.
Others described seeing "dismembered bodies everywhere" and the ceiling collapsing after two blasts rocked the building.
Samir Derrouich, who works at a restaurant in the airport, said: "The two explosions were almost simultaneous. They were both at check in desk. One was close to the Starbucks. It was awful. There was just blood. It was like the apocalypse."Dries Valaert, 30, was waiting to get his boarding pass from a check in desk.
He said: "There was a first blast and then ten seconds later a second explosion. It was a big big blast, the ceiling went down. It was just 30m from where I was. I saw people down on the ground and I just went running."
Witnesses described apocalyptic scenes with blood and "dismembered bodies everywhere" after two blasts rocked the terminal.
An hour later a blast hit a Metro station just 400 metres from the EU headquarters in the city centre.
At the airport, there were reports of a firefight between police and the attackers who shouted in Arabic moments before detonating their bombs, one of which was understood to contain nails.
An unexploded suicide vest was later found in the rubble and a Kalashnikov rifle beside the body of a dead terrorist. Isis has claimed responsibility for the attacks.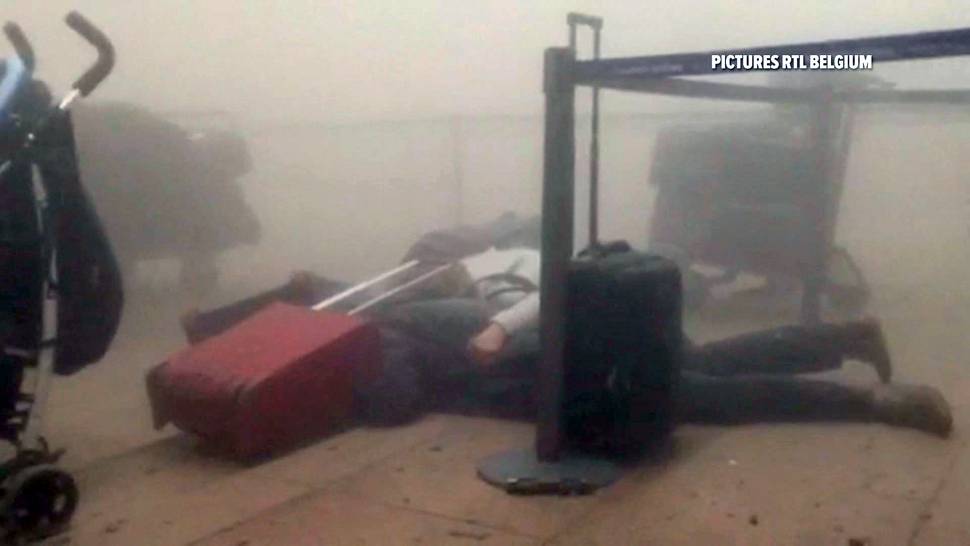 The blasts, which detonated near a Starbucks and several check-in desks, sent shockwaves through the terminal building, shattering windows and knocking roof tiles off the ceiling as terrified passengers ran for their lives.
The explosions, coming just four months after the Paris attacks, have left countries around the world reeling, with security services placed on high alert, flights cancelled, Eurostar services suspended and France's border with Belgium shut down.
Entrepreneur Marc Noel, 63, was awaiting a flight from Brussels to Atlanta when he decided to buy some automobile magazines for the flight - an act he thinks may have saved his life.
He was in an airport shop when the first explosion struck about 50 yards (meters) away, bringing down a chunk of the ceiling.
"People were crying, shouting, children. It was a horrible experience," said Noel, a Belgian who lives in Raleigh, North Carolina. "I don't want to think about it, but I would probably have been in that place when the bomb went off."
He said a second blast hit 10 to 15 seconds later.
"This feel likes war - fire engines, police everywhere," said Noel, as he and hundreds of other passengers toting their hand luggage were evacuated to the town of Zavantem.
"I was as close as I could be to the other side," he told the AP. "It hasn't happened yet. I guess it's not my hour."
____
Georgian journalist Ketevan Kardava was lining up for a flight to Geneva just after 8 a.m. when, she said, something black and suitcase-shaped exploded in front of the Delta Airlines counter nearby. She said the glass walls shattered and smoke filled the air.
"Everything was broken," she said. "We were crying, shouting, running we didn't know where."
Minutes later, amid the chaos, a second explosion sounded, she said. By then, chaos had enveloped the terminal building and she could see very little.
Security forces herded thousands of people to the back of the airport, where she said they were waiting to learn when it would be safe enough to leave.
___
Anthony Deloos, who works for check-in and baggage services firm Swissport, said the first blast hit near a counter where passengers pay for overweight luggage.
"Twenty meters from us we heard a big explosion," he said. "It's like when you're in a party and suddenly your hearing go out, from like a big noise."
He said shredded paper was flying through the air, and he thought a billboard had fallen down, but a colleague told him to run.
"I jumped into a luggage chute to be safe," he said.
____
Ralph Usbeck, 55, an electronics technician from Berlin, was checking in his baggage for an American Airlines flight to Florida when the first blast struck.
"I assumed it was training, but some litter was in the air, so I was not sure if it was a terrorist act," he told the AP.
"Seconds later, a much more heavy, heavy detonation happened, some more distance (away) but much more heavy. This was the moment I realized this was a terrorist act.
"The first detonation, very few people got panic(ked). The others didn't realize what happened, or they looked around. But the second explosion was much more heavy - panic, crying and everywhere this dirty dust, like from concrete."
Outside, he saw several injured people, including "a man who had injuries on his leg and his hair was partly burned and partly some white dust in his hair."
"It took a very, very long time till the ambulances came," Usbeck said. "Maybe half an hour."
___
Jef Versele, 40, from Ghent, Belgium, said he was at the airport and about to check in when he heard two blasts and suddenly the air was full of broken glass.
"Everything was coming down - glassware. It was chaos, it was unbelievable. It was the worst thing," he said.
"People were running away. There were lots of people on the ground. A lot of people are injured."
____
Jordy van Overmeir had just collected his luggage after landing at the airport from Bangkok when "all of a sudden I heard a loud explosion - this boom. Initially I thought it was the sound of a suitcase falling down."
"At this point I saw all these policemen running around, shouting and saying 'there was an explosion," he told Sky News.
Outside the baggage claim area and the arrival hall he could "smell smoke and see glass and I saw blood."
"Then I came outside of the airport on the parking lot and there I saw people with head wounds, people crying, more blood on the road and glass everywhere.
"There was a lot of panic, with people running around. Policemen, military everywhere. There were ambulances going around. People seemed really shocked ... Everyone seems very shocked and very sad."
___
Shortly after the airport explosions, another blast hit a subway train at Maelbeek station in central Brussels.
Alexandre Brans, 32, said the train was pulling out of the station "when there was a really loud explosion."
Outside the station, Brans wiped blood from his face as other people milled around with their clothes badly burned; the stuffing of one person's jacket hung in shreds. First responders ran through the street outside with two people on stretchers.
"It was panic everywhere," Brans said. "There were a lot of people in the metro."
- Daily Mail and AP