All sixty-one people on board a flydubai Boeing 737 were killed when their plane crashed and burst into flames as it was landing in Rostov-on-Don, in Southern Russia, officials said.
The plane was making its second attempt to land in bad weather when it missed the runway, erupting in a huge fireball as it crashed.
"flydubai regrets to confirm that flight FZ981 crashed on landing and that fatalities have been confirmed as a result of this tragic accident," the airline said on its Facebook page.
The local emergencies ministry confirmed that all 55 passengers and six crew on board were killed.
"A Boeing 737 crashed as it was coming into land. There were 61 people on board. They are all dead," said a spokesman from the local ministry, quoted by the official TASS news agency.
The plane hit the ground a few hundred metres (yards) from the runway as it was making its second approach, Russian news channel LifeNewsreported.
Below: CCTV footage believed to be a plane on fire, crashes to the ground at the Rostov-on-Don airport.

Footage shown on local media showed a huge fireball erupting from the crash site.
It was raining hard and a strong wind warning had been issued by the local emergencies ministry, TASS said.
"The Boeing 737 on the Dubai to Rostov-on-Don route caught fire (after crashing)," an official statement from the emergencies ministry said, adding that it took an hour to bring the blaze under control.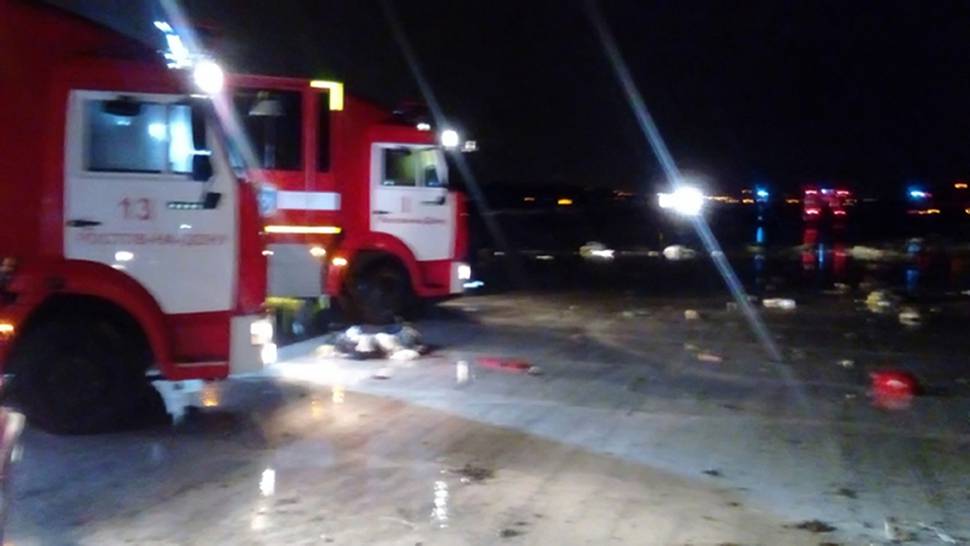 The accident happened at 0050 GMT, according to the statement. The plane had left Dubai at 1820 GMT, flydubai confirmed.
"We are putting our emergency response in place and we will be working closely with all the authorities involved. We will share as much information as possible just as soon as we can and we will provide updated information on a regular basis," Emirates-based flydubai said in a statement on its Facebook page.
Boeing said they were aware of the incident.
"We're aware of reports coming out of Russia and our team is currently gathering more details," the plane manufacturer said on Twitter.
-AFP