•At least one killed, as ferocious category 5 storm slams into Fiji
•Trees, homes destroyed - residents, tourists hunker down
•Gusts of up to 325km/h and 12m high waves
•Some islands evacuated, and flights and sailings cancelled
•"The biggest and fiercest storm in the world right now," says WeatherWatch

READ MORE: Cyclone Winston: All you need to know
Woman live tweets Cyclone Winston destroying her home
.
12.46pm:Cyclone Winston has passed the outermost islands in Fiji's west.
MetService New Zealand meteorologist Emma Blades said at noon the most recent information from Fiji pegged Winston at 230 kilometres west of Nadi.
The tiny western island of Viwa was the latest to feel the category five cyclone's force, but Winston was 175km west of Viwa at 10am (NZT).
The cyclone was moving about 22 kilometres an hour, and still packing a punch with average wind speeds of 205kmh and gusts of 285kmh.
Viwa, which is home to a resort, was still subject to a weather warning that included heavy rain, squally thunderstorms, damaging swells and flooding. The phone line was not working when the New Zealand Herald called the island's resort.
Although Winston had passed, there would continue to be strong winds throughout Fiji, Ms Blades said.
"That will ease through the day."
12.34pm: The Government has opened up an emergency fund of $50,000 and sent an Air Force surveillance plane to Fiji to assess the damage caused by Tropical Cyclone Winston.
Foreign Minister Murray McCully said the Orion left from Whenuapai today to help Fiji's authorities carry out aerial surveillance and damage assessment. He said the cyclone appeared to have causes major damage on the northern coast of Viti Levu, and one person was confirmed dead.
The Government has also made an initial sum of $50,000 available immediately through the High Commission in Fiji for a response to any urgent requests from the Fiji Government. It also authorised the release of up to $170,000 in relief supplies held on the island by groups such as Unicef and Rotary. Further help would be decided in coming days once the scale of the support needed was known.
"New Zealand stands ready to assist the people of Fiji as they deal with the aftermath of Cyclone Winston and we are in close contact with the Government of Fiji. It is clear that further support will be required and we will be working with the local authorities over the coming days to determine how we can best assist."
Mr McCully was in Fiji last week for meetings with Fiji's Prime Minister and ministers, including talks on how the countries could work together in the case of natural disasters in the Pacific.
The Ministry of Foreign Affairs said there had so far been no reports of New Zealanders injured in the cyclone and New Zealanders concerned about friends and family in Fiji should attempt to make contact directly in the first instance. However, communication lines were down in many parts of Fiji. Those with ongoing concerns should contact the Ministry of Foreign Affairs and Trade: on 04 439-8000 (if calling from within New Zealand) or +64 4 439-8000 (if calling from outside New Zealand).
11.50am:A storm is now hitting parts of Fiji. Strong winds, thunder and rain are being reported in some areas.
Fiji has woken to devastating scenes this morning after Cyclone Winston cut a swathe through the islands overnight, killing at least one person, destroying homes and cutting essential services.
The Fijian Government has continued a curfew for the whole country in a bid to keep people safe in the wake of the storm that packed winds of more than 300km/h.
The curfew in Fiji will remain in place until at least 11am local time. Tourism Fiji has tweeted that the Disaster Management Committee meets at 11am to assess the situation.
The Fiji Broadcasting Corporation are reporting that all schools in the country will go on a break for one week from tomorrow. Education Minisster Mahendra Reddy said the break would allow parents and students to recover from the cyclone.
"(It will also allow) the management... to do the clean-up and prepare the school
"We will also ensure that we don't lose any teaching time so the term one break that is supposed to be for two weeks will now be for one week because we are pulling one week from next week that is tomorrow," he said.
According to the Fiji Broadcasting Corporation 1066 people remain sheltering at 35 evacuation centres across Vanu Levi.
Food rations are about to be distributed.
One man was killed as hurricane force winds and 12m high waves battered the Pacific nation, homes were destroyed and terrified tourists hustled from their hotel rooms to hunker down for the night.
Kiwi mum Melinda Dent, holidaying in Fiji with her husband, two children and mother-in-law, described her cyclone experience as "terrifying". She feared her feet would be taken "out from under me" when she evacuated from her hotel room to the Sheraton's ballroom last night.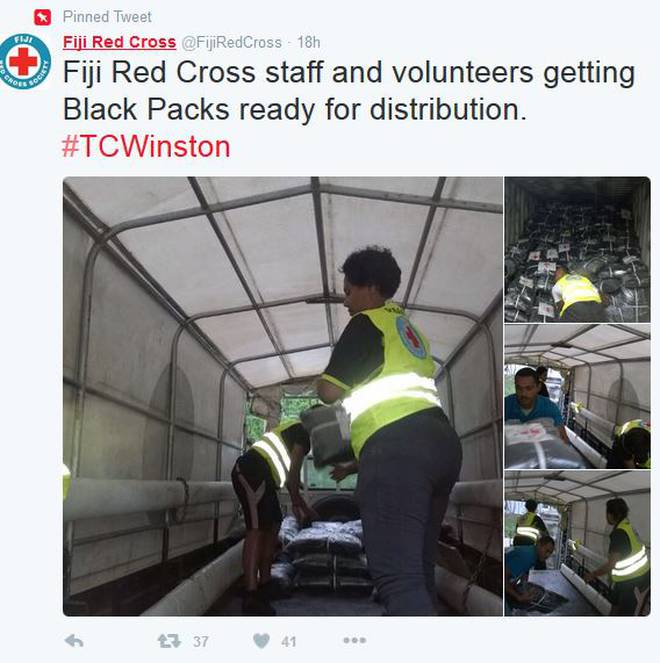 "Last night in our room was terrifying. The wind wasn't gusty, just constant, full force wind and so incredibly noisy. When I felt like the windows must be about to blow in we were advised that an evacuation crew was coming around. "At the storms peak we were taken under covered walkways to the hotel's ballroom with all the other guests. The walk there was very scary - horizontal rain and wind that felt like it was going to take my feet out from under me."
The family stayed in the ballroom till about 2am, before returning to their room. It was flooded, but the beds were dry, she said.
This morning, it was calm.
"Today the weather is fine, very humid. The ground is covered in branches, tree trunks, leaves and debris everywhere you look but the cleanup is happening already."
Aucklander Simon Woodward, in Denarau, hunkered down in his friends' cyclone-proof house.
"It was pretty loud and just going outside now, there's a bit of carnage with palm trees ... there's one house which has had its roof ripped off."
The worst of the storm hit about 2am, Fiji time, and knocked out power to the island. Mr Woodward, who is in Fiji on holiday and hoping to come home soon, said the house he is staying in is being powered by a generator.
Dunedin's Animation Research chief executive Ian Taylor was in Fiji for a conference, and staying at the Sofitel in Denarau Island, near Nadi.
"I'm here to speak at a conference about how technology is changing the world. And then good old Mother Nature steps up to put us in our place," he told the New Zealand Herald.
Hotel staff moved him and hundreds of other guests into the hotel's ballroom last night.
"We ended up taking over the ballroom where a wedding was going on. Bet the bride never in her wildest dreams thought she would spend her wedding night sleeping with a couple of hundred strangers. The amazing thing is the warmth of the the Fijian people, who must be so worried about their places and yet here they are. Huge smiles and Bula Vinaka.
"We get to fly out so hoping everyone is turning their attention to them."
Photos posted on social media by people in Fiji show trees down along beaches, houses smashed to the ground and debris covering the ground.
Winston made landfall north of Fiji's main island Viti Levu last night, hammering the area for two or three hours.
It is the strongest tropical cyclone ever to make landfall in Fiji. The category 5 tropical cyclone reached full force around 5pm and by 8pm had hit land.
Flights in and out of Fiji continue to be affected by the cyclone.
Air New Zealand has cancelled all flights to or from the country today. It had two flights from Auckland to Nadi and two from Nadi to Auckland scheduled.
"We will continue to monitor the situation and update accordingly," the airline said on its website.
Fiji Airways said on its website that it had cancelled all its flights scheduled for today and Monday.
A Qantas spokeswoman said its services yesterday and today had been cancelled. The situation would be reviewed again tomorrow.
Virgin Australia and Jetstar have also suspended flights in and out of the country.
New Zealand telco Spark announced this morning it would credit customers for the cost of calls and texts to Fiji in the wake of Cyclone Winston.
The credit will apply to direct-dial calls and texts made from New Zealand home phones or mobiles to Fiji from 9.30am (NZT) Saturday, February 20, until midnight on Tuesday, February 23.
The money will be retrospectively applied to customers' accounts in either their February or March bills.
"We know that people will be calling more than usual right now, checking in to make sure that everyone is safe, especially over the next few days," said Spark spokesman Jason Paris. "We hope that the phone bill at the end of the month will be one less thing to worry about."
Fiji Radio reported last night that one elderly man died when his house collapsed.
It has also emerged this morning that a British couple are feared missing. The Exeter Express has reported that the couple from Devon were visiting Fiji to celebrate "a milestone birthday" could not be reached.
Sarah Williamson and Dale Partridge reportedly made contact with their family when they arrived in Fiji, but they have not been heard from since the cyclone hit.
Ms Williamson's father Doug said the family were "anxious" and worried as they could not contact them.
MetService NZ meteorologist Emma Blades said Cyclone Winston was between 350 and 400 kilometres west of Nadi at 8am (NZT).
It was a still a category five, making it the first cyclone of that force to strike Fiji in recorded history.
There were no maximum wind gust recordings, but they would "absolutely" have topped 300 kilometres an hour, based on the mean wind speeds.
The highest mean wind speed was recorded on the island of Vanua Balavu, in the Lau Group north-east of Viti Levu, where it reached 220 kilometres an hour before recordings stopped.
"Then the station dropped so it could have gone higher. A lot of stations have dropped out."
Worst affected in the main islands were the top of Viti Levu and the bottom of Vanua Levu. In the latter a mean wind speed of 194kmh was recorded, but it would have been gusting much higher, Ms Blades said.
"The eye passed really close to them."
Nadi, where the international airport is located on Viti Levu's western coast, recorded mean wind speeds of 80kmh and gusts up to 130kmh, she said.
"There's a lot of reports of people's rooves coming off and there's multiple reports of flooding."
There were no rainfall readings available as those were not recorded on the weather stations they were accessing.
On Koro Island, where an elderly man is believed to have been killed during the cyclone, the mean wind speed was 110kmh, Ms Blades said.
WeatherWatch head analyst Philip Duncan said the eye of the cyclone came within 40km of Nadi overnight, but was now well west of Fiji.
"The destructive portion of the winds has now cleared Fiji's main island and the worst of the rain has too, although wet and windy conditions do remain for many.
"Fiji Met Service rain radar is still perfectly capturing the eye of Cyclone Winston well to the west of Viti Levu, despite the storm taking out other radar networks east of Nadi late last night."
Winston was tracking west at 25 kilometres an hour, and he expected the cyclone would turn south-west today or tonight, Mr Duncan said.
The air pressure was 925hPa with winds of 215kmh, gusting about 300kmh, Mr Duncan said.
There was a moderate risk New Zealand's North Island would receive the remnants of Winston at the end of the week, he said.
"However with so much uncertainty we won't be focusing on Winston's potential track towards the upper North Island until the end of today or even tomorrow."
Evacuation centres were activated last night and hundreds of people were accommodated.
While weather warnings are still in place and conditions are still wet and windy, things are much calmer across the Pacific this morning.
Authorities now face the task of assessing the damage and destruction. The efforts are likely to be hampered as power is still out across most of Fiji.
At 7.45am the Fijian Government posted an urgent public announcement on its Facebook page, alerting people to a continuing curfew.
"Director National Disaster Management, Mr Akapusi Tuifagalele wishes to advise the public to restrict their movement and stay indoors as the curfew is still in place for the whole of Fiji," the announcement read.
"For safety reasons, the public have been advised to restrain from movement as there are fallen trees that needs to cleared and power lines to be restored."
As of this morning 186 New Zealanders had registered with the Ministry of Foreign Affairs and Trade as being in Fiji.
NZME account director Ben Rose spent the night sheltered in a board room at the Sofitel on Denarau Island. He and about 350 others, including a wedding party forced to shut down by the hotel manager and babies and their mums, spent the night on the second floor room as the wind howled and rain lashed the island, less than 10 kilometres from Nadi.
Between 11am last night and 1am this morning was the worst, Mr Rose, 38, said.
"You could feel the pressure of it outside. They were screwing batons across the doors outside. You could hear the wind and the rain ... from 11pm it was going non-stop, it was absolutely torrential. About 5.30am the general manager said 'we've managed to make it through the night'."
Habitat for Humanity International has a staff team of disaster response experts currently providing direct support to Fiji.
"The same people that served in Nepal last year after the April earthquake are now focused on Winston and the critical need for a shelter response in the Pacific," said Claire Szabo, chief executive of Habitat for Humanity New Zealand.
"It's easy to feel hopeless when you are far away, and you're just watching the weather reports with horror. But our team has come together this weekend to ensure that New Zealanders hear about the shelter needs of people in this Cyclone, and have a chance to show support. As well as coordinating with other responding agencies, New Zealand staff were emailing and calling supporters, and sharing information on social media."

Fiji's Broadcasting Corporation said a man was injured at Lautoka, when he went out of his house during the storm and was hit by a flying object.
Officials are telling people to stay indoors this morning because of damage to the power network, and live wires lying in the streets.
At the Sofitel Resort in Denerau, where 350 guests spent the night in a boardroom, general manager Allan Burrows said there were trees down and debris everywhere.
However, there was no major structural damage to the resort itself, Mr Burrows said.
7.45am: The Fiji Government have posted on Facebook that a curfew is still in place:
"Director National Disaster Management, Mr Akapusi Tuifagalele wishes to advise the public to restrict their movement and stay indoors as the curfew is still in place for the whole of Fiji.
"For safety reasons, the public have been advised to restrain from movement as there are fallen trees that needs to cleared and power lines to be restored."
7.36am: Fiji Met Service forecaster Amit Singh told Newstalk ZB the cyclone was over land for two to three hours.
Some houses have been blown away completely while others have lost their roofs and the power has been lost across Viti Levu.
Warnings of damaging swells and heavy rains were still in force, Mr Singh said.
Weatherwatch.co.nz says Winston's eye made landfall in the north of the island last night.
It's the strongest tropical cyclone ever to make landfall in Fiji, packing winds of more than 300km/h.
7.25am: NZME account director Ben Rose spent the night sheltered in a board room at the Sofitel on Denarau Island. He and about 350 others, including a wedding party forced to shut down by the hotel manager and babies and their mums, spent the night on the second floor room as the wind howled and rain lashed the island, less than 10 kilometres from Nadi.
Between 11am last night and 1am this morning was the worst, Mr Rose, 38, said.
Cyclone Winston is now pounding Fiji. The Cyclone made a U-turn yesterday after partially hitting Tonga.Flights to and from Fiji are reportedly being cancelled. Video: Breaking Disaster, Youtube
"You could feel the pressure of it outside. They were screwing batons across the doors outside. You could hear the wind and the rain ... from 11pm it was going non-stop, it was absolutely torrential. About 5.30am the general manager said 'we've managed to make it through the night'."
7.17: UNICEF worker Alice Clements - who is staying in Suva - says she wouldn't wish a category five cyclone on her worst enemy.
Speaking to AAP from her sturdy home on Saturday evening, Ms Clements described a dystopian scene of downed banana trees, howling winds and the "ominous" sounds of corrugated iron lifting on some of the roofs.
"And it's still very early hours of the storm," she said at 6pm.
Last year, Ms Clements experienced the wrath of Tropical Cyclone Pam, also a category-5, as it decimated Vanuatu.
Today, all she wants is for people who aren't in her position of "luxury" - "I have a strong house" - to find shelter and stay away from all bodies of water.
As for visiting Australians, Ms Clements said they're in for a few awful evenings before they can finally return home, possibly on Monday, provided the weather improves.
Virgin, Jetstar and Fiji Airways have either suspended or brought forward flights between Australia and Fiji as the category-5 tropical cyclone Winston descends on the island, bringing with it winds approaching 300km/h.
7:00am: Fiji is waking up shaken and smashed by Cyclone Winston, the most powerful storm ever to hit the islands.
Last night: The category 5 tropical cyclone reached full force around 5pm and by 8pm had made landfall. Fiji Radio reported last night that one elderly man died when his house collapsed.
WeatherWatch confirmed the cyclone had hit land at about 8pm, with the Category 5 cyclone lashing Viti Levu - Fiji's main island - with winds of 230km/h, gusting to 325km/h.
Melinda Dent and her family are staying at the Sheraton in Denarau.
Last night she told the Herald that the wind was "absolutely howling".
" We are in our hotel room and have been told to bring all the outdoor furniture inside.
We lost power at around 6.30pm and are running on the generator. If the winds get any stronger we will all be moving into the windowless bathroom to sit it out.," she said.
"It's very scary to think it could be getting even more windy than it already is. My children are terrified and I doubt any of us will be sleeping tonight.
"We have been evacuated from our rooms into the main hall and foyer of the hotel. The wind felt like it was going to knock us over and there were huge branches and debris everywhere. We will just be waiting it out with all the other hotel guests."
Waves around the eyewall of the storm are 12 metres high at sea and expected to grow. Flooding in coastal areas is also predicted.
"The centre of the storm is now tracking directly towards Nadi - but the mountains of Fiji may help weaken the system now that the eye is no longer feeding off the warm sea," WeatherWatch head analyst Philip Duncan said.
"The centre of Cyclone Winston is likely to track very near, or possibly even over, Nadi around dawn, which is concerning to the many people there".
Cyclone Winston is Fiji's strongest storm in recorded history.
The storm also peaked in strength just as it approached Fiji from the east.
It is expected to gradually start to weaken to a Category 4 cyclone overnight and into Sunday, as it moves over Fiji.
"We believe it may weaken faster due to its last minute track further south over land, but flooding, slips, destructive winds and significant storm surges are all likely overnight tonight, especially in the northern half of Viti Levu" Mr Duncan said.
It is still too early to know how and if Winston will affect New Zealand. Mr Duncan said more information on Cyclone Winston's future once it's left Fiji, either late Sunday or early Monday.
A post on the Fiji Government's Facebook page confirmed power was out in Levuka, Savusavu and Labasa and Korovou Town.
"The FEA will restore power when the situation is safe to work in these sites. Buy batteries and make sure you have candles," the post read.
A resident of Korotogo, on Fiji's Coral Coast, said power was out in the area.
He told the Fiji Times winds in the area was "hurricane force" and the situation looked "very dangerous".
Mr Duncan has labelled the cyclone "the biggest and fiercest storm in the world right now".
Some islands have been evacuated and flights and sailings cancelled.
The Fijian Government has declared a state of natural disaster.
Wind intensifying in Kinoya just out of Suva at 6.30pm.Thank you for the video Josefa Vurewa.Destructive storm force winds for Suva, Nausori and Pacific Harbour are starting now and should continue through to tomorrow morning

Posted by NaDraki Weather on Friday, February 19, 2016
"The Government machinery shall now roll into place to ensure the safety of members of the public, businesses, our economy and national assets," Meleti Bainimarama, Fiji's natural disaster secretary has announced.
Mr Bainimarama said the declaration will be in effect for the next 30 days.
The Government has also issued a total public curfew across the country from 6.00pm.
Fiji's National Disaster Management has advised that a total curfew will take place until further notice.
The latest measure is designed to restrict movement and ensure the safety of all Fijians. Only essential services will be permitted to travel.
READ MORE: Cyclone Winston: Seven things you need to know
Fiji police have spoken of their frustration of locals who didn't heed earlier warnings to flee low lying areas.
Fiji Police Force chief of operations Rusiate Tudavu told the Fiji Broadcasting Corportation said some villagers had been caught out by not attempting to move to the high lands.
Officers were attempting to evacuate as many people from low lying areas as possible.
Those officers were risking their own safety, he said.
"It is sorry to say at this time that majority of these people could have used prior warnings that was given to vacate those places giving us an awkward position dispatched our vehicles at night during the height of the cyclone risking the lives of our officers."
Video footage has emerged of the Spanish men's rugby sevens team helped to sandbag around the Uprising Beach Resort, near Taunovo Bay, as waves surged ashore.
James Pridgeon posted to Facebook: "Very lucky to have to Spanish Men's Rugby 7s team at the hotel to help restack what sandbags we can! Ocean is relentless!"
Five people swam to shore near the Fijian island of Mali, after their boat capsized, the Fiji Times reported.
The villagers from Druadrua had lost their belongings, but were safe, a Fijian official confirmed.
Strong waves caused another boat to capsize this evening, the paper reported, but those passengers were also safe.
Residents of Fiji's two main islands, Viti Levu and Vanua Levu, were being warned today to prepare for what could be the most powerful cyclone ever to pummel their country in its recorded history.
It's feared, however, that locals in the capital, Suva, on Viti Levu, may not have taken the warnings seriously enough, as the city has rarely experienced a really damaging storm.
"Most of the people in Suva are under the misapprehension that Suva doesn't get cyclones, that it's only the north and the west of the country that seem to get them and the ones that come past Suva are weak and insipid," Fiji Met Service meteorologist Neville Koop told Australia's ABC News.
"This is the exception to that - it's probably one of the strongest cyclones to affect the capital in the last decade or two."
Mr Koop added: "The potential for devastation is high and there is a very real risk that people will lose their lives."
Aid agency Unicef said "the risk of disaster for children and families is high".
Residents of Vanuabalavu, Yacata, Mago, Cicia, Tuvuca, Naya, Koro, Gau, Vanuavatu, Taveuni, Qamea, Laucala, Ovalau, Wakaya and the southern half of Vanua Levu have been told to expect "very destructive hurricane-force winds" as well as heavy rain and squally thunderstorms, damaging sea swells and flooding.
Lakeba, Oneata, Moce, Komo, Namuka, Ogea, Moala, the rest of Vanua Levu and nearby smaller islands, Vitu Levu, Yasawa and the Mamanuca group have been told to expect destructive storm-force winds, with average speeds of 110km/h and gusts of up to 155km/h, heavy rain and squally thunderstorms. There is also a risk of damaging heavy sea swells and flooding in low-lying areas.
Strong winds were already being felt on Koro Island in the Lomaiviti group earlier today, the Fiji Times website said.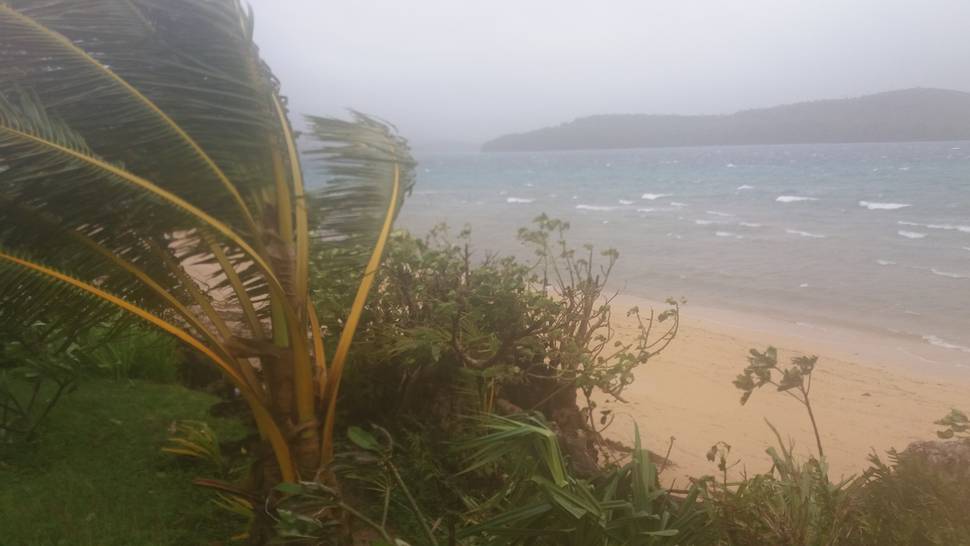 Bale Rokodi of Tuatua village on Koro Island said people remained in their houses and no one had moved to the evacuation centres provided by the National Disaster Management Office (NDMO).
The Times said there had also been reports of damage to farms in Kabara, Lau, from strong winds.
Filipe Jitoko, speaking to the newspaper from Lomati village, in Kabara, said strong winds had destroyed banana crops and newly planted cassava.
Villagers had been advised to stay indoors, he said.
Some are being evacuated. Peace Corps volunteer Luigi Zeccardo said he and his colleague had already been flown from Koro island.
The weather turned bad very quickly as they were waiting for the plane to pick them up, he said.
Over the course of an hour, a thick blanket of fog came down, winds increased and it was almost impossible to see.
The plane had to make a couple of attempts to pick them up from the grass landing strip, which is on a slope, but they were now safely back in Suva, Mr Zeccardo said.
Kiwis hunker down
Aucklander Ben Rose is on holiday with his wife, Ashlee, at the Sofitel on Denarau Island near Nadi and the couple were preparing to hunker down in the resort overnight.
Guests had been told to take the duvets and pillows from their rooms to the ballroom in the main building from 7pm local time (8pm NZ time). They will spend the night there, with any staff who haven't been sent home.
"It's going to be like an old-fashioned camp, marae style," Mr Rose said.
The 38-year-old said staff were boarding up windows and moving all the outdoor furniture indoors.
There was a mixture of fear and nervous excitement around the hotel.
"I'm semi-excited but scared. It's quite cool to be part of an event like this. It's not every day you get locked down on holiday. But we've been watching videos of the storm hit some of the other islands and it looks pretty gnarly."
Flights cancelled
Meanwhile, flights have been cancelled for holidaymakers heading to or returning from Fiji after Virgin Australia determined flying conditions were unsafe.
The airline has suspended services between Nadi and Melbourne, Sydney and Brisbane today and tomorrow, and Monday's flights are under review.
Many of Fiji Airways and Fiji Link's international and domestic flights have been cancelled or delayed by up to eight hours.
Fiji Airways said this situation was likely to last a few days.
"Current weather models indicate the Fiji group is expected to receive destructive winds and heavy rain starting early Sunday morning up until early next week," a statement said.
"To assist passengers affected by Tropical Cyclone Winston, Fiji Airways and Fiji Link is extending a waiver of fees.
"This weather waiver applies for passengers holding a valid ticket issued on or before February 19 for travel between February 19 and February 25."
Air New Zealand has cancelled all its five flights in and out of Nadi this evening and tomorrow due to the severity of the storm.
The airline said it was continuing to monitor the situation and would decide tomorrow afternoon whether two flights on Monday would also be cancelled.
It said travellers whose bookings were affected by the ferocious storm could change their flights without penalty.
"People who bought tickets before and including Thursday, for flights to Fiji, Apia, Niue and Tonga scheduled prior to and including Tuesday, can defer or bring forward the trip up until Monday, February 29 without penalty," Air New Zealand said on its website.
"Or if the proposed date of travel is unknown, then the value of the ticket may be held in credit for payment towards travel within the same 12-month validity."
Normal refund rules would apply, including that non-refundable fares remained non-refundable.
The airline advised passengers to keep an eye on the arrivals and departures and travel alert pages on its website.
South Sea Cruises has cancelled sailings between islands until Tuesday, the Fiji Times reported.
All-day cruises and Mamanuca resort transfers had been cancelled for tomorrow and Monday, it said.
Awesome Adventures Fiji has also suspended all trips to the Yasawas from tomorrow through to Tuesday.
Flight Centre's retail general manager Sue Matson said though staff were working with clients "around the clock", there had not been any cancellations as a result of the cyclone.
And House of Travel's Brett Thomas said people planning to travel today and tomorrow had been affected by flight cancellations.
He said it was possible those planning to travel on Monday could also be affected, and many people were also unable to leave the island because of changes to flights.
He said the travel agency had "hundreds" of customers in Fiji, but in the high season - during school holidays in April and September - there were usually thousands.
Kiwis advised to stay informed
The Ministry of Foreign Affairs and Trade has updated its travel advisory for Fiji due to Cyclone Winston to 'high risk', and is advising Kiwis not to travel to Fiji.
Currently there are 186 New Zealanders registered with MFAT as being in Fiji.
"New Zealanders in Fiji are strongly encouraged to register with on MFAT's www.safetravel.govt.nz and should follow the advice of the local authorities at all times, including any evacuation orders, and seeking suitable shelter and keeping their family in New Zealand regularly informed of their well-being," a spokesman said.
"New Zealanders planning on travelling to Fiji in coming days should contact their airline or travel agent directly to check on potential disruptions to flight schedules.
"We now advise against all tourist and other non-essential travel to Fiji."
"We recommend you stay informed of developments by monitoring local news and weather reports," Mfat said on its website.
•If you have concerns about a New Zealand citizen family member in Fiji, try to make direct contact with them first, and if you have ongoing concerns, contact the Ministry of Foreign Affairs and Trade on (04) 439-8000 from within New Zealand or +64-4-439-8000 if calling from overseas.
Save the Children said it was concerned for families and youngsters in Fiji as Winston approached.
New Zealand chief executive Heather Hayden said emergency supplies were already there, to help people who needed assistance immediately after the storm.
"We are monitoring the situation in Fiji and are ready to provide assistance as soon as we receive a call," she said.
Unicef New Zealand executive director Vivien Maidaborn said that with the one-year anniversary of Cyclone Pam - which devastated Vanuatu - approaching next month, the impact of a category 5 cyclone was "still fresh in all of our minds".
Unicef is poised to distribute emergency supplies from Suva and Nadi, including health kits, school tents, water containers, purification tablets and tarpaulins.
Alice Clements, a New Zealander working for Unicef in Suva, said they were hoping for the best, but preparing for the worst.
"For the last few days we have been sharing emergency preparedness messages encouraging people to take precautions ahead of the cyclone hitting this weekend.
"Unicef is also working closely with the Government of Fiji and the National Disaster Management Office as well as partner organisations to ensure a co-ordinated response, if required, once the cyclone has made impact."
In Tonga, Winston destroyed around 10 houses on Vava'u and damaged 200 more, Tonga's Emergency Management Office said.
Unicef said a rise in possible Zika cases was a major concern following the cyclone.
"With the mess left behind by a cyclone, the health situation could get worse - especially with a new abundance of standing water, in which mosquitoes breed."
A road traffic curfew has been put in place in Fiji.
Fiji's Land Transport Authority has advised buses, minibuses and taxi operators to cease services, the Fiji Times reported. It is also advising the public to stop using the roads by 5pm local time (6pm NZT).
The Fiji MetService has advised seafarers to avoid the ocean due to hurricane-force winds and heavy seas.
In the north, town and shopping centres have been closed since 2pm, the Fiji Times reported.
Churches in Fiji are suspending services tomorrow as the storm nears.
Methodist Church general secretary Reverend Dr Epineri Vakadewavosa told the Fiji Times the decision was for the safety of members.
"We urge our members to exercise caution and common sense with regards to Sunday worship this weekend. I encourage our members to hold family devotion at home tomorrow."
"We can't afford to be complacent"
Meanwhile, Fijian Prime Minister Frank Bainimarama has warned that his country faces "an ordeal of the most grievous kind" as moves though the Pacific.
Mr Bainimarama is calling for people to pray for Fiji and pleading with his countrymen to be prepared.
This afternoon, the PM urged anyone who fears their home cannot "withstand the onslaught" to seek help immediately.
And in a chilling warning, he expressed grave concerns for the lives of people who were still not taking notice of the seriousness of what is about to hit.
"As a nation, we are facing an ordeal of the most grievous kind. We must stick together as a people and look after each other. Be alert and be prepared," Mr Bainimarama said.
"I urge you all, if you haven't already done so, to finalise your own preparations to survive this terrible event. We cannot afford to be complacent.
"I am especially concerned that some people in urban areas of the country in particular do not appear to have heeded the warnings about the seriousness of the threat we all face."
Mr Bainimarama said evacuation centres were prepared to help those who needed it.
"I want to assure the nation that the Government is thoroughly prepared to deal with this crisis. Our evacuation centres are fully operational," he said.
"If you have any doubts about the ability of your own home to withstand the onslaught, I urge you to seek shelter where you are most likely to be safe, and our officials can assist you."
Expressing particular concern for the wellbeing of children and old people, the Prime Minister warned of projectiles flying through the air. He urged people to stay inside.
"I ask parents to be especially careful of the young and the elderly. Do not allow anyone to go outside during the storm itself. The threat of being hit by flying debris is extremely high," he said.
"By now, you should have done all you can to secure your property. Make sure you have adequate food and water, flashlights, candles and lanterns in case the power supply is disrupted, and a battery-operated radio to keep abreast of news of Cyclone Winston's progress."
Mr Bainimarama closed his public address by calling for divine intervention.
"Let us all pray for our nation, ourselves and each other and ask God's blessing on our beloved Fiji."
-Additional reporting from Newstalk ZB