• At least 22 people killed and more than a hundred injured in bomb blast
• Explosion took place during rush hour close to popular Erawan Shrine
• No one has claimed responsibility but government blames forces seeking to destroy tourist economy
• Police chief: "They aim to kill because everyone knows the shrine is crowded with Thais and foreigners"
• Kiwi paramedic on the scene: "There were bodies everywhere. Some were shredded"
• Australian singer Jimmy Barnes has close call
• Q&A: What should Kiwis in Thailand do and is it still safe for travellers?
A bomb exploded at a popular shrine in central Bangkok during evening rush hour Monday (Tuesday NZ time), killing at least 22 people, injuring more than 100 and leaving body parts strewn across the streets of a neighbourhood full of five-star hotels and upscale shopping malls, officials said.
No one immediately claimed responsibility for the blast, which caused the worst carnage of any single attack in recent memory in the Thai capital. Bangkok has been relatively peaceful since a military coup ousted a civilian government in May last year after several months of sometimes violent political protests against the previous government.
New Zealanders witness the horror
A New Zealand paramedic working with the Bangkok ambulance service, Marko Cunningham, said the blast had left a 6ft crater.
"There were bodies everywhere. Some were shredded. There were legs where heads were supposed to be. It was horrific."
Cunningham said people several hundred metres away had been injured.
NZME journalist Catherine Gaffaney is in Bangkok and heard about the blast when friends in the UK sent her a message over Snap Chat.
"My friend said, 'I hope you're OK', and I was like, 'what?'. Oh my God there's a bomb."
Warning: Graphic content:
When Ms Gaffaney got to the scene of the bombing the area was closed off and there was a big military and police presence.
"Khao San Rd, the party street where all the expats and all the tourists hang out was closed. It was a lot quieter on the streets."
Ms Gaffaney is staying at a hostel, where the news was filtering through.
"Everyone's quite worried about it, quite stressed.
"People are calling up family... Everyone's on their phones looking at what's happening."
She wasn't aware of anyone who was leaving the city immediately but some tourists planning to leave tomorrow weren't sure if their train was still going.
A team of around 20 New Zealand kickboxers has been competing at a stadium within a couple of kilometres of the bomb site.
The team - which with officials consists of around 40 people - has been driving past the bomb site each day to reach the stadium. No one from the team was caught up in the bombing. They have been briefed by Thai officials and the tournament is expected to continue.
Thai military personnel will have been providing 24-hour security at the stadium.
A Ministry of Foreign Affairs and Trade spokesman said they were liaising with local authorities.
"The New Zealand Embassy in Bangkok continues to seek information on the nationalities of victims and casualties from the explosion at the Erawan Shrine in Central Bangkok, and is liaising with local authorities."
There are 470 Kiwis registered on the SafeTravel website as being in Thailand and the spokesman encouraged New Zealanders there or about to travel there to register their details on SafeTravel.govt.nz.
Anyone with concerns about a family member in Bangkok can call the ministry on +64 4 439 8000.
Kiwis in Bangkok have been contacted by the ministry telling them about the blast and of "unconfirmed local media reports" other bombs were found nearby.
"New Zealanders in Bangkok are advised to avoid travel to downtown Bangkok for the time being. We recommend exercising heightened vigilance at this time, monitoring the media for updates and adhering to the instructions of local authorities at all times, including any restrictions on movement," the ministry's advice says.
"We recommend contacting family in New Zealand as soon as possible to let them know you are okay.
"There is currently no change to our travel advisory risk levels for Bangkok or Thailand. We continue to advise caution in most parts of Thailand, including Bangkok, due to the threat from terrorism and potential for violent civil unrest."
Foreign Affairs Minister Murray McCully said there was currently no confirmed information on the nationalities of victims and casualties.
"The New Zealand Embassy in Bangkok remains in close contact with the relevant Thai authorities and local hospitals for reports of any New Zealanders who may have been affected by the incident," Mr McCully said, after landing in neighbouring Cambodia for a scheduled visit to mark the 40th anniversary of New Zealand's partnership with ASEAN.
"There are reports that at least 19 people have been killed and many more injured in what appears to be a deliberate attack on an area frequented by tourists.
"Our thoughts are with the people of Thailand as they come to terms with the senseless loss of innocent life, the victims, and the families of those injured or killed in the blast."
Prime Minister John Key said the bombing was "a very deplorable action" which New Zealand condemned.
"It is a fairly horrific situation as I understand it, to the best advice I have had there are no New Zealanders at this point that we can identify that have been caught up in the bomb blast.
"There are about 470 Kiwis that we can identify in Thailand at the moment and in Bangkok, so we are doing the best we can to contact them."
Mr Key said people considering travel to Thailand should consult the Government's Travel Safe website.
"I think already actually that rating has been around about medium I think...there hasn't been a change in the rating yet, but obviously we'll stay close to that."
Labour leader Andrew Little said the bombing was obviously worrying.
"Bangkok is a favourite destination for a lot of New Zealanders holidaying, and Thailand is otherwise a peaceful country. It is disturbing that this sort of thing has happened.
"Hopefully is there anything practically useful that New Zealand as a country can do, then the Government will be making that offer to the Thai Government."
Thai NZ Magazine director Rex Khuwattanasenee said many people were shopping for the Thai Mother's Day in the area where the bomb exploded.
"Yesterday was the happy time, the buy for Mum time," he said.
"People went out to buy for Mother's Day. Actually Mother's Day was on the 12th but they were buying yesterday."
He heard about the blast on Facebook and hopes to hear later today if any Thai residents in New Zealand had friends or relatives who were killed or injured.
In Auckland, Thai Society president Songvut Manoonpong said parties opposing the Thai military government were likely to have been responsible for the blast.
"They try to discredit the military government," he said. "This area is a very popular place and if it happens the world will know."
He was shocked when he saw the news in an email.
"It's a big surprise. It's very bad," he said.
"I think the government can do nothing at the moment because they don't know who has caused this bomb blast. When they know, they can do something."
Some of Auckland's 4000 Thai residents said friends in Bangkok sent Facebook messages and tweets about the blast but decided not to post graphic photos of the dead and injured.
"On Facebook they said respect to those who passed away, no post the photos to respect people who be there at that time," said Marisa, who has lived in New Zealand for 17 years.
Bo Manoonpong, who came here 28 years ago and owns four Thai restaurants, said friends posted on Twitter late last night but without photos.
"My friends all tweet and said they are trying to tell everyone to not send any photos around the world because it's really bad for the country. They are trying not to make it look in a bad way because we worry about our tourism," she said.
Warning: Graphic content
"The footpath was covered in blood"
An Australian couple who were walking on a sky bridge directly above the shrine when the bomb went off have spoken to BBC News.
Leify Porter and her boyfriend John Muzza were interviewed via Skype.
"We were on the sky bridge which is above the road where the explostion went off.... We saw a huge big body of smoke (there was) a huge bang, we were thrown to the ground.
"There was smoke... just debris everywhere. We had ringing in our ears, our heads were aching with pain from the explosion... we just saw people running everywhere. It was chaos," Ms Porter said.
Mr Muzza said the dead and injured were all over the street.
"There was guy crawling next to us covered in blood... The footpath was covered in blood. It was something I've never seen and never ever want to witness again," he said.
"I saw a guy dead on his scooter, he was turned over, head on the ground, he still had his helmet on.
There were other people around us laying there not moving."
Bomb had 100m "destructive radius"
The Royal Thai Police Office confirmed that of the 19 dead victims, 12 died at the scene.
The described the bomb as an IED and said it was composed of three kilogrammes of TNT stuffed in a pipe and wrapped with white cloth.
The Bangkok Post reported that the bomb's "destructive radius" was estimated at 100 metres. Authorities quickly recovered an electronic circuit suspected to be part of the device about 30 metres from the blast scene.
National police chief Somyot Pumpanmuang rushed to the scene and all 438 city schools were closed for safety reasons, the Bangkok Post reported.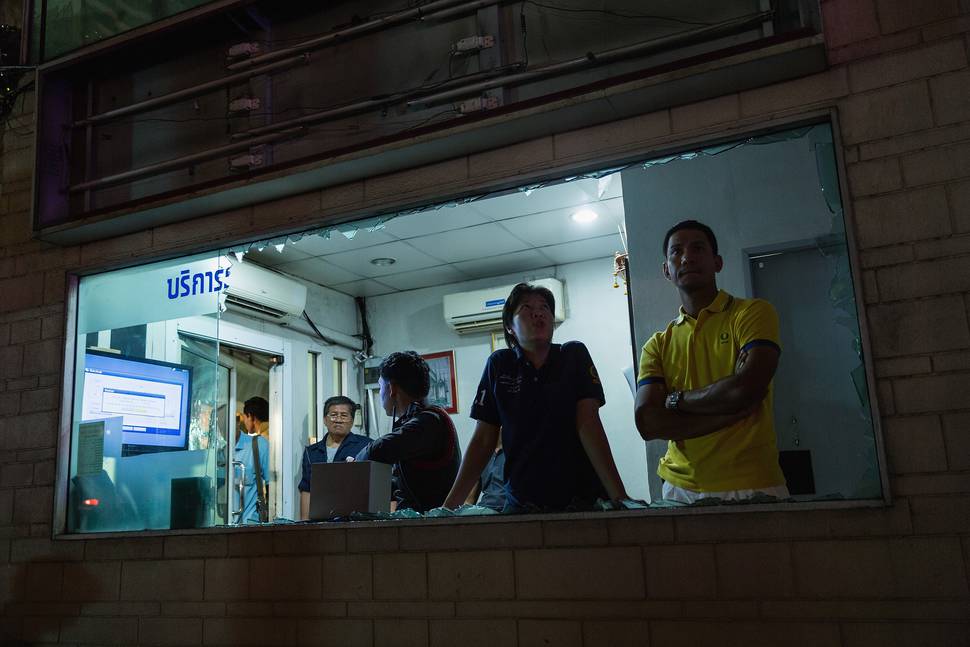 Deputy Prime Minister and Defence Minister Prawit Wongsuwan expressed condolences to the families of the dead and injured victims. He told the Bangkok Postit was too soon to say if the attacks were politically motivated or terrorism.
"But it was clear that the perpetrators intended to destroy the economy and tourism, because it occurred in the heart of (Bangkok's) business district," he said.
He believed whatever the motivation for the attack, the goal was clear - human casualties.
Defence spokesman Kongcheep Tantrawanich described the attack as "the work of those who have lost political interests and want to destroy the 'happy time' of Thai people".
"It's an attempt to ruin Thailand's tourism image and cause damage to the country's business sector,"he said..
"The group behind the bomb must stop the savage act done to their fellow Thais and stop hurting the nation."
American filmmaker Alexander Hotz works in the area of Bangkok where the bomb went off.
"It sounded like thunder," he told USA Today.
"We were sitting in the office, and at first we thought it was just an amazingly loud rainstorm coming through. Then one of our Thai interns came back upstairs and told us that things were going crazy."
Canadian Derek Van Pelt has lived in Bangkok for 17 years.
"It was absolute craziness. There was broken glass everywhere, there were body parts everywhere," Van Pelt told Toronto's the Star newspaper in a phone interview from the Thai capital.
He said he saw three motorcycles in the intersection when he arrived and "one of them appeared to still be smoldering."
Bomb 'aimed to kill'
The area around Bangkok's Erawan Shrine is filled with hundreds of tourists, office workers and shoppers at any given time. Police said the bomb was made from a pipe wrapped in cloth.
"Whoever planted this bomb is cruel and aimed to kill," said national police chief Somyot Poompummuang. "Planting a bomb there means they want to see a lot of people dead."
The shrine is at a major intersection that was the centre of many contentious political demonstrations in recent years - raising questions about whether the bombing was politically linked. But police said it was too soon to determine the attack's motive.
Security video showed a powerful flash as the bomb exploded at around 7 p.m.
At least 19 people were confirmed dead and 117 injured, according to the Narinthorn emergency medical rescue center.
The dead included Chinese and a Filipino, Somyot said.
Anusit Kunakorn, secretary of the National Security Council, said Prime Minister Prayuth Chan-ocha, the former army chief who orchestrated the May 2014 coup, was closely monitoring the situation.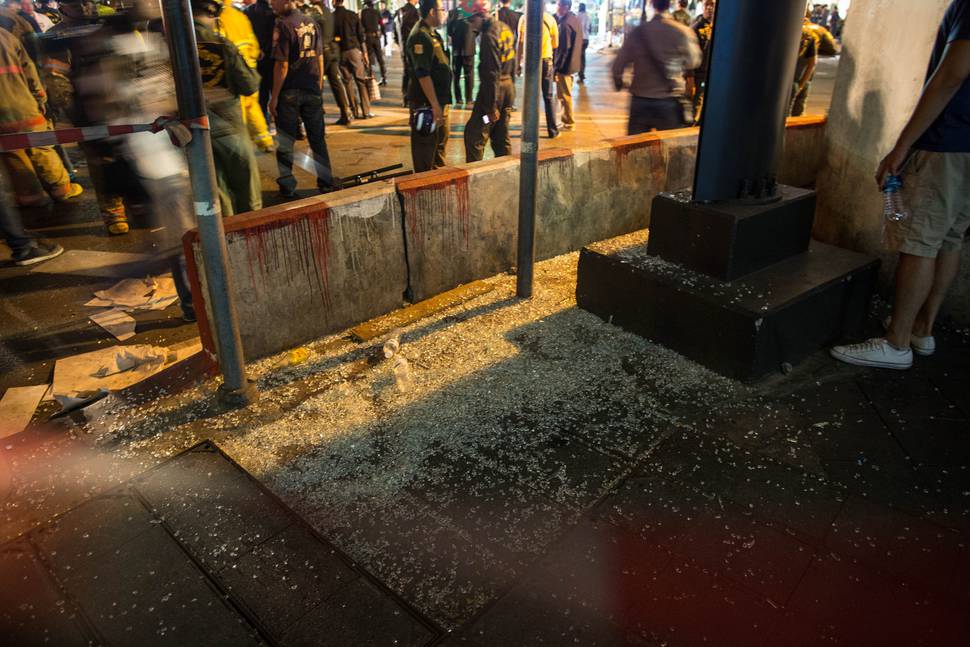 "We still don't know for sure who did this and why," Deputy Prime Minister Prawit Wongsuwon told reporters. "We are not sure if it is politically motivated, but they aim to harm our economy and we will hunt them down."
Although Bangkok has seen a period of relative calm since last year's coup, there has been some tension in recent months, with the junta making clear that it may not hold elections until 2017 and wants a constitution that will allow some type of emergency rule to take the place of an elected government.
Stirring the pot has been former Prime Minister Thaksin, who was ousted in a 2006 coup and fled the country to avoid a corruption conviction. Last week, Thaksin posted a message on YouTube urging his followers to reject the draft constitution because he said it was undemocratic. The draft charter is supposed to be voted on next month by a special National Reform Council. If it passes, it is supposed to go to a public referendum around January.
Another source of recent tension is the annual military promotion list, with the junta's top two leaders - Prime Minister Prayuth and Deputy Prime Minister Prawit - widely believed to be supporting different candidates. The reshuffle, which comes into effect in September, has traditionally been a source of unrest, as different cliques in the army, usually defined by their graduating class in the military academy, seek the most important posts to consolidate their power.
International community condemns attack
India's Prime Minister Narendra Modi issued a statement after the bomb.
"I strongly condemn the blast in Bangkok. My thoughts are with the families of the deceased. I pray for a speedy recovery of the injured," he said via Twitter.
International media have been tweeting live from the scene.
"Horrific carnage... bodies and injured everywhere," said BBC Asia correspondent Jonathan Head.
"The sight of those terrible injuries after the Bangkok bomb will be with me for a long time. A cruel, calculated attack - but who? and why?"
Reuters chief correspondent in Thailand Amy Siwitta Lefevre last tweeted two hours ago.
"Hours after the explosion streets close to scene of blast quiet/calm. Some tv stations resume normal broadcasting," she said.
Popular tourist destination
The Erawan shrine is dedicated to the Hindu god Brahma, but is extremely popular among Thailand's Buddhists as well as Chinese tourists. Throngs of tourists come there to pray at all hours, lighting incense and offering flowers purchased from rows of stalls set up on the sidewalk along the shrine. The site is a hubbub of activity, with quiet worshippers sometimes flanked by Thai dancers hired by those seeking good fortune, while groups of tourists shuffle in and out.
In March 2006, the shrine was vandalised by a man who smashed the statue of the four-headed Brahma with a hammer. The man, believed to be mentally ill, was lynched by bystanders. A new Brahma statue was installed at the shrine within months, and was not damaged in the blast.
Brahma is the first god in the Hindu trinity and is said to be the creator of the universe. The other two gods are Vishnu, the preserver, and Shiva, the destroyer. Although Thailand is predominantly Buddhist, it has enormous Hindu influence on its religious practices and language.
-With additional reporting from AP and Bangkok Post