Fire crews were confronted with 2m flames as helicopters arrived with monsoon buckets to contain a 7-hectare blaze on a rural property in Carterton yesterday.
Deputy principal rural fire officer Grant Davies said a Wilton Rd property lessee had been cutting hay when the mower blade hit a stone, sparking a fire around 1.30pm.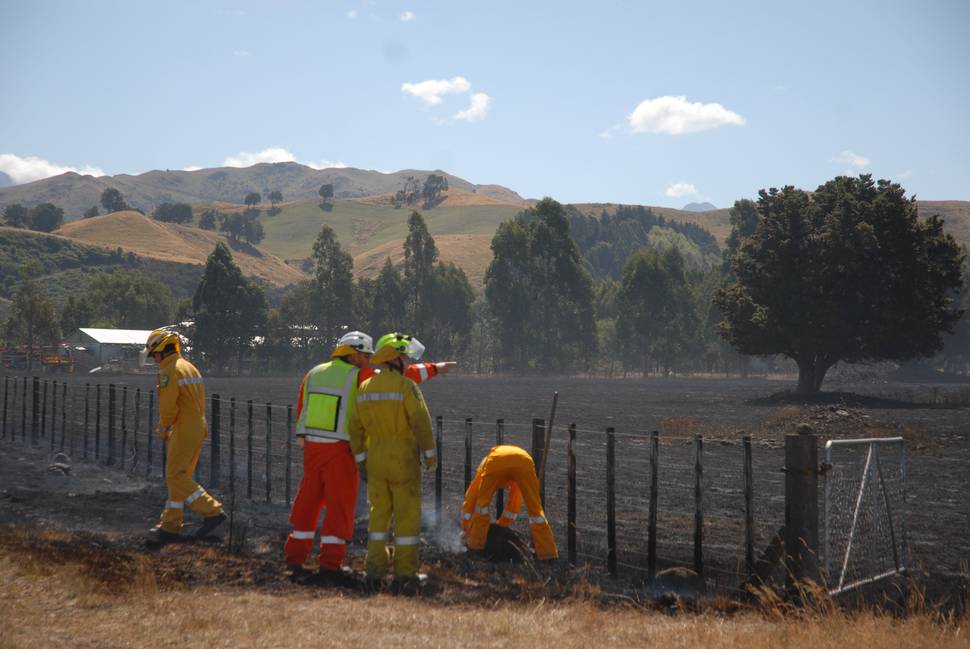 Mr Davies said six fire crews from Carterton, Masterton and Greytown attended, backed up by forestry crews, adding up to "30-plus" people on the ground in 31C heat for about an hour.
With the Amalgamated Helicopters "living just across the road", two helicopters were quickly on the scene with monsoon buckets.
"What we've got here was a fast-moving grass fire that's burnt about 18 acres, according to the owner," he said,
"There was a good wind behind it and it's managed to jump Wiltons Rd and into the next paddock but thankfully that's been chewed out."
"When I arrived it was out at the far end of the paddock and within 30 seconds to a minute it had jumped the road.
"It moves quick -- it spread a good 200m in the matter of a minute. We had flame heights over 2m, and it was fair going for it."
Forty-eight Watson & Son beehives were in the paddock at the time of the blaze but none were damaged. The hives were moved last night.
Mr Davies said he couldn't stress enough to the public to be aware of potential fire risks in the dry season.
"We have put the message out there already -- you shouldn't be topping paddocks and things in the heat of the day," he said.
"The whole Wairarapa rural district went into a complete fire ban three days ago because things are really dry and there's no significant rain forecast until April so we've got a month of this ahead of us."
Fire Service assistant area commander Matthew Abel came in from Upper Hutt to assess the fire.
"If you absolutely need to do baling or hay cutting, early in the morning is the way to go -- you can see the devastating results here," he said.
"Eighteen acres of burnt land is unproductive for quite some time.
"Fortunately it didn't spread too far.
"With the grass the way it is -- so dry, it doesn't take much to set fire and spread."
The lessee and property owner declined to comment.