A chainsaw vandal has left seaside neighbours on Auckland's North Shore nervously surveying their backyard foliage after a towering pine was irreparably damaged and several others ring-barked.
Castor Bay resident Tina Morgan suspects someone snuck into her backyard while she was in Italy three months ago and attempted to kill the tree for the sake of a sea view.
Morgan was last week left $9000 out of pocket after a 20 metre tall pine tree on her property had to be felled because arborists deemed it unsafe.
A deep chainsaw incision around most of its base was discovered by gardeners on September 21.
An uphill apartment block that backs onto Morgan's Heathcote Rd property reported similar attacks on their trees.
"Over the road from that apartment block that's had damage there's a sea view, so there's a wedge of houses in that area that are probably going to benefit from both trees being down. But you know I have absolutely have no proof," Morgan said.
"I decided to move on it quickly because a couple of weeks ago it was really windy and all I did was worry about the tree. And secondly, if someone is that brazen they're probably going to come back and have another go."
Arborists said the tree was likely cut three to six months ago, which is consistent with when Morgan was on holiday and when her neighbours discovered cuts in their trees.
The block of apartments further up the hill, on Parr Terrace, has one large pohutukawa and two other smaller trees with mystery saw marks through and around their trunks.
Ilan Wittenberg is a resident at the Parr Terrace apartments and also believes foul play is at hand.
"It's a beautiful pohutukawa, it's quite large and it's old and someone who was not happy with the shade it creates, or maybe not happy with blocking the view, I'm not sure, but they really caused a lot of damage," he said.
Another resident at the Parr Terrace apartment, Debbie Wastney, also believed there was " definitely nothing unintentional" about the cuts.
"Clearly it has been done by a chainsaw, it's a complete clean looking two cuts, really deep in," she said.
"Doing it with a hack saw I don't think would be possible. The fact that they've figured out that no one's around, whether they go door knocking first to see if no one's home, it's just really bizarre."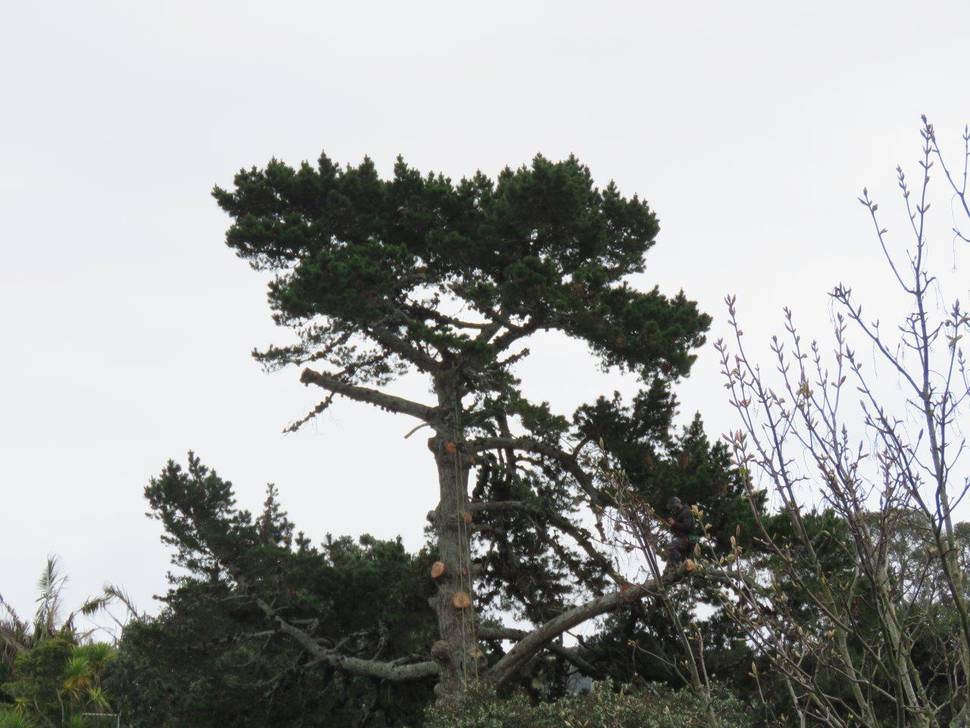 An arborist will assess if the pohutukawa is salvageable next week, but residents have been quoted over the phone up to $15,000 for removal.
"I was just horrified just how much Tina had to pay to get it removed. I think it's pretty rank of the insurance company," Wastney said.
Uphill of the Parr Terrace apartments there are several homes with deck views that would be less impeded by the removal of the two large trees.
"Who did it? We definitely have out inklings. I don't think it would be someone who was on a drunken stupor with a chainsaw," Wastney said.
"It's someone who really wants to benefit from getting rid of the trees. Everyone in our block is pretty up in arms about it."
Both Tina Morgan and Ilan Wittenberg have separately reported the attacks on their trees to police, but were told there is little that can be done.
Replying via email to Morgan, Waitemata Police said: "Looking at all the available evidence we have not been able to find out who is responsible. Unless more information or evidence is found, we can't proceed any further with this case."
In a separate statement to the Herald, police assured illegal tree felling is not common, but if it does occur on a property without permission it may be considered wilful damage, and result in charges.
For Tina Morgan the tree vandalism left her with a financial and moral headache after being advised her pine should be taken down in the next six months.
"Bringing a massive tree down, my retaining wall's been damaged. So I won't get any change out of 10 grand," she said.
"If the tree had fallen on someone's house, the insurance company would cover the damage to the house, but they don't pay for tree removal. So either I removed it or I let it fall on someone which obviously I wasn't going to do.
"Neighbours should look after each other, not wilfully damage each other's property, and it made me uncomfortable that someone had been on my property.
"It has made me more cautious about the neighbourhood, and that's a shame."