By Christopher Reive in Atlanta
Forget the narrative that Israel Adesanya has been rushed through the UFC rankings. His shot at a mixed martial arts world title has been a long time in the making.
Before making his debut under the bright lights with the world's premier MMA company, the Kiwi middleweight paid his dues taking professional MMA and kickboxing fights across the globe since 2011. Before cracking the UFC, Adesanya had built quite the resume with a 22-5 kickboxing record and an 11-0 MMA record – with all 11 wins by knockout.
Extending his MMA record to 16-0 since joining the UFC a little over a year ago, other fighters and fans alike have been quick to say the company put him on the fast track despite picking up wins over Derek Brunson and Brad Tavares, who were both ranked in the division's top 10 at the time of the fight.
It's a different story for American Kelvin Gastelum, who has had 19 professional MMA bouts – 11 of which have been with the UFC. Like Adesanya, two of his middleweight wins have come against top ten opponents; beating Michael Bisping in 2017, who had fought earlier that month and retired after their bout, and Ronaldo Souza in 2018.
"People just like to hate, that's all," Adesanya told the Herald on Sunday. "He's not getting that hate because he's not doing what I'm doing; he's not in the spotlight like I am. I'm putting myself out there.
"When you're a guy like me who's doing great things … I've always expected the haters."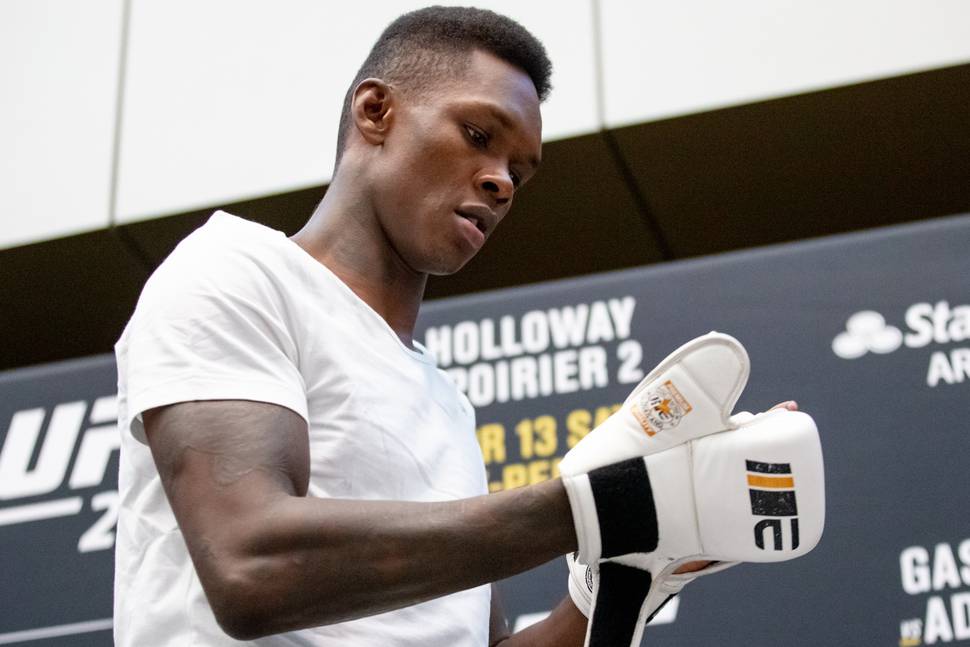 Adesanya and Gastelum will meet in the octagon on Sunday (NZT) with the interim UFC middleweight title on the line, with the winner set to book a date with injured champion Robert Whittaker to unify the belts later in the year.
It's a moment he's been working towards since he started training in the martial arts, but he admitted it still hadn't sunk in.
"It's just another fight. For me, it's never about the belt; it's about the challenge, and Kelvin's a really good challenge so I can't wait to test myself against him and pass with flying colours."
The 29-year-old has been preparing for all scenarios, working with wrestling coach Andrei Paulet as well as Frank Hickman from the renowned Tiger Muay Thai gym in Phuket on his ground game. Working out in the hotel on Friday (NZT), it was clear Adesanya was prepared for the looks Gastelum would throw at him.
The Kiwi comes into the bout with a 16cm height advantage and a 21cm reach advantage, with his ability to manage distance likely to play a critical role in the bout.
"I think that's why I'm so underrated; because of my size," Gastelum said. "I've been fighting tall guys my entire career so this is no different."
Gastelum, standing at 179cm, has been a quiet achiever in the UFC and has most recently opted to rely on his boxing than resorting to his wrestling game. He is, however, a very strong grappler and, with Adesanya having a massive reach advantage, was expected to attempt to take the fight to the mat if he had the chance.
"I definitely feel confident with my hands and my boxing and I definitely plan on utilising it, but this is MMA … I'll take what you can give me.
"I know how to fight these taller guys; I know how to get under these guys."
Israel Adesanya v Kelvin Gastelum - Tale of the tape
MMA Record:
16-0 / 15-3 (1 no contest)
Height:
195cm / 179cm
Reach:
203cm / 182cm
Wins by KO:
13 / 6
Wins by submission:
0 / 4
Wins by decision:
3 / 5