Brock Lesnar's imminent return to the UFC could have a major impact on Kiwi heavyweight Mark Hunt, who is currently suing the UFC, Lesnar and UFC president Dana White.
Earlier this month, Daniel Cormier – fresh off winning the heavyweight title at UFC 226 – called out Lesnar as the next opponent he would like to face.
Lesnar, who was sitting cageside, entered the octagon and pushed Cormier in a blatant display of pageantry, creating invaluable hype for a fight that could have major financial implications for Lesnar, Cormier and the UFC. White confirmed his interest in booking the fight after the event.
The fight, which will likely be for the UFC heavyweight title, could also affect Hunt's lawsuit against the organisation – with his lawyers ready to pounce on Lesnar's return.
Hunt and his team have alleged that the UFC, White and Lesnar have committed fraud, battery, racketeering, and civil conspiracy, after Lesnar failed a drug test after a fight with Hunt at UFC 200 in 2016.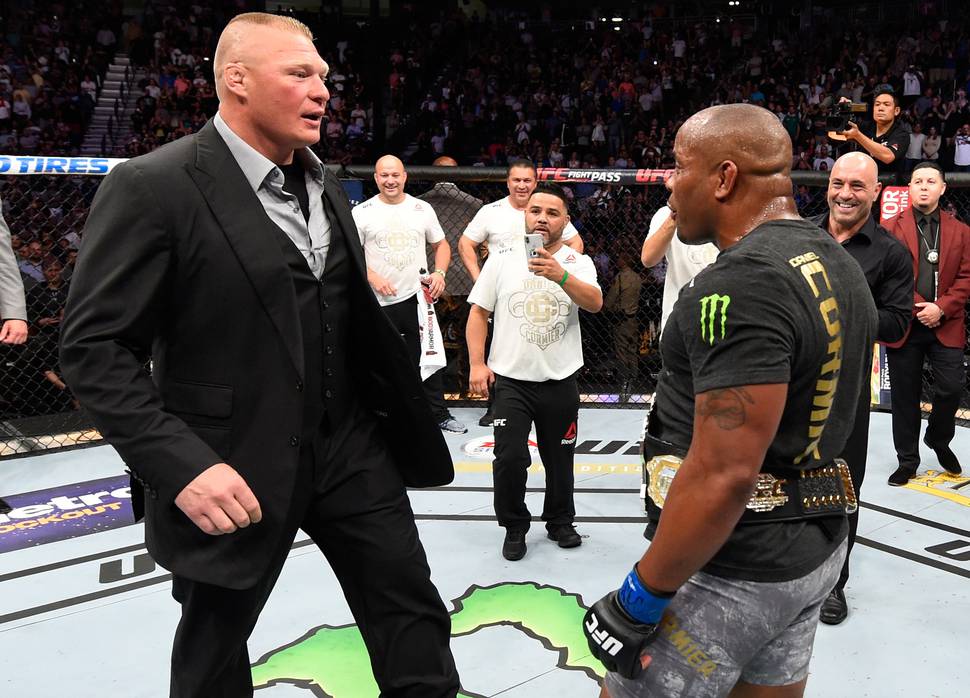 Hunt's attorney Christina Denning said she is considering amending the complaint in the lawsuit, believing that Lesnar's return to the UFC could strengthen their case.
"We debated whether or not to, while the motion to dismiss is pending, to alter the complaint again, to keep adding more facts regarding the way that the organization works and perhaps the unfairness of it," Denning told MMA Fighting.
"So, that's something that we have not done yet, but we definitely [might] with all the buzz around [Lesnar] coming back."
Lesnar defeated Hunt by unanimous decision in a heavyweight bout at UFC 200 in July 2016. However, the UFC announced a few weeks later that Lesnar had tested positive for a banned substance in a test 11 days before the fight as well as the in-competition test on the night of the fight.
The UFC and their anti-doping partner USADA claim that the results did not come back until after the fight took place. Hunt and his team disagree with the UFC's claim, among other things.
Lesnar was suspended for one year and fined $250,000 (10 per cent of his guaranteed purse in the fight against Hunt) by the Nevada Athletic Commission.
However, Hunt said last year that the penalty wasn't enough, which was one of the reasons why he was suing the UFC.
"I want the UFC to understand it's not OK to keep doing what they're doing," Hunt told ESPN.com.
"They're allowing guys to do this. They had a chance to take all the money from this guy, because he's a cheater, and they didn't.
"What message is that sending to the boys and girls who want to be a fighter someday? The message is, 'You just have to cheat like this and it's OK.' In society, if you commit a crime, you pay. Why is it different in MMA? It's hurt the business, so it's even worse. They need to be held accountable for this."
Denning said Lesnar's return and position of favour with the UFC could bolster their case as it shows that it "actually pays to take the [banned] substances" if you're a UFC fighter.
Meanwhile, Hunt remains an active UFC fighter and his next fight may have been revealed on accident by retired UFC legend Vitor Belfort.
Belfort posted a picture posing with UFC president White in front of a white board showing Hunt's name written alongside Ukrainian heavyweight Aleksei Oleinik. The instagram post has since been deleted.
Fabricio Werdum was initially announced to face Oleinik as the headlining fight for the UFC Fight Night event in Russia in September, but Werdum has since been flagged for a potential doping violation, putting the matchup in doubt.
Hunt, who is currently the #8 ranked heavyweight in the UFC's official rankings, would make sense as a replacement for Werdum.