Tristram Clayton finds a warm welcome and cold craft beers at the foot of Mt Ruapehu.
A taxi from the airport costs?
There are no airports nearby but the 360km drive from Auckland took us exactly four hours - the ever-growing new motorway between Auckland and Hamilton is really starting to cut the travel time when driving south.
Check-in experience? Friendly and efficient. We had a tonne of luggage so the self-opening doors on all levels were helpful, even if the lift to the third floor did seem weirdly slow. With the outside temperature hitting -1C, the pre-warmed room was the perfect touch after a long drive.
Price? $148 for the night. Pretty good.
Room? Spacious and inviting. In keeping with the hotel's alpine lodge feel, the rooms are wall-to-wall-to-ceiling timber. This, combined with views of a snow-fed river, native bush and the base of Mt Ruapehu, means the big city you've just left feels a million miles away.
What's so good about this place? You can't go past the hotel's wood-only construction. Huge tree-trunk beams are used throughout and everything from the restaurant tables, to the desks in the rooms, to the bar-tops are impressive slabs of rimu, macrocarpa and douglas fir. Also very good are the massive open fire in the middle of the bar and the even-larger indoor hot pool.
What's in the neighbourhood? The hotel is right at the beginning of the Turoa Ski Area's access road - unbeatable for anyone wanting a quick and easy trip to the snow.
Toiletries? Large bathrooms with all the usual bits and bobs. I always get a bit confused by all the little bottles but the soap certainly smelled nice.
Photos: Powderhorn Chateau, Ohakune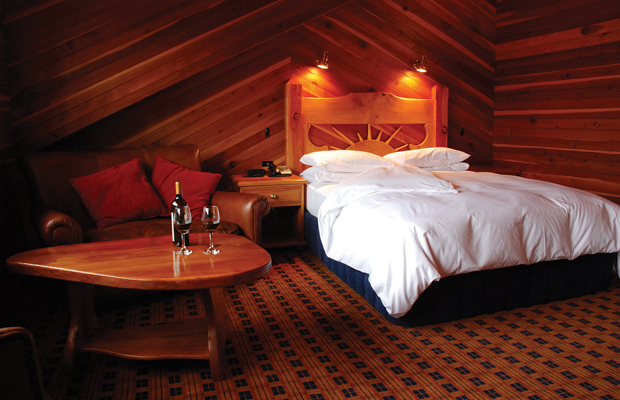 Food and drink? Impressive. These guys clearly take their food and drink seriously. The menu was a clever mix of trendy (pork belly sliders, grilled haloumi) and sustaining (Angus eye fillet, free-range pork shoulder with ragu, organic lamb shank on mash). The wine list was solid but if you're into craft beer, you're in luck, with everything from a Yeastie Boys to a 7.3 per cent Hopwired IPA.
The bed? For someone who doesn't always sleep that well in hotels, it was luxury.
Noise? No earplugs required here. Maybe it was all that wood but I certainly didn't hear the neighbours.
Room service? I didn't use it - why bother when you've got such an impressive bar, restaurant and fire downstairs?
Exercise facilities? I'm not sure if there's a gym but that indoor hot pool is so big that swimming a couple of lengths will give you a pretty good workout.
Perfect for? Recovering after a long drive or a hard day's skiing. And if the weather turns to custard you've got everything you need to have a very enjoyable day in.
Would I return? Absolutely. Still got to work my way through the rest of those craft beers.
CHECKLIST
Powderhorn Chateau is at 194 Mangawhero Terrace, Ohakune. Phone (06) 385 8888.