Justine Tyerman finds an amazing home base in the lead up to a wedding
The expression on the face of the bride said it all as she sailed through the impressive front door into the grand entranceway at 'The Rock on Gibraltar', cradling her white wedding gown garment bag as if it was the most precious thing in the world . . . which it was to her at that moment.
"Wow! . . . just wow!" she enthused. "Where did you find such a place, mother dear?"
"Amazing Accom," I replied purring with satisfaction at having surprised and delighted our well-travelled daughter.
"Yes, I can see it's amazing," she said as she carefully handed the white shroud to me and began to explore the luxurious 3-storey abode - so named because of its sturdy construction and Gibraltar Crescent address, just a few minutes' stroll from Parnell's main street.
"But what website is it on?" she asked.
"Amazing Accom," I repeated. "That's the name of the website. Remember those fabulous houses we stayed at in Queenstown and Whangaparaoa? It's the same website . . . my go-to for luxury private rental accommodation these days. Far superior to hotel rooms for space, privacy and price, and always guaranteed to be amazing."
Amazing Accom has 3000-plus exceptional, hand-picked private homes around the world. And from experience, they are immaculately-presented, generously-provisioned and guaranteed to exceed expectations. That's not surprising having met Amazing Accom founder Cam Bevan, who is an absolute perfectionist.
When I showed the bride her boudoir, the master bedroom, she positively swooned. The sumptuous corner bedroom had a balcony overlooking the mature native trees of the Auckland Domain with the War Memorial Museum on the horizon in one direction and the Skytower and magnificent cityscape in the other. The panorama was even more stunning after dark with all the city lights blazing and the hilltop museum brightly illuminated.
A huge dressing room recessed behind the super king bed had ample space for all the wedding-phernalia and was a secure, private place to hang the precious gown.
But it was the bathroom that really blew her mind. Three times the size of a standard bathroom, the elongated, granite-tiled space was flooded with sunshine and natural light thanks to a series of skylights that ran the length of the ceiling. Back-to-back twin vanities with well-lit mirrors, a triple shower with monsoon rain heads and the pièce de résistance, a huge Japanese-style bathtub the size of a plunge pool were outstanding features.
The bride took full advantage of the bath, spending time in peace and solitude immersed in soothing warm water, gazing at the city lights, mustering strength for the hectic time ahead.
Full-length mirrors in the master dressing room and bathroom and the other spacious bedrooms meant getting ready for various dinners and hen parties did not result in warfare among the women in the family.
From the impressive street level entry foyer, flooded with natural light from another long row of skylights, a broad tiled stairway led downstairs. The light fell on a massive tapa that hung in the stairwell, one of many artefacts collected by The Rock's well-travelled owner. I particularly liked the mosaic at the front door and the Lake Hayes abstract in the lounge.
The second level was dominated by a magnificent open-plan granite kitchen where no expense had been spared in the fit-out – appliances included a Gaggenau oven, induction cooktop and coffee machine, highly-rated by my coffee-aficionado son-in-law, an Asko dishwater and Bosch fridge-freezer. A butler's scullery at one end of the kitchen was equipped with a wine fridge, pasta maker, waffle maker, kitchen whiz and drawers and shelves lined with all manner of cereals, mustards, relishes, sauces, spices, oils, health foods, pasta, breakfast spreads, and even a second iron. In all my travels, I've never come across a holiday home so generously-provisioned. There were even capers to garnish our smoked salmon canapés. Amazing!
Adjacent to the kitchen was an eight-seater marble dining table and family room/lounge with a cosy fireplace, 42" plasma TV and high-tech built-in sound system.
A home theatre with a projector and drop-down screen adjoined a study-library stacked with books and equipped with a computer, printer, fax and Wi-Fi. Wonderful spaces for all six of us to spread out, watch TV or movies, read, snooze, listen to music, do yoga, socialise, write speeches, or just be alone.
A lovely guest bathroom on this level was very convenient when we were entertaining . . . and prevented curious friends and relatives from sneaking a peek at the dress while pretending to visit the upstairs bathrooms.
Floor-to-ceiling glass walls in the living-kitchen-lounge area opened onto a large deck with an outdoor fire, BBQ oven, 10-seater Teppanyaki table and spa pool, allowing seamless indoor-outdoor flow for entertaining.
We put the three-burner BBQ to good use and dined outside watching the horizon darken and the city lights illuminate the sky. No need to light the fire on such balmy summer evenings but it would be a boon in the cooler months.
Twin loungers by the reflection pool on the patio provided a great place to relax with an afternoon coffee and a book . . . not that there was much time for the MOB (mother of bride) to relax.
I seemed to spend an inordinate amount of time in The Rock's large laundry putting the commercial-sized washing machine, dryer and ironing board through their paces, all-important ingredients in the lead-up to a wedding.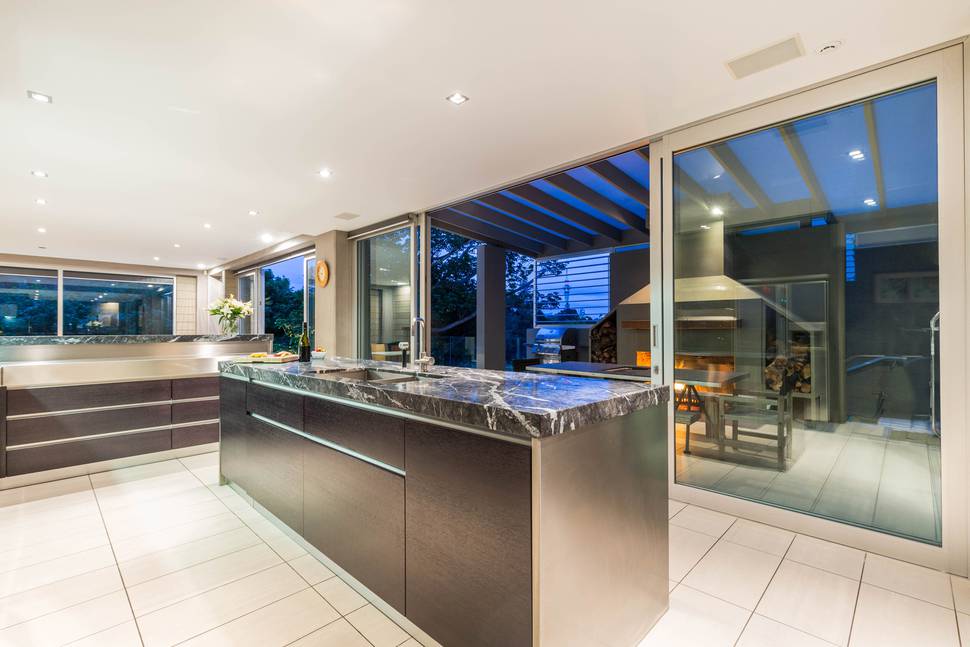 With Parnell's main street just a few minutes' walk, we felt we should venture out the door to sample some of Auckland's finest restaurants – Gerome's, Parnell 149 and Blue Elephant were three we tried and loved. And for those with time on their hands, there's a dazzling array of fashion and jewellery boutiques, art and design galleries, beauty spas, delicatessens and homeware shops to peruse.
Parnell Rose Gardens, Auckland War Memorial Museum and the Domain are within easy walking distance and there are also some lovely hiking tracks through native bush nearby.
The Rock on Gibraltar is excellently-located for ease of access to the ASB Tennis Arena, Spark Arena and the Viaduct Basin.
And when it came to farewell the newly-weds, it took just 20 minutes to travel the 20km distance from Parnell to Auckland Airport.
If you are travelling by car, The Rock has off-road, garaged parking under the house accessed by a code which opens a sturdy security gate.
With Air New Zealand's recently-announced discounted airfares to and from regional centres, it's now cheap enough to fly to Auckland for a weekend to catch a concert or sporting event. And for a group of six or eight, it's far more economical and enjoyable to stay in a luxurious four-bedroom, four-bathroom house with plenty of space and privacy like The Rock than to rent a series of impersonal hotel rooms. After all, even at the most salubrious of hotels, all you get is a room and an ensuite, a sliver of soap, a few sachets of tea and coffee . . . but no capers.