Brimming with history, nostalgia and riverboats, Echuca is one of rural Victoria's most irresistible towns.
Proudly billed as Australia's paddle-steamer capital, it's the water that continues to underpin the lifeblood of this classic Murray River town. Echuca, pronounced "Etch-oo-ka" is an Aboriginal name which translates as 'meeting of the waters.' Three great rivers meet here: the Goulburn, the Campaspe and the mighty Murray.
You'll want to start your exploratory at the Historic Port of Echuca, where the Discovery Centre whisks you through the plucky town's remarkable trading history with eye-catching displays and exhibits, well-weighted to inform and illuminate without overloading you.
You'll learn about Henry Hopwood, an ex-convict who founded Echuca. In 1850 he bought a small punt which operated across the Murray River near the Campaspe junction.
The relatively small settlement known as "Hopwood's Ferry" became Echuca as the town grew.

Not only did he establish the first punt crossing, but he opened the glorious Bridge Hotel in 1858, which oozes with timeless elegance in the historic port area, today. Quickly becoming one of Australia's busiest inland ports, paddle steamers and barges ferried supplies throughout the vast interior via the river network.
The original red gum wharf was constructed in stages from 1865 as a three-level structure to allow for the rise and fall of the river, ultimately reaching a length of 1200 metres. Water levels could change by as much as 12 metres, in flood.
Only a small section of the wharf remains today, magnificently restored and strengthened, serving as a supreme viewing deck across the curving Murray and the surrounding bush.
The wharf and the Discovery Centre have been ingeniously integrated, heightening the sense of history, with its vintage equipment, authentic demonstrations and time-worn buildings.
By the 1870s, the steadily expanded wharf was absolutely abuzz as a river trade mecca, with wool, wheat, other grains, livestock and timber being the most common cargoes.
Tens of thousands of tons of timber would be barged down the river to Echuca and its sawmills. Three-quarters of the timber underpinning the London Underground is River Red Gum, dispatched from Echuca.
Sheep stations across the Riverina and Darling districts would transport their wool clip
to Echuca, from where it would be sent by rail and sea to the world. 1872 was the wharf's busiest year, servicing 240 paddle-steamers.
Boats would embark on colossal missions. A round-trip to Bourke would clock up 2100km and take five weeks to complete. If river levels fell, boats could become marooned in the river for months.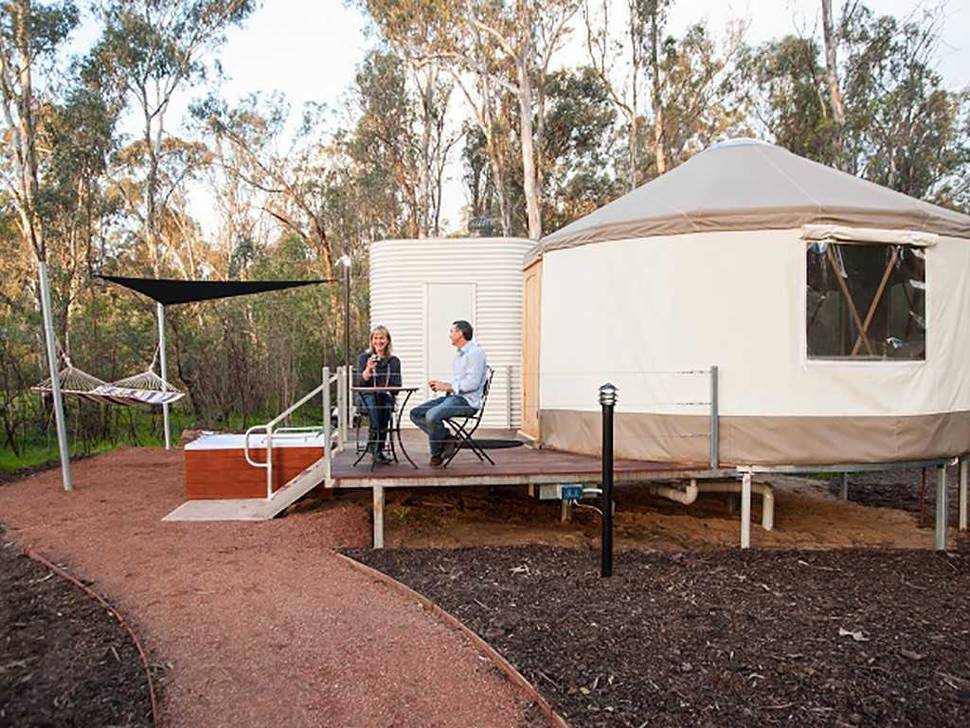 Improving road and rail transport eventually took over, with cargo transport on the river sharply declining. When the rail line finally reached Bourke, wool clips could travel direct to Sydney by train.
The last wool shipment was brought to Echuca in 1936 and the last logging steamer bring timber to the sawmills tied up in 1956. But the heyday of paddle steamers and river trade has left a rich and vivid legacy to Echuca on which much of its tourism is built upon today.
Rather than just being a living museum, Echuca is testament to the power of repurposing, whereby the paddle-steamers still do a cracking trade plying the waters, stuffed with camera-toting tourists, rather than wool clips or logs.
The town enjoys the distinction of having the world's largest fleet of operating paddle steamers, including the world's oldest wooden hulled paddle steamer in service,
the PS Adelaide, built in 1866. I boarded the PV Pride of the Murray (built in 1924 as a logging barge) for a gloriously languid river lunch cruise.
Operated by Murray River Paddlesteamers, the company's ebullient boss, Rohan Burgess, joined me for lunch. Along with his brother, Craig, these two ex-bankers bought the company three years ago and are spectacularly refreshing the fleet and the onboard product.
The flagship is the PS Emmylou who has just been given a luxury re-fit with en-suite designer cabins. Fine linens and plush bedding are all part of the picture, for her 3 and 4 night explorer cruises on the Murray.
With signature onshore tours, a full meal service with wine and beer, and beverages available throughout the cruise, it is the most all-inclusive river cruise experience available in Australia.
www.murrayriverpaddlesteamers.com.au
Graceful architecture and time-honoured pubs abound in Echuca, alongside the rise and rise of boutique shops, artisans and creative purveyors of crafts – particularly on High Street. Stand-outs include the Echuca Chocolate Company where imported Belgium chocolate is hand tempered, hand moulded and hand dipped, enriched with unique flavourings, nuts and fruit.
The Echuca Farmhouse Cheese Company is another heart-stealer with its head-swirl selection of gourmet cheeses, alongside a feast of picnic fillers including salamis, olives, crackers and figs.
A recent café opening on High Street is The Sweet Meadow, a sublime eatery with a supremely heavenly fit-out, focused on plant-based food. The cafe's emphasis is on growing, preparing and eating food as it's supposed to be: whole, fresh from the earth, prepared with minimal fuss and eaten in a way that nourishes our bodies. Healthy never tasted so sweet.
Where to stay? I crossed the river and state border, plumping for Moama on the Murray, which is home to Talo Retreat.
As cheerful kookaburras serenaded the setting sun, I settled into my designer Yurt for a divine night of nature-based solitude in style. Despite its riverside bush setting, the
creature comforts were laid on thick: a compact kitchenette, coffee machine, BBQ, electric wood fires, private shower / toilet set on decking and an outdoor spa to enhance the natural bush experience.
A complimentary welcome hamper filled with local produce was eagerly devoured,
while a breakfast basket of goodies had been popped in the fridge. Exclusively adults only, Talo Retreat is a triumph of sensory indulgence, wrapped in nature.
The Yurts have been specifically designed to glamping standard, embracing local materials like the Nullabour timber flooring and the bathrooms which have been fashioned from Australian colourbond steel water storage tanks.
Fancy some star-gazing? Get lost in the twinkle of galaxies from your spa, or by peering through the skylight in the Yurt.
After a dreamy night's sleep, I awakened to the elemental alarm clock of nature, as native frogs proudly croaked and cockatoos and corellas warbled garrulously as a new day dawned. Earplugs inside the Yurt are there if thewildlife gets a little too raucous for your liking! It's a restorative and celebratory nature-based escape, right on the doorstep of fabulous Echuca. www.moamaonmurray.com.au
For more tips on exploring Echuca's multitude of delights, head to www.echucamoama.com
Take a journey of discovery on the Sydney to Melbourne Heritage Drive.