Step away from the traditionally popular cruise ports and visit some of these exciting destinations instead, writes Stephanie Holmes.
Travelling by water opens up a whole world of possibilities. Cruise ships go pretty much everywhere these days, from the Arctic Circle to the Antarctic Peninsula. There are tried and true destinations that will always be popular with cruisers — Barcelona, Dubrovnik, Sydney, Florida, Rome — but there are also many alternatives where the crowds will be fewer.
Here are the ports of call on our wish-list, and how to get there in 2019.
USHUAIA, ARGENTINA
Why go: It's the world's southernmost city — worth a visit to say you've been to the end of the Earth. The town, population around 60,000, is an adventure hub as well as a busy port — it's close to the Andes so has a popular ski centre, as well as hiking, sailing, skiing, kayaking and scuba diving on offer. There's also a great local craft beer scene. As well as being on many South American cruise itineraries, Ushuaia is the kicking-off point for Antarctic cruises.
Getting there: Norwegian Cruise Line's Norwegian Star has a 14-day South America itinerary, departing Santiago on February 15, calling at the Falkland Islands, Puerto Madryn and Buenos Aires (Argentina) and Montevideo (Uruguay). From $2571pp.
JUNEAU, ALASKA, USA
Why go: It's the capital of America's largest state, and one of the hardest to get to, but once there — which you will be if you're taking an Alaskan cruise — you'll find views, historic bars, shops and landmarks, and outdoor activities including whale-watching, trekking and gold-panning. Juneau is in the heart of bear country so keep your eyes peeled and a safe distance.
Getting there: Royal Caribbean's Quantum Class ship Ovation of the Seas has seven and 11-night itineraries between Seattle and Vancouver. An 11-night Alaska Glacier Cruise departs Vancouver on May 13, with prices from $2055pp.
ISHIGAKI ISLAND, JAPAN
Why go: Insiders are tipping Japan's Ishigaki, one of Okinawa's Yaeyama Islands, as the new Bali. In January, Tripadvisor announced the island of 45,000 people was its top trending travel destination for 2018, and its popularity is set to continue. The island is a dream destination, with white beaches, great snorkelling, lush mangroves and rainforests — a feel similar to Fiji. But, no disrespect to our Fijian neighbours, you're going to find much better food.
Getting there:
' Diamond Princess has an eight-day Southern Islands roundtrip from Tokyo, calling at Taipei (Taiwan), Ishigaki and Okinawa (Japan). Departs Jul 3, priced from $2079pp.
MOSCOW, RUSSIA
Why go: Our designer Courtney Whitaker has just returned from a honeymoon trip to Portugal, Turkey, France, Morocco and Russia and says, of all the destinations, the latter was the one that surprised her the most ... in a good way.
"Moscow is a fascinating — and completely under-rated — city," she says. "It's clean, safe and easy to get around. The Metro stations are breathtaking in their glamour, the parks green and lush, and the gastronomy affordable and world-class. The Kremlin and St Basil's Cathedral have to be seen to be believed, especially at night when the buildings are lit up."
Getting there:
' 13-day 'Waterways of the Czars' itinerary heads from Moscow to St Petersburg, calling at Uglich, Yaroslavl, Kuzino, Kizhi and Mandrogy. The cruise begins with three nights in Moscow, with plenty of opportunity to explore. With departures from May to October, prices start from $8618pp.
BORACAY, PHILIPPINES
Why go: The 4km-long White Beach is a tourist favourite, so much so that infrastructure and environment struggled to cope with the influx. The problems got so bad, the Philippines Government closed Boracay to tourists in April to allow for environmental rehabilitation. When it reopens — slated to be this month — only 19,000 tourists will be allowed each day, with strict regulations on what you can — and can't — do there, making it the perfect time to visit.
Getting there: Cunard's luxury cruise liner Queen Elizabeth has an 18-night Sydney-to-Yokohama itinerary, calling at Alotau, Rabaul, Boracay and Manila, departing April 1, priced from $4382pp. Boracay is a maiden port of call for Cunard, one of 21 first-time destinations added to itineraries for 2019.
ZANZIBAR, TANZANIA
Why go: Another idyllic beach destination, Zanzibar — one of the Spice Islands and birthplace of Freddie Mercury — is less than 40km off the coast of Tanzania but it could be a world away. It's semi-autonomous, with most locals considering themselves Zanzibari rather than Tanzanian — they speak Swahili, and the majority are Muslim. As well as beautiful stretches of sand, the island's highlights include Stone Town, an ancient city that was declared a Unesco cultural-heritage site in 2000.
Getting there: Silversea's 14-day Mombasa-to- Cape Town itinerary on Silver Whisper, calls at Mayotte, Madagascar, Mozambique and four ports in South Africa. Prices start from $16,300pp for a veranda suite.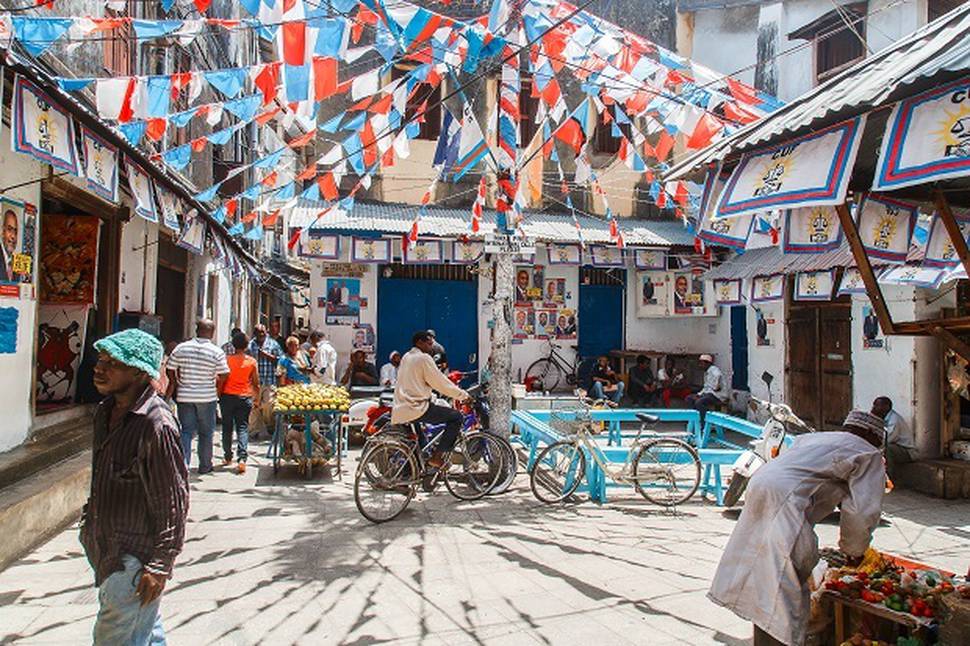 PATREKSFJORDUR, ICELAND
Why go:
Iceland has become one of the most popular destinations for tourists, with the number of foreign visitors exceeding two million for the first time in 2017. The west is still relatively untouched so you should get to it before the crowds do. Patreksfjordur is the biggest town in the rugged west — and its population is only 660. Nature-lovers will be keen to visit Latrabjarg cliffs, home to hundreds of bird species, including a flock of surprisingly tame puffins.
Getting there: Peregrine Adventures' eight-day 'Cruising Iceland: Westman Islands to Westfjords' is a Reykjavik return itinerary, departing in July and August. Prices from $5765pp, twin share.
DURNSTEIN, AUSTRIA
Why go: Most Danube river cruises are going to call at Vienna, and it's obviously a worthwhile destination, but this isn't the only Austrian port you should make time for. Durnstein is on a curve of the Danube, sitting pretty above the town is a castle where Richard the Lionheart was imprisoned in 1192.
Getting there: Uniworld's 15-day 'Alluring Amsterdam and Vienna' cruise journeys along the most scenic parts of the Main, Rhine and Danube rivers. As part of an Exclusive Excursion in Durnstein, Uniworld takes guests to Austria's oldest wine estate for a tasting. Departures from April to October, with prices from $9299pp.
VILLEFRANCHE-SUR-MER, FRANCE
Why go: Just a few kilometres along the coast from Nice, Villefranche is a charming fishing village on the Cote D'Azur coast, with medieval buildings and beautiful beaches. Take a seat at one of the many waterfront restaurants and enjoy the views of the Mediterranean Sea and some excellent people-watching.
Getting there: Celebrity Edge, the newest ship in the Celebrity Cruises fleet, is due to be launched in December and will be sailing the Caribbean in the first instance. Next year, four Edge sailings will visit Villefranche in June, July and August, as part of a seven-night Spain, France and Italy cruise, with prices from $2789pp, twin share.
MUSCAT, OMAN
Why go: More traditional and far less flashy than its neighbours Abu Dhabi and Dubai, Muscat feels like an authentic Middle Eastern adventure. Visit bustling souks and spice markets, opulent mosques, stunning beaches, rolling deserts, all with a backdrop of rugged mountains.
Getting there: A 20-day 'Arabia & Antiquities' cruise on Seabourn Ovation, departs from Dubai and visits Abu Dhabi, Qatar, Oman, Jordan, Israel and Greece, with a voyage through the Suez Canal. Departing April 7, prices in a Verandah Suite are from $12,043pp, twin share.
LOYALTY ISLANDS
Why go: This is your chance to see the South Pacific beyond the standard Fiji and Cook Islands holidays so popular with Kiwis and Aussies. The Loyalty Islands are part of New Caledonia and the population is indigenous Kanak. They have a rich culture, full of myths and legends passed down through generations, which they are happy to share with visitors.
Getting there:
On
, 'Explore the Loyalty Islands' itinerary, you'll get the chance to meet a Kanak village chief and find out more about village life. Departing July 10 from Sydney, the cruise calls at Noumea, Lifou, Mare and the Isle of Pines, with prices from $2023pp, twin share.
BERGEN, NORWAY
Why go: Bergen is Norway's second largest city but retains a small-town charm. The gateway to the Norwegian fjords, the city is situated between the longest fjord, Sognefjord, and the beautiful Hardangerfjord and though the region's natural beauty is its main drawcard, the pretty harbour of Bryggen, with its colourful buildings and lively atmosphere, is also a delight.
Getting there: Launching in January, Scenic Eclipse is a six-star luxury yacht — the world's first "discovery" yacht — and the first ocean-going ship in Scenic's fleet. Eclipse's 13-day 'Norwegian Fjords Uncovered' itinerary travels from Bergen to Longyearbyen, departing June 4, with prices from $21,070pp, twin share.
KIMBERLEY, AUSTRALIA
Why go:
For a ruggedly beautiful escape, the Kimberley, an ancient, untouched region in north Western Australia, should be on your list. Nearly four times larger than the North Island, and with a population of less than 40,000 (nearly half of whom are indigenous Australians), it's a hugely isolated region, so a cruise ship is the best way to see all its glory — national parks, waterfalls, incredible rock formations, canyons, and islands of tropical forests.
Getting there: An 11-night 'Kimberley Coast Cruise' on a small ship wilderness adventure with APT is priced from $12,295pp, twin share. Departures between May and August.
● All prices quoted are best available from cruise company's websites, and based on an inside cabin, unless otherwise stated.