Endowed with a such a tantalising streetscape, you'll want to explore the city that gave birth to modern skyscrapers from all angles: by boat, on foot and onboard a quintessential "El" train, rattling around The Loop.
Chicago's elevated train system offers the added novelty of intimate office and apartment browsing, or should that be perving, as those trains screech past the downtown high-rises, from their lofty perch. But if you have a head for heights, hot-foot it to Skydeck, on the 103rd floor of Sears (Willis) Tower.
After bring whisked up 103 levels in just 70 seconds, Skydeck's theatrical added feature is The Ledge. Four translucent glass observation boxes jut out from the side of the skyscraper, creating the sensation of walking on air, as you tenuously step out beyond the building's edge. There's nothing between you and the 1353-foot vertical drop to the ground, but a trusty layer of see-through glass.
Talk about having faith! I was expecting the experience to be a stomach-churner, but it actually felt strangely liberating.
The John Hancock Building, informally named "Big John", doesn't enjoy the hoopla of the Skydeck. But it's vaulted perspective towering above the Magnificent Mile on the shores of Lake Michigan is equally enthralling.
The observation deck, 360 Chicago, is located on the 94th floor and is the only observatory with an open-air walk. Stepping outside, it was a salutary reminder on how the city got its nickname. The wind felt cyclonic! A recent gimmick added to 360 Chicago is the Tilt, whereby a purpose-built bay of windows hydraulically dips 30 degrees, leaving you dangling over the Magnificent Mile, 1000 feet below. I had visions of freaking out, but Tilt is actually quite lame.
The mile-long stretch of North Michigan Ave, from the Chicago River to Oak Street is designer shopping in excelsis. You'd struggle to find a more spectacular parade of retail bling in such concentrated form. It's swanky, glamorous and bedecked in flowerbeds. Also in the neighbourhood, the only all-suite luxury accommodations on Michigan Avenue. The stirring Omni Chicago Hotel is looking even more resplendent, fresh from a multi-million dollar refurbishment.
Boasting 347 suites, the bustle of the Mag Mile seems like a world away within the hushed, pampered and tranquil confines of this X-factor property. Celebrating a sure-footed sense of place, I loved all the subtle design touches like the mirrors inspired by Cloud Gate and the legs on the bed that mimic the John Hancock building. Every conceivable creature comfort is catered for, while vintage city views await at the hotel's rooftop garden and sundeck.
676 Restaurant is located on-site and offers classic comfort food with a twist. The buffet breakfast is artfully executed – even the sausage patties are made fresh every day. Staff are ultra-attentive, passionately informed and they'll go the extra mile to share Chicago's magic with you. This is anything but a cookie-cutter hotel, with an inventive range of packages being constantly refreshed. Deep-dish pizza making classes, perhaps? www.omnichicagohotel.com
It's a calorific catastrophe, but deep-dish pizza is as much a Chicago staple as Wrigley Field. Giordano's and Gino's East, are the deep-dish giants, both headquartered off the Mag Mile. I ventured to the latter, Gino's East and their original restaurant, in East Superior St, where they have been engorging bellies for over 50 years.
Revered by many, I thought it was a huge let down. Their thick, golden-crusted secret-recipe corn dough is drowned in mounds of mozzarella cheese and topped with tangy tomatoes. Slowly baked in seasoned cast-iron pans until the crust if flaky, it was served in theatrical fashion, table-side, piping-hot, straight out of the pan.
I was drooling like a 3-year old. But after just one piece, I felt bloated, weighed down by that scone-like base and cornmeal crust. Give me a New York style pizza, and its famously thin crust, any day! Despite my disappointment, the original Gino's East is a radiant venue, where chalk graffiti covers the exposed brick walls of this buzzing restaurant. It's a must-try experience but keep your expectations in check!
For an unrivalled high-end dining experience, have a splurge and surrender to the degustation delights of Spiaggia, on the Magnificent Mile. It's fancy, fun but not fusty. Setting the standard for Italian dining, Chef-Partner Tony Mantuano is at the helm of this superlative restaurant that faithfully honours the heritage of Italy and is constantly showered with awards. Wine pairings are executed with imparted authority and playful finesse, reaching deep into their 700-bottle wine list. This is destination dining at its dazzling best.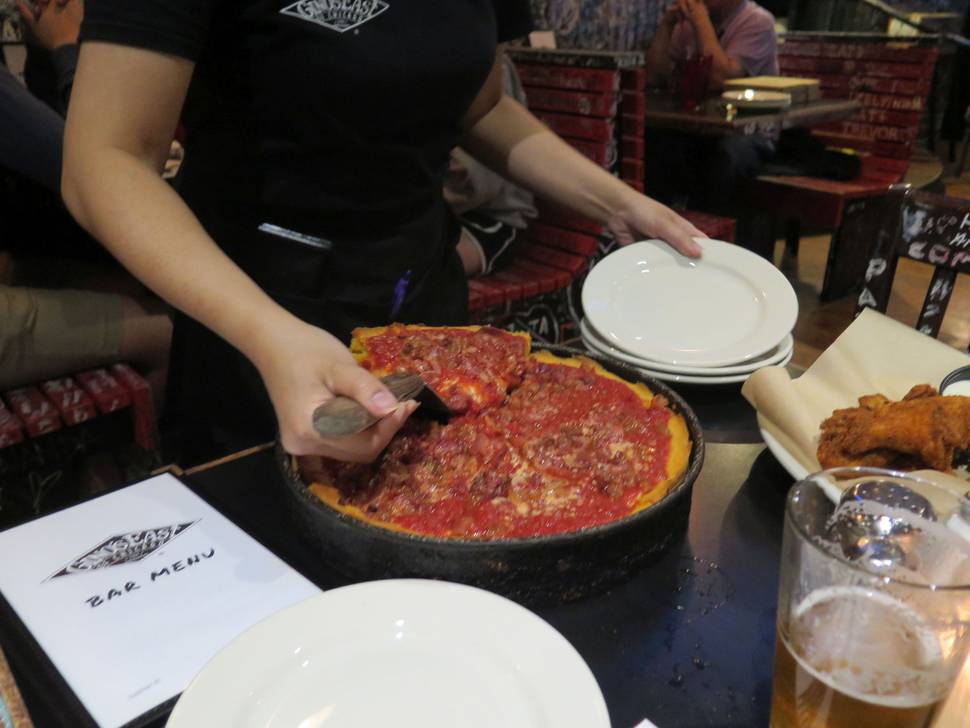 I had a lip-smacking lunch at Park Grill, the city's ultimate room with a view, overlooking Millennium Park and that celebrated games court that transforms into a winter ice-skating rink. Contemporary American cuisine and year-round entertainment make this venue a city favourite. Order up some share plates, like Rhode Island calamari and Beer battered cheese curds. Need a green fix? Their Cultural Mile salad is a tour deforce of supreme goodness.
Just down from Skydeck, I also recommend the Revival Food Hall. This all-local dining concept showcases some of the shining stars of Chicago's prestigious culinary scene, under one roof. The colossal 24,000 square foot venue is a triumph of repurposing, housed on the ground floor of The National—a fully restored 20-storey building, circa 1907.
Best described as an artisan food hall, the slew of choices is mouth-watering. I plumped for a fabulously delicious Fat Shrimp Sandwich from the Fat Shallot. My big brioche bun brimmed with jumbo shrimp, seasoned with spicy ginger, sesame aioli, pickled red onion and lettuce. Despite the designer flair of the food hall, it's surprisingly inexpensive.
If full-tilt sightseeing is on your agenda, the Chicago CityPASS will save you a packet. Enjoy direct-access VIP admission to a stack of essential attractions, including Skydeck Chicago, The Field Museum and the Art Institute. Skip most ticket lines and save up to 50% on admission. www.citypass.com
Another trusty sightseeing partner to expedite and enrich your urban adventures is BIGBUS Chicago, whisking you around the city's signatures on an extensive, with the freedom to hop-on and hop-off whenever you want. www.bigbustours.com
I organised my American rental car through Expedia, who offer a great range of sharply-priced car hire rates, no matter where you are travelling to. Did you know on Expedia you can get discounted rates on a great range of hotels when you add on to your existing trip? It's called the Expedia Add-On Advantage. Book your flight, car or package on Expedia and you'll instantly unlock up to 49% off select hotels until the day of your trip. Jump to https://www.expedia.co.nz/addonadvantage
It's another exciting boundary-breaker for our intrepid national airline, setting its sights on direct flights to the Windy City. November 30, 2018, Air New Zealand will operate the new route three times weekly, year-round with its new configuration Boeing 787-9 Dreamliner aircraft. Flight time will be approximately 15 hours northbound and just over 16 hours southbound. The new service deepens the alliance between Air New Zealand and United Airlines.
With United operating more flights out of its hub of O'Hare International Airport than any other airline, the new service to Chicago will provide customers with convenient one-stop code share connections to around 100 destinations across the US. One-way Economy fares between Auckland Chicago start from $1,019 (including taxes). Fares are also available via Los Angeles, San Francisco and Houston with onward connections to Chicago on partner airlines. Visit www.airnewzealand.co.nz to book or for more details.