Bungy masters A J Hackett's top secret attraction has been revealed.
30 years in the making, the project which known until now as the 'Nevis Thriller' has been unveiled as an incredible human catapult.
The Nevis Catapult fired its first thrill-seekers over the Nevis Canyon this morning.
Riders on the attraction reach a top speed of 100 km / h and experience hair-raising forces of up to 3g.
That's equivalent force felt by astronauts aboard a space shuttle during lift off.
Surely, a situation which those preparing to be shot off by the catapult must feel a great deal of sympathy for.
The whole event had an element of stepping into the unknown, as this launch was the first glimpse the public had been given of this secret attraction.
Nevis Catapult had been developed in this remote AJ Hackett location, only accessible by 4x4.
First into the breach were competition winners Katie Mitchell and Chantelle Polley.
They fearlessly applied to be the first to try out Hackett's mystery device, before even knowing what it entailed.
Katie Mitchell from Tauranga had done a few bungys before, "but this was something else!"
The Kiwi daredevil entered the completion by submitting a video of herself doing other bungys and a skydive to prove her mettle, but nothing could have prepared her for a giant bungy catapult.
"We were only told that we won only last Monday. [We] didn't know it was a catapult until we came out here early this morning for the 'blessing'."
After a quick demonstration by AJ Hackett Co-founder Henry Van Asch – Chantelle Polley, from the Sunshine Coast, was second on the catapult.
"There was a call out for Aussies on Instagram asking for the most exciting thing I'd done," she said.
"I'd done the Nevis Bungy before and one on the Gold Coast but the catapult is really the next level.
"You get swung forward like you're flying. It just topped everything."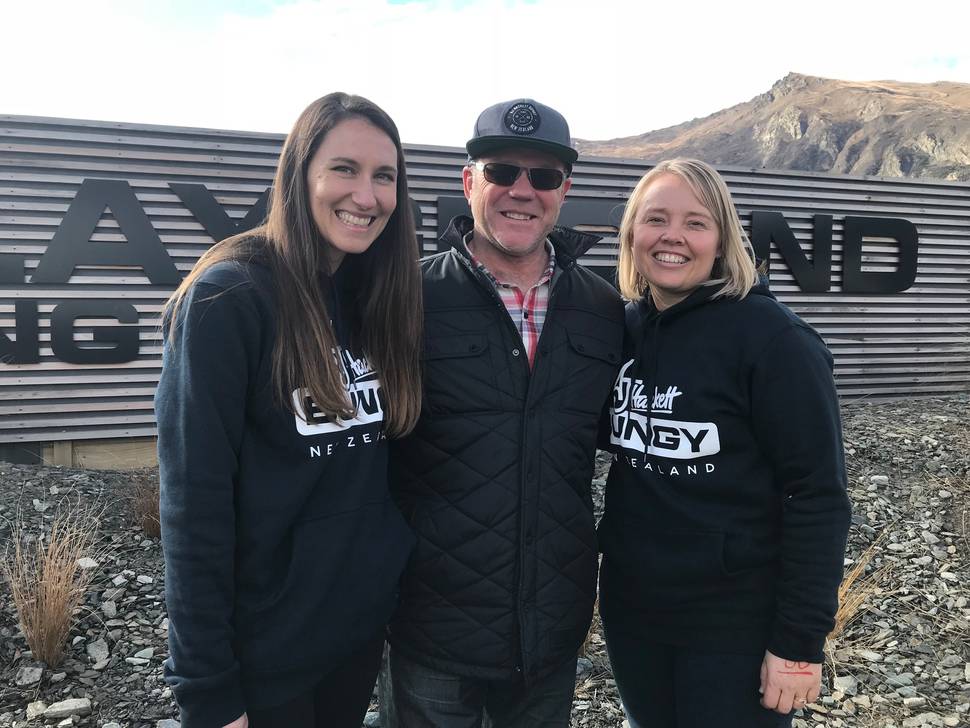 The 150 guests at the launch party also had a chance to try the catapult, including MP for Clutha-Southland Hamish Walker.
As of 1pm today, the Nevis Catapult is now open to the public.
"I'd say beginners could do it but it's nice to do a bungy first, to feel how different it is," said Chantelle.
"We've got to have a go at everything here, including twice on the Nevis Swing. So I'm well and truly adrenalin-ed out," added Katie. "Though we're booked in for the Ledge Swing tomorrow."
"The speed is extreme. It's really exciting – and surprising," said company co-founder Henry van Asch, who has been central in developing the one-of-a-kind attraction.
Helping to launch commercial bungy jumping in the 80s, he has made a business out of seeking new thrills.
"I did my first version of the catapult more than 30 years ago – in 1987, a year before AJ and I brought Bungy jumping to the world."
Prices for the new Nevis Catapult are per $255 adult and $225 for NZ students. Or $480 for the Nevis Thrillogy (Swing, Bungy and Catapult).