If you want to stay in any of these swanky hotel suites you'd better get saving now, with a night's stay topping the average annual salary.
Every year private jet lifestyle magazine Elite Traveler (which boasts that its average reader has a net worth of $37million) produces a list of the world's top 100 hotel suites, which includes the 10 most expensive rooms available - and this year's results are now in.
In at first place, yet again, is the Royal Penthouse Suite at the President Wilson Hotel in Geneva, which costs a bank-busting $75,000 (£56,000) a night with 12 bedrooms, bulletproof windows and a collection of rare books giving guests huge bang for their buck. Read on to discover the suites that top the ranking and what makes them so extraordinarily expensive.
1. Royal Penthouse Suite, President Wilson Hotel, Geneva - $80,000 (NZ$117,482)
The 12-bedroom Royal Penthouse Suite at Hotel President Wilson in Geneva, Switzerland, spans the entire eighth floor and showcases striking views of Lake Geneva and Mont Blanc through floor-to-ceiling bay windows.
Elite Traveler says as guests walk in, they're greeted by a light-filled living room decked out with a grand piano, billiards table and collection of rare books.
Other perks in the suite - which has welcomed various celebrities and heads of state - include a marble bathroom with a hot tub and Hermès bathroom amenities. The security conscious needn't worry, because there's a panic button, private lift, bulletproof windows and security cameras.
2. Five-Bedroom Terrace Suite, The Mark, New York - $75,000 (NZ$110,140)
The five-bedroom Terrace Suite at The Mark in New York isn't listed on the hotel's website, but it most definitely exists, and it's a corker.
Spread across two floors, Elite Traveler says the 3657-square-metre apartment offers an "oasis above the city, with a skylighted pavilion and 762-square-metre roof terrace overlooking Central Park".
A good dose of modern grandeur was injected into each room by French interior designer Jacques Grange, from the 24-seat dining room to the living room with grand piano.
3. Penthouse Suite, Grand Hyatt Cannes, Martinez - $53,200 (NZ$78,126)
Situated on the seventh floor of the Grand Hyatt Cannes Hotel Martinez, the penthouse suite measures 984 square metres and features four bedrooms.
As well as a living room, dining room and marble bathroom, guests can enjoy a 885-square-metre private terrace that looks out over the Bay of Cannes and the famous Boulevard de la Croisette.
There is also a personal butler service included in the $53,200 (NZ$78,126) a-night price tag, as well as the use of a hot tub and a hammam. Eva Longoria, Bruce Willis and Robert Pattinson have all stayed in the famous suite during the annual Cannes Film Festival.
4. Penthouse, Faena Hotel, Miami - $50,000 (NZ$73,426)
The chic Penthouse at the Faena Hotel in Miami sashays in at $50,000 (NZ$73,426) a night.
The contemporary suite features two levels of spacious gathering areas and dining rooms that are ideal for entertaining. Each of the suite's five bedrooms have furnished balconies, so guests can enjoy sunrise to sunset views over the coast.
Elite Traveler notes that film director Baz Luhrmann and his wife, set designer Catherine Martin, are behind the Faena's Great Gatsby-inspired design, with custom furnishings created by eminent designer Frank Pollaro, whose bespoke creations are often seen on superyachts.
5. Hilltop Villa, Laucala Island, Fiji - $45,000 (NZ$66,084)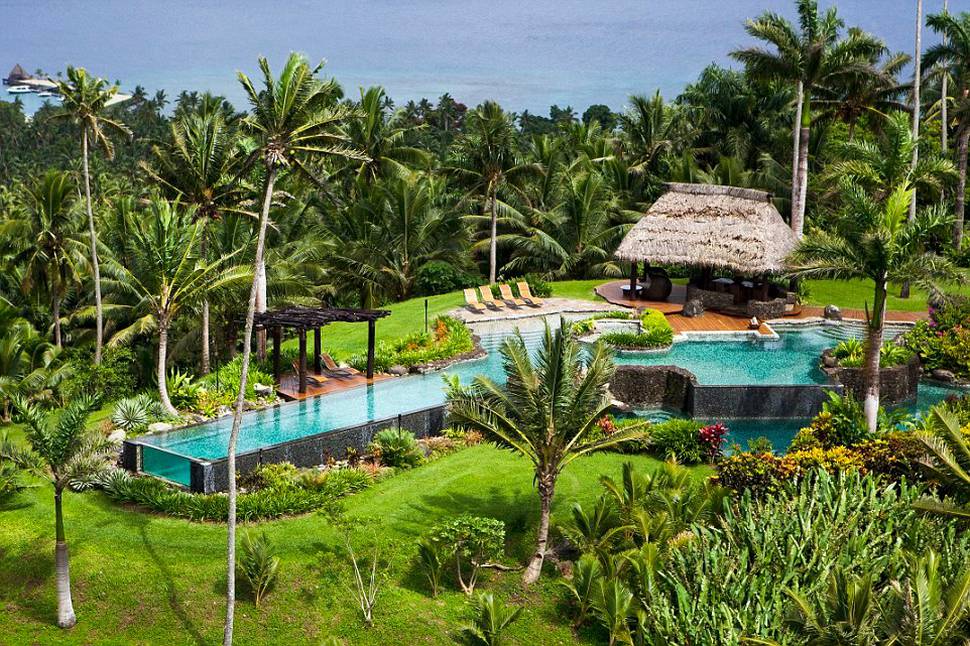 A stay at the Hilltop Villa at Laucala Island Resort in Fiji will have you balking at the bill in the morning - it costs $45,000 (NZ$66,084) a night.
However, you'll only be able to stay at the hotel - owned by Red Bull billionaire Dietrick Mateschitz - by application or referral. Set up high on a green hill on an island owned by Mateschitz, the hilltop residence is billed as "a resort within a resort", offering rooms for six guests when the business mogul isn't staying there.
It is the crown jewel of nearly two dozen luxury villas, boasting panoramic views of the island and sea, nearly 37,000 square metres of bedroom space, a private cook, chauffeur and nanny, and access to a private airstrip.
6. Grand Riad, Hotel Mansour, Marrakech - $43,480 (NZ$63,851)
Elite Traveler
says "the riads of Morocco are known for grandeur, but the Royal Mansour is astonishingly opulent".
Commissioned by King Mohammed VI, the three-storey hotel in Marrakech boasts gold-plated walls, onyx floors, swathes of marble and intricate tile detailing.
The landing page for its opulent Grand Riad suite is password protected, with the exact details kept underwraps. However, the swanky pad comes in at $43,480 (NZ$63,851), suggesting it has all the luxuries one could need.
7. Penthouse Suite, Hotel Cala Di Volpe, Sardinia - $41,177 (NZ$60,469)
Porto Cervo is a playground for the rich and famous, but one penthouse suite sits head and shoulders above the rest - at the Hotel Cala Di Volpe.
For $41,177 (NZ$60,469) a night, guests in the resort's penthouse suite can enjoy three-bedroomed luxury with sweeping views of the azure coastline.
The room also comes with a solarium, a fitness area and a private swimming pool with a large terracotta-tiled terrace.
8. Royal Suite, The Plaza, New York - $40,000 (NZ$58,741)
The Royal Suite at the iconic Plaza hotel in New York, which comes in at $40,000 (NZ$58,741), features three bedrooms, private elevator access, and large windows overlooking Fifth Avenue.
Other perks in the apartment include a grand piano, a dining room to seat 12, a library, an "immense" master bedroom and gym.
Even the bathroom is fit for a king or queen with 24-carat gold-plated fixtures and a heated floor. White glove butler service is included, so all guest needs can be gracefully fulfilled, from breakfast in bed to fresh gin and tonics.
9. Princess Grace Suite, Hotel De Paris, Monaco - $37,000 (NZ$54,335)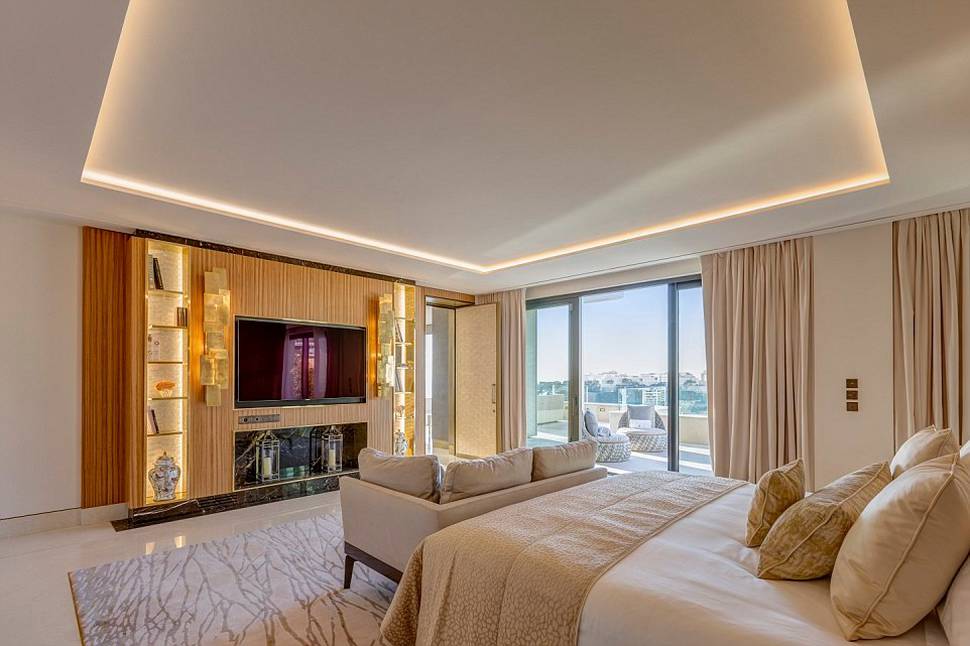 Elite Traveler
says "fittingly set in the hotel that hosted the wedding reception of Prince Rainier and Princess Grace, the newly opened Princess Grace Suite honors her lasting legacy" with touches of mother-of-pearl and "ultra-feminine furniture".
Hôtel de Paris apparently worked closely with the royal family to source various artefacts that were dear to the late princess, so her presence can be felt throughout the two-storey, 2986-square-metre, suite.
In the sunny apartment, there are two bedrooms, an office, toilets on each floor, two lounges, a living room, a dining room, a kitchen and luxury bathrooms. Other amenities include an outdoor dining area, a jacuzzi, saunas and an infinity pool. The price tag follows the royal theme, with stays coming in at $37,000 (NZ$54,335) a night.
10. Suite 5000, Mandarin Oriental New York, New York - $36,000 (NZ$52,867)
The 50th-floor Suite 5000 at the Mandarin Oriental New York is so exclusive it isn't even listed on the hotel's website.
The stylish pad, costing a hefty $36,000 (NZ$52,867) a night, boasts a library of films and a music curated by Academy Records. Meanwhile, the walls are adorned with artistic portraits and sculptures that guests can buy with the push of an iPad button.
Moving through the 1005-square-metre apartment, there are three bedrooms, a living room and dining space to seat ten people with a twinkling Swarovski wall installation to set the tone.
THE WORLD'S BIGGEST HOTEL SUITES
1. Ty Warner Mansion, Las Ventanas, A Rosewood Resort, Mauritius - 8534 square metres
2. Seven South, Ritz-Carlton Cayman, Cayman Islands - 6096 square metres
3. Grand Riad, Hotel Mansour, Marrakech, Morocco - 5905 square metres
4. Penthouse Suite, Grand Hyatt Cannes Hôtel Martinez, France - 5478 square metres
5. St Regis Villa, St Regis Mauritius, Mauritius - 5455 square metres
6. Royal Suite, Waldorf Astoria Dubai Palm Jumeirah, Dubai, Uae - 5141 square metres
7. Maharaha Pavilion, Raj Palace, Jaipur, India - 4876 square metres
8. Five-Bedroom Terrace Suite, The Mark, New York, USA - 3657 square metres
9. Villa Cortez, One&Only Palmilla, San José Del Cabo, Mexico - 3200 square metres
10. Princess Grace Suite, Hotel De Paris, Monaco, France - 2986 square metres
Source: Elite Traveler