For many weary travellers, the sight of the Golden Arches can provide some comfort and relief - particularly when you've faced with ordering food in a country where you don't speak the language. After all, there's only one way to say "Big Mac".
However, while McDonald's restaurants may look familiar wherever you go, that doesn't mean the menu will be. Depending on where you are, you may be in for some surprises.
Take McDonald's Hong Kong, for example – the latest craze here is a lilac sweet potato-flavoured soft serve ice cream, served in a Oreo waffle cone. The Instagram-worthy treat is currently available at select locations in Hong Kong – and it's making a splash on social media.
From chicken with spaghetti to fried shrimp side dishes, we've scanned the menus of McDonald's restaurants around the world to find some of the most out-there offerings. Here's what we've discovered – with a quick warning: this will make you hungry.
Durian McFlurry, McDonald's Malaysia
Known as the "King of Fruit" in Malaysia, durian is a flavour that's not for everyone – it's been described as tasting like "diced garlic and caramel poured into whipped cream". And while it's loved by Asian foodies, the fruit is actually banned in public places in Malaysia, due to its strong smell.
However, it's popular enough to have been turned into a McFlurry flavour – and there's even an all you can eat event planned for this unusual dessert.
Teriyaki McBurger, Mcdonalds Japan
McDonald's in Japan is known for its extensive menu, so it's hard to choose just one item. You'll find all sorts of intriguing seasonal items – think sakura flavoured fries during cherry blossom season, or a squid ink burger for Halloween – as well as plenty of permanent classics. The Teriyaki McBurger is one such staple, with a pork patty that's absolutely drenched in teriyaki sauce.
McAloo Tikki, McDonald's India
You won't find beef or pork anywhere on the menu in Indian McDonald's – it was a condition of the chain setting up shop there. So if you're after a Big Mac, it's only available in chicken or vegetarian versions. In fact, vegetarians who've found themselves locked out of much of the Macca's menu will be in heaven here. A favourite vege item is the McAloo Tikki, crafted specially for India. It contains a pea and potato patty with special Indian spices, served with sweet tomato mayo, onions and tomatos in a bun.
Spinach & Parmesan Nuggets, McDonald's, Italy
Italy is known for its Parmigiano Reggiano cheese – and it's well represented at McDonald's in the form of these tasty little spinach and parmesan nuggets. And if you're still craving cheese after all that deep fried goodness, fear not. You can even buy a single serve stick of Parmesan on the snack menu.
Chicken McDo with McSpaghetti, Philippines
You might think you've accidentally stepped into KFC, but in the Philippines, McDonald's serves crispy fried chicken as well. Called the "Chicken McDo", it's served with rice, or for a more unusual option, spaghetti - sorry make that "McSpaghetti" - and meat sauce. Classy!
McShrimp, McDonald's Russia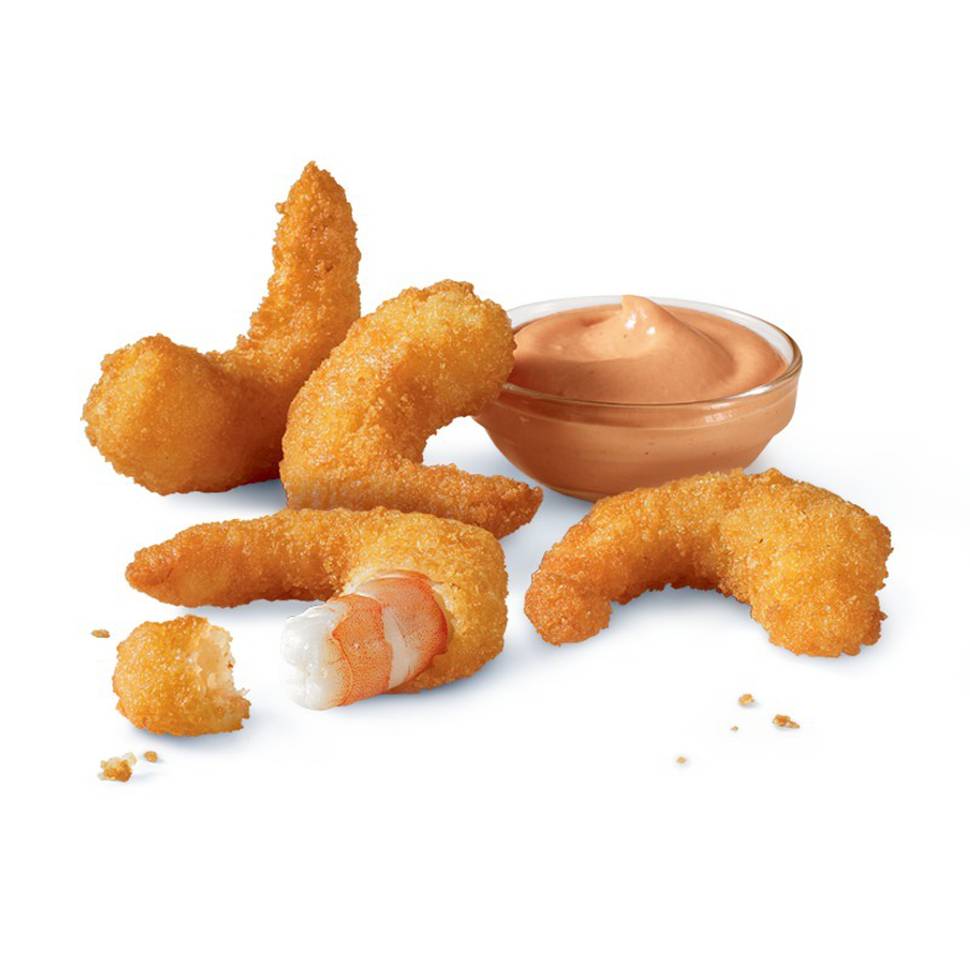 Do you want shrimp with that? At McDonald's in Russia, it's entirely possible. Deep fried breaded shrimp is available as an alternative to fries on the side menu. While we're not sure if we'd forgo the fries for them, these crunchy little guys do look pretty tasty.
Bulgogi Burger, McDonald's Korea
The most appropriately local dish you'll find on the South Korean menu is the Bulgogi Burger – a take on Korean bbq meat in a sweet spicy sauce. Like Japan's McTeriyaki, this also comes with a juicy pork patty.
Poutine, McDonald's Canada
One of Canada's national treasures, poutine – chips covered in gravy and fresh cheese curds – originated in Quebec, before spreading around the world. You can try this cheesy, saucy and greasy treat at McDonald's – but only in Canada.
Pancake Helado, McDonald's Uruguay
This indulgent item, served only in Uruguay, could be the greatest McDonald's dessert option ever conceived. These pancakes are filled with creamy caramel dulce du leche sauce (a South American speciality), then topped with vanilla soft serve and even more dulce du leche. Be right back, just booking some plane tickets…
Bacon Roll, McDonald's UK
The bacon butty – Britain's favourite hangover cure – is available as a permanent breakfast item in the UK. Dubbed the "Bacon Roll", it's exactly what it says it is: nothing but bacon in a bread roll, with your choice of ketchup or brown sauce. Sounds like just what the doctor ordered!