Facing a tidal wave of tourists, the Japanese government has found an unlikely ally in the short-stay love hotel.
Industry experts have warned that there is currently insufficient accommodation for the projected 40 million visitors during the Tokyo Olympic Games. With less than two years until Japan hosts two major sporting events - including the 2019 Rugby World Cup - time is running out.
To fit the world's sport fans and a village of top sporting talent, the government has had to look in some unusual places to increase capacity ahead of the games.
And there are few places more unusual than Japan's fleet of 37000 Love Hotels or "Kotaku".
In the centre of Ikebukuro stands an eye sore of a building.
Its zebra-pattern walls pulsate with eclectic neon lights and a sign reading "Hotel Zebra."
This is perhaps the most recognisable of such buildings. Love hotels come in all shapes and sizes, though they all follow a similar gaudy pattern. You might not be able to describe it, but they are unmistakable.
Strict censorship guidelines and social pressures have led to this bizarre and uniquely Japanese branch of the hospitality industry.
One famous example in Chiba is built like a UFO, while another is a replica of the Queen Elizabeth II liner on the outskirts of Tokyo (God bless all who sail within her).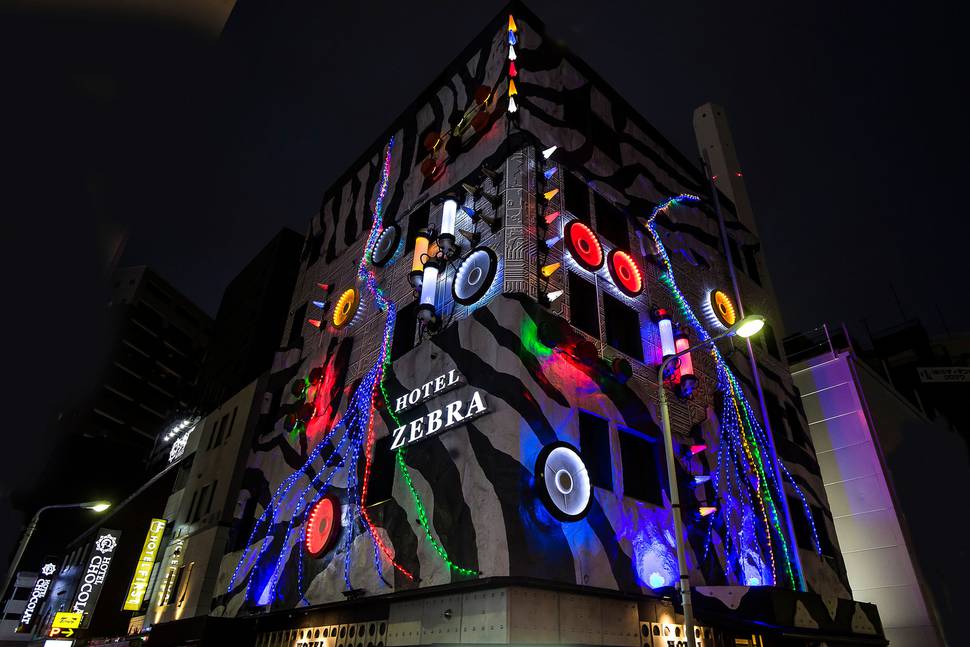 There is even a franchise of Father Christmas themed short-stay inns, with the jolly man in red sat on the chimney.
The necessity for love hotels arose in the country's densely populated urban hubs, where space and privacy can be hard to come across.
Many young couples live in crowded apartments with their parents - and sometimes grandparents as well.
So these hotels provide a valuable avenue of escape, if only for a brief moment. Built like fairy tale castles or levels from a Nintendo video game, escapism is central to their function.
As for these wacky designs and themed rooms, they are also a product of a savvy navigation of advertising standards.
If you own a fleet of hotels and can't advertise their exact purpose, it's easier to create hype around other aspects. Few people will have seen an advertisement for a love hotel, but they will know exactly where the one built like a giant flying saucer is.
The love hotel industry is Japan's multi-trillion dollar, neon coloured elephant in the room.
It's a bizarre mixture of being very implicit, very suggestive, and at the same time totally, unavoidably wacky.
Many love hotels offer an hourly "Kyūkei", or what is euphemistically termed as a "rest rate".
Since the 1960s, the number of them has exploded. Shrugging off the Asian financial crash in the 1990s, the industry has continued to grow until today - Forbes magazine estimates it's worth ¥4 trillion (or NZ$52 billion), welcoming 500 million couples a year.
However, as Japan scrambles to meet demand for tourist-friendly accommodation, the golden era of the love hotel may be coming to an end.
In September next year, the Rugby World Cup kicks off a year of huge projected tourism numbers. This event is followed 10 short months later by the Tokyo Olympic Games, marking the busiest period for Japanese tourism in history.
Following a record 19.4m visitors last year, Japan has set the ambitious target of doubling tourism for 2020.
But will the country be ready? And where will all these extra sports fans stay?
Within an area not much bigger than New Zealand, Japan manages to fit the equivalent population of Russia. There's hardly room for the general populous, let alone tourists.
This has led to some rather creative solutions by games planners and the hospitality industry.
The tourism board has encouraged visitors to try staying in capsule pods and traditional "ryokan" inns. These are some other unusual and typically Japanese accommodation services, also by-products of cramped living conditions.
Perhaps only the most adventurous travellers would try staying in Japan's love hotels - yet these buildings may be the answer to Japan's growing tourist industry.
A 2016 survey by the Japanese hotel regulatory body suggested that in spite of booming trade, the nature of very short lets meant they were being underutilised.
"The occupancy rate of over 10,000 such hotels across the country is around 40 percent on weekdays," reported the Japan Times, "making them a potentially useful resource to meet growing lodging demands."
The public lending body Finance Corp. has been told to provide more loans to companies looking to convert love hotels into fan accommodation ahead of 2019.
But if hotel comparison websites are to be believed, tourists are quite happy to check into the hotels as they are.
Booking.com has begun listing the properties clearly as "(Adult Only)" accommodation to avoid any unwitting online bookings.
However this move has only driven more custom. In the past year, Booking.com has seen the number of bookings in the 'love hotel' category explode by 48 per cent.
Like moths to a neon flame, customers are being drawn to these garish love hotels - with novelty themes and colour schemes unlike anything they'll get back home.
"What is interesting about the love hotel sector is that they have very interesting facilities, for example karaoke rooms - which is pretty cool for many foreigners - some will also have bars" said Donna Morris, Booking.com's Tokyo area manager.
And as the Olympics and Rugby World Cup come to Tokyo, it is a chance for Japan to showcase its uniqueness on the world stage.