Delicious food and wine finds another good home, writes Stephanie Holmes.
If there's anything better than ordering a perfectly-made negroni from room service and having it delivered to enjoy while watching the sun set behind the mountains surrounding Lake Wakatipu on a warm summer's evening, I'd like to know about it.
It was a moment of bliss among many during a recent weekend away in the newest accommodation in town. The QT Queenstown, a collection of 69 smartly refurbished rooms atop the Rydges, opened in December. Not only a great place to stay for out-of-towners, it's also set to become a destination for locals, thanks to its outstanding restaurant Bazaar and cocktail lounge Reds.
Food & Beverage director and former executive chef Josh Smith-Thirkell is a QT alum, having worked with the hospitality brand at various locations since 2013. He'd never been to Queenstown when he accepted the job, but was excited about the prospect of jumping the Ditch to the new QT and setting up the restaurant from scratch.
The concept is "interactive marketplace", which of course is just a fancy way of saying it's a buffet, but this buffet really is quite fancy. Seven different food stations with a daily-changing selection mean you can start with fresh oysters and a salad, grab some freshly-cooked Asian stir-fry, then move on to some hearty meat, carved before your eyes, finishing with a selection of colourful mini-desserts and a huge hunk of cheese.
"Pace yourself. Little bits at a time," Smith-Thirkell advises. "You need to picture it like you're at your own degustation at a restaurant. Do it slowly. You're here to run a marathon; you're not here for the sprint."
And you really do need to sample as much as possible — the quality of the produce and the talent of the chefs is all designed to impress. The friend I was dining with has complicated dietary requirements but these were no problem for the chef on the wok station; he listened carefully to her restrictions, then cooked up something from scratch.
She said it was her favourite thing from the whole meal.
The food is cause to linger, but so are those views. The restaurant sits on the sixth floor of the Rydges, looking out to the lake, the mountains, the town . . . it's almost enough to distract from what's on your plate. Almost.
Once you've finished grazing and gazing, move across the hall to Reds and get an expertly-made cocktail while you digest. Hot tip: the negroni will be the best you've tasted.
"When you go to Queenstown, you think of Ferg Burger, you think of Botswana Butchery, you think of bungy jumping. I want Bazaar and Reds to be one of those things you think of or talk about when you come to Queenstown," says Smith-Thirkell. "Even if you're not staying here. I mean, you should stay here. But even if you're not . . . "
● qthotelsandresorts.com/queenstown
Other great Queenstown eats
While you're there, save room for a bite from one of these great venues . . .
I discovered this place thanks to a couple of honeymooning New Yorkers, Seth and Cody, who had stumbled across this hole in the wall down the alleyway next to Eichardt's, the luxury accommodation where they had been staying. Although it was more low-key than luxury fine-dining, they said the food here was the best they'd had throughout their entire six-week stay in New Zealand. Since that recommendation, I make sure I head there on every Queenstown visit because Seth and Cody were right; these are the best tacos I've eaten outside Mexico. The Bajaman — crispy, deep-fried fish, creamy Jalapeno sauce, fresh tomato salsa and a wedge of lime — is highly recommended. At just $7 a taco, they won't break the budget, either.
My friend Alice and I had wanted to visit a winery for a long, lazy afternoon of both wine and food tastings. But without a car we thought we might be stumped. Cue Gibbston Valley, which offers an excellent deal: $99 for two-course wine-matched lunch, wine tasting, cellar tour and return transport from central Queenstown to its site near the Kawarau River bungy. The food, from new head chef Anthony Gradiska, was perfect; seasonal produce and high-quality ingredients used in innovative ways. And the pinot noirs were world class. If you're feeling energetic, you can rent a bike and take on some local trails. We were content to sip and bask in the sun before the shuttle dropped us back in town, just in time for dinner.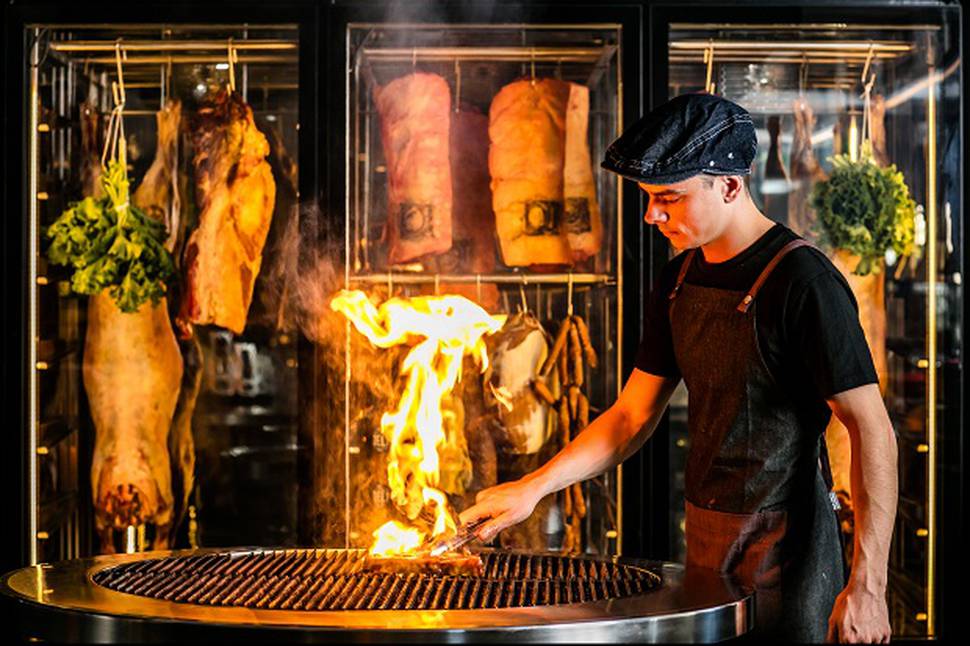 This is a new kid on the block in Queenstown, but one that will appeal to everyone, even those with special dietary needs. Yonder serves brunch and dinner — with a focus on specialty coffee, vegan and gluten-free foods, but is also a good spot for drinks; there are 12 tap beers and more than 40 gins on offer, and regular live music.