Deborah Dickson-Smith meets prehistoric dragons and learns of centuries-old devotions within coo-ee of bustling Depasar and party-hard Kuta.
Bali has become almost as famous for party-hard tourists as it is for its natural beauty and colourful festivals but just next door, another beautiful island sits quietly.
Flores is a world away from the bustle of Bali, yet it takes just 90 minutes to get here from Denpasar. The island shares Bali's natural beauty, with striking volcanic landscapes, beautiful beaches and fringing coral reefs - and it has its own colourful festivals. But outside the capital of Labuan Bajo, you're unlikely to find much in the way of nightlife.
On our first night in the small port town of Larantuka on the island's east coast, we head to the roof top bar. If this was Kuta, I'd expect to find a few lively Aussies in Bintang T-shirts taking advantage of Happy Hour prices. Instead, we find an English diplomat dressed in a neatly pressed linen suit. He's here to witness a religious festival that's equal to Bali's festivals in spectacle but different in every other way.
Similar to Mexico's Day of the Dead, Semana Santa is a week-long Easter celebration that combines traditional Catholic Easter devotions, adopted during Portuguese settlement in the 16th century, with local traditions.
The festival, which attracts thousands of Catholic pilgrims from Flores and the surrounding islands, starts with Rabu Trewa or Shackled Wednesday, when people gather to pray in chapels throughout Larantuka, and the entire town goes into mourning. On Maundy Thursday congregations hold the Tikamturo ritual, preparing the route for the following day's 7km procession, by planting candles along the route.
At the Chapel of Tuan Ma (the Virgin Mother) a casket that has been sealed for one year is carefully opened by the Conferia, and the statue of Tuan Ma is bathed and dressed in mourning clothes.
Good Friday is the pinnacle of the week's rituals, when statues of Jesus and the Virgin Mary are carried to the beach and on to a boat, which is then followed throughout the bay by hundreds of fishing boats.
The statue of Tuan Ma is said to have been found on the beach of Larantuka by a boy in 1510. According to legend the boy saw a beautiful lady who smiled at him, pointing to three words on the shore, which later Portuguese priests deciphered as: "Reinha Rosario Maria" or the Mourning Mother Mary.
Heading west from this spectacle in Larantuka, the coastline of Flores is dotted with pristine beaches and at the eastern tip, the island of Komodo and its prehistoric residents: Komodo dragons.
The best way to explore that coastline is by boat - from the nearby hub of Labuan Bajo, jump on to a live-aboard "Phinisi" schooner. It takes a few hours to get to Komodo Island, but along the way there are countless islands and beaches to explore, including the beautiful Padar Island and its famous Pink Beach.
The coral reefs of Flores and neighbouring Komodo are fast becoming Indonesia's most popular scuba-diving destinations, the underwater terrain being every bit as varied as the islands are above water, with sheer cliff walls, pinnacles, channels, sandy flat bottoms, and underwater plateaux.
This diverse habitat supports an even more diverse fauna: more than 1000 fish species and hundreds of corals and sponges, everything from tiny anemone fish and pygmy seahorses, to dugongs, sharks, manta rays, turtles and dolphins.
On Komodo Island itself, you will be greeted by its famous prehistoric residents almost immediately as park rangers show you around. The rangers are armed with a long wooden stick to keep the dragons at bay, but there's hardly a need for them - the dragons well fed in this protected environment.
Depending on how much time you have and how energetic you feel, there are a number of walking trails of varying lengths around the island. Along the trails there are several spots where the dragons are known for hanging around, so you are pretty much guaranteed to see at least one. The views from the top of the volcanic peaks are pretty spectacular, and well worth the effort - even in 90 per cent humidity.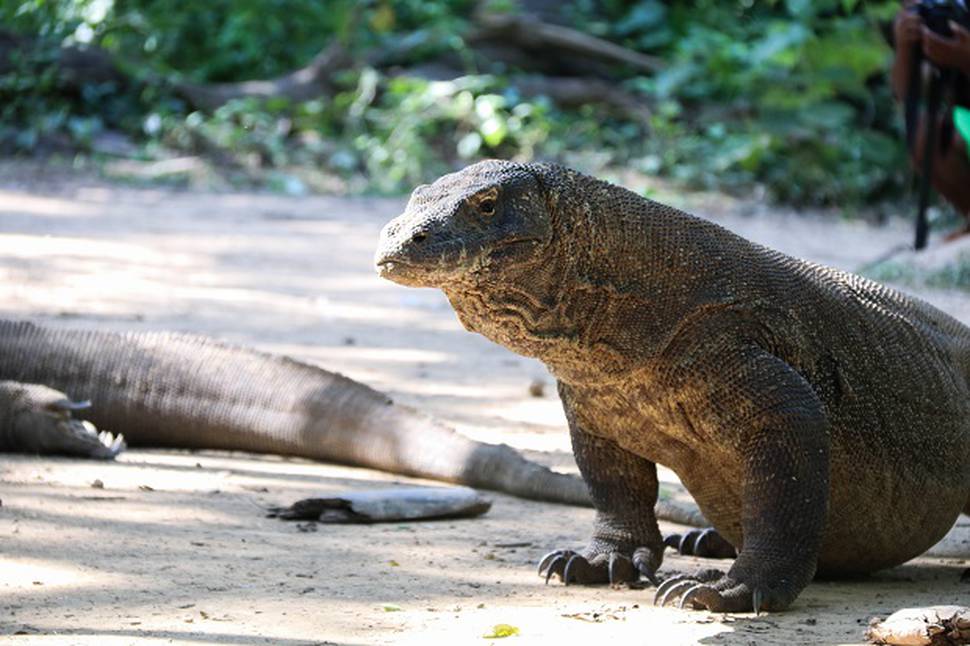 So, on Flores and Komodo, not only do you get white sandy beaches and pristine coral reefs, you get to travel back in time to witness 16th-century festivals and prehistoric creatures. Win-win.
FACT BOX
Air New Zealand flies from Auckland to Bali seasonally from $654 one-way.
Grab a connecting flight to Labuan Bajo. To get to the islands you'll need a boat, which can be hired at the port or pre-booked through a boat hire company or tour operator.
Flores Komodo Tours
A National Park fee of NZ$11-16 per person can be paid in the National Parks' Office in Labuan Bajo or upon arrival on the island.
The best time to visit is during the shoulder seasons of April to June and September to November, as they are cooler but still sunny, with fewer tourists. If you visit between April to June you also have a higher chance of spotting whale sharks.