Not everyone may know your name but much in Boston is familiar, writes Audrey Young
Boston has to be the US city with the most superlatives coined about it.
Biggest, longest, oldest, best and first.
There are plenty of firsts — first telephone, first public park in the US — but that is not so surprising for a city that is as attached to its political history as it is to the Red Sox or its world-beating colleges such as MIT and Harvard.
Effectively the birthplace of the US War of Independence from Britain, and a centre of activism against slavery, Boston is steeped in historical references.
Its modern cultural references are strong too. It is one of those cities that even if you have never visited before — and I hadn't — it has a sense of familiarity, be it through television programmes like Boston Legal and Cheers, its Irish history, its marathon, or songs such as the Bee Gees' Massachusetts.
The cobbled streets of Beacon Hill are a good place to start exploring.
It is home to XV Beacon hotel, where I stayed, only the second best hotel in the United States, according to Travel + Leisure's 2016 ratings.
Within a stone's throw is the home of former US Secretary of State John Kerry and around the corner is one of Boston's boutique museums, the Museum of African American History.
It has teamed up with the National Park Service, so its guides look as though they should be warning tourists about bears in Yellowstone, but they are pretty good at story-telling.
In a tour of the restored African Meeting House built in 1806, our guide Alan recreated the days of stormy meetings when black parents debated the merits of having mixed or segregated schools.
A group of black women students were on my tour and one of them laughed about having been asked recently if she would like to emulate Michelle Obama as First Lady one day.
No, she said. She would like to emulate Barack Obama.
Beacon Hill is also the start of perhaps the backbone of the city's historical sites, the Freedom Trail, a 4km walk that takes in 16 historic sites.
Among them is the oldest house in Boston, which belonged to possibly the randiest folk hero of the American Revolution, Paul Revere, immortalised in the Longfellow poem Paul Revere's Ride.
He had 16 children. Sadly only 11 survived but it is still incredible to walk through this tiny house built in about 1680 and wonder where they all fitted.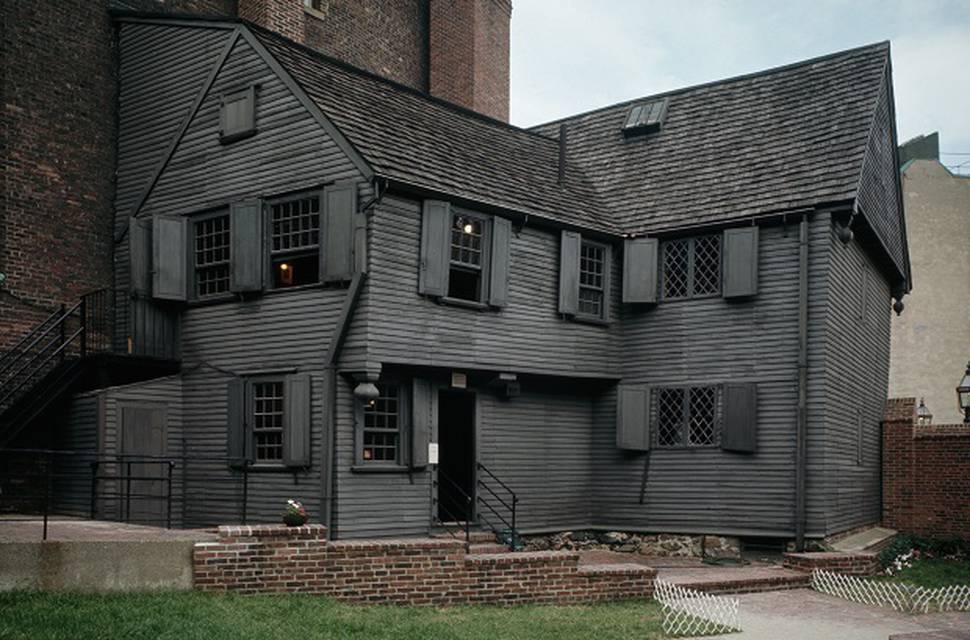 Fanueil Hall marketplace is a good place to be fed and watered on the Freedom Trail. It has an ordinary food hall behind the hall itself, insofar as lobster rolls and Boston cream pies are ordinary. Built in 1742, it has been home to a market for 250 years. On the top floor is The Great Hall, a grand hall for public meetings and debates, or these days, talks by the National Park Service.
The Union Oyster House is also on the trail. It not only lays claim to being America's oldest restaurant that has been in continuous service since it opened, it is very possibly the one that has had most presidential customers. Jimmy Carter, Bill Clinton, George Bush snr. Obama came in for a takeaway chowder, the manager tells me.
And President Kennedy was such a regular back in the day that the restaurant has designated his favourite table the Kennedy booth.
It is one of three "booths" in the city dedicated to the sociable president, including the one at the Omni Parker House on Beacon Hill where he proposed to Jacqueline. The other is at The 21st Amendment, a bar around the corner from XV Beacon (the 21st amendment repealed the nationwide ban on alcohol).
According to my tour guide, Malcolm X once worked at the Omni as a waiter and Ho Chi Minh worked in the pastry kitchen — though not at the same time.
We drive past the Bull and Finch pub, which was used for the exterior shots of Cheers but the guide is more interested in the "high falutin" Somerset Club 20 houses away. When it caught fire in 1945 the firemen who came to save it were asked to use the service entrance.
My tour of Boston was with Boston Duck Tours, which takes groups across the Charles River, right into it and out again. The amphibious vehicles are replicas of the World War II DUKW vehicles. Apparently there are occasionally passengers who don't realise what kind of vehicle it is and scream when think they are about to meet a watery grave at the hands of a maniac.
But for me it was the greatest fun in getting to know a city I had always liked, even before I got there.
IF YOU GO
Getting there:
has eight-day self-drive holidays from Boston on sale from $1399pp, twin share. Price includes eight-day car rental, seven nights' accommodation and a detailed itinerary.
Details: See visittheusa.com
Want more holiday inspiration? Sign up to our new Travel Insider newsletter here.