Cruise holidays provide the ultimate combination of relaxation, discovery and indulgence writes Adele Thurlow. If it's your first time - or you want to cruise like an expert - keep these pointers in mind and you'll be in for smooth sailing.
Choose your location
Is a transatlantic crossing your thing, or port-hopping through the Mediterranean perhaps? Would you prefer to sail past dazzling Alaskan glaciers, along the history-rich European rivers, or from a conveniently close New Zealand port to somewhere in the South Pacific? There are cruises to almost every corner of the world - selecting your preferred destination is a logical start when choosing a cruise.
Fleeting trip or grand voyage?
New cruisers may be wise to opt for a shorter voyage to see if they enjoy this style of travelling. Short breaks such as P&O's three-night comedy cruise in and out of Auckland, or a two-night cruise between Sydney and Melbourne provide an ideal taster of shipboard life.
At the other end of the spectrum, the world's longest cruise next year is Oceania's 180-day world cruise on board the Insignia, a round trip from Miami which calls at 45 countries and will set you back about $54,000 per person.
For most people, a mid-length cruise of six days to three weeks allows plenty of time for visiting a variety of ports and revelling in the onboard offerings.
Size matters
Once you've narrowed down the location and duration of your preferred cruise, think about ship size. Mainstream cruise ships hold up to 3000 passengers, while megaliners can accommodate more than 5000 guests and have the most extensive onboard services.
The two newest mega vessels in the MSC fleet - Seaside and Seaview - have reinvented cruise ship design, with a beach condo concept where more than three-quarters of the cabins have ocean views or balconies. On Royal Caribbean's high-tech mega-cruiser Quantum of the Seas, passengers staying in internal staterooms have the benefit of exterior views projected digitally inside the cabins.
In comparison, small ships, with a capacity up to a few hundred passengers, offer a more intimate experience and often visit less familiar destinations.
River cruise ships are typically small as they need to navigate inland waterways, but the smaller passenger numbers allow for more attentive service and the opportunity to connect with other guests.
Adventure cruise ships are also small and specifically equipped to visit remote destinations, while expedition ships take remote destination cruising to extreme levels - think icebreaker vessels through the Arctic, or Amazon river cruises with excursions to Machu Picchu.
Pick a theme
If you have a particular passion, chances are there's a cruise to cater for it. From Curnard's "Transatlantic Fashion Week" cruise and "The Crossword Crossing", to Celebrity's "Top Chef Cruise" and Regent Seven Seas' annual "Chocolate Cruise" - it certainly pays to browse the possibilities before you book.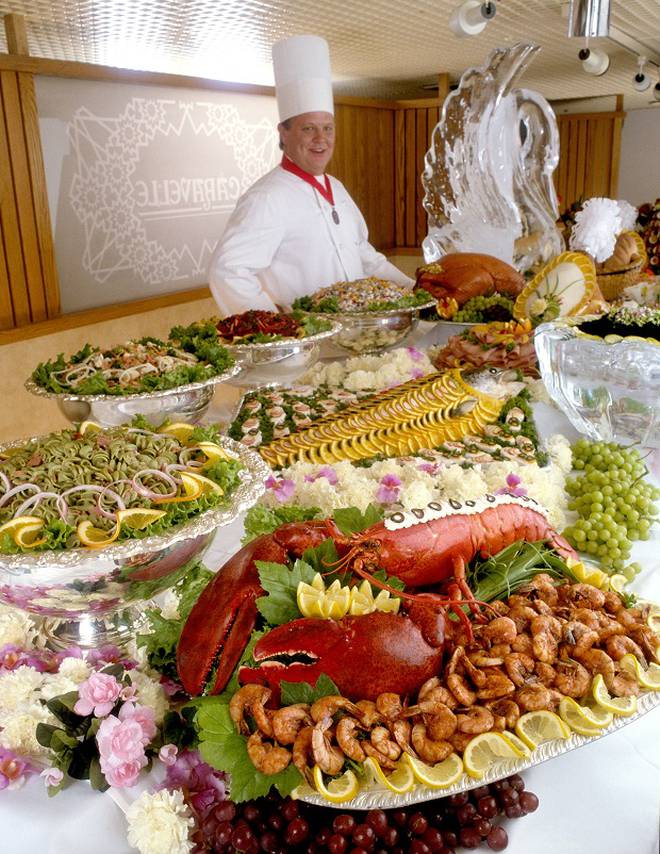 On a P&O cruise, you're likely to encounter a themed party on at least one night of your itinerary: pack your glad rags for a Gatsby-themed cocktail night, and your glam black dress, dinner suit or a New Zealand rugby jersey for an All Black Party.
What's included - and what's not
•
Typically, the cabin rate on all cruise lines will cover three meals a day in the main dining room, plus entertainment, activities, and amenities such as the fitness centre and kids' clubs. P&O's prices include activities such as bootcamp, poolside movies, cooking demonstrations, and an adrenaline-inducing adventure park, although teeth whitening in the onboard spa will cost you extra.
•
It's likely that the abundance of food in the main dining rooms will leave you satiated but, if the sea air makes you extra peckish - or you've missed the scheduled mealtime - then expect to pay extra for a meal in one of the ship's alternative restaurants. Alcoholic beverages, soft drinks, and your daily espresso are additional, however happy hours are common and it's entirely possible to order a cocktail without lifting your head from the sundeck lounger.
•
Onshore tours arranged through the ship and internet usage are also additional.
FYI, all onboard expenses will be charged to your cruise card (typically worn on a lanyard for the duration of your journey) and paid for at the end of your holiday.
What to be aware of
•
Study the itinerary to see if it suits your holidaying style. Many cruises feature a different port of call every day. Although this intensive style of travelling may appeal to active-relaxers, laidback holidaymakers may prefer more sea days for a chance to fully unwind.
•
Check out the deck plan before you book. Thousands of passengers need to be accommodated into a relatively small space, which means some cabins are inevitably
in less desirable locations - near the elevator or beneath the jogging promenade probably aren't the quietest cabins. If you love to
swim, choose a cabin with less of a hike to
the pools.
•
The vast array of facilities on a mega cruise ship may be enticing but the lengthy queues you may encounter while embarking and disembarking at the same time as your
5000 shipmates could be tiresome. And,
while you're onshore, keep track of time -
your captain will not delay the ship if you're late back, unless you're on a ship-arranged excursion perhaps.
•
Each cruise line will have its own dress codes and alcohol policies, so be sure to check beforehand. Generally, the onboard legal drinking age is 18, although when in US territorial waters where the drinking age is
21, ship rules adapt accordingly. Most cruise lines permit one bottle of wine per passenger
to be brought on board at embarkation.
•
Thanks to satellite technology, mobile reception and Wi-Fi are now available on virtually all cruise ships (except for a few expedition ships) but it can be costly and unreliable.
Get on board
•
Unpack. When else can you have the chance to see the world without having to live out of a suitcase?
•
Get your bearings. Tour the ship to familiarise yourself with the layout. Use a pocket guide and the maps near the ship stairs to help you navigate your way to the pool, theatre or casino more quickly.
•
Do your homework. Read the daily newsletter - it's how you'll know what time your mixology cocktail class starts and where to find the team trivia competition.
•
Let your hair down. Although you may arrive feeling a little unsure, you'll soon realise that the ship is somewhat of a safe zone for animated behaviour. Introduce yourself to strangers, sing karaoke, join the dining-room conga line. Nobody will judge you - unless you've signed up for the belly-flop contest in which case, that's the plan.