If you're looking for the best bang for your buck, make this South African city your next holiday, writes Paul Ewart
While Bali is often on the radar for those wanting a cheap break, new findings have shown that the once value-for-money holiday hot spot is no longer as wallet-friendly as it was.
According to the UK Post Office Travel Money's annual Long Haul Holiday Report, the South African city of Cape Town has topped the list of best bang for your buck destinations, leaving the Indonesian isle in second place for the first time.
Conducted by comparing the cost of 10 tourist items - including coffee, cocktails and dinner - in 34 cities and resorts around the world, the surprising result can be explained by the price hike in Bali over the past 12 months with prices on the island as much as 50 per cent higher than they were the previous year.
Tokyo came in at the third spot for value and at the opposite end of the scale, Dubai was the most expensive destination in which to have a holiday.
So if you want to save your pennies, it might just be time to break the Bali habit. And while a vacay in South Africa's 'Mother City' may not have been on the cards, here's seven cost-cutting reasons why it should be.
WINE
Alcohol is where Cape Town wins big over Bali. Despite the tropical island's reputation for Bintangs and boozing, in Bali a glass of wine will set you back over $7.50, according to the report, whereas one in any of Cape Town's posh bars or exclusive wineries averages at around $3 - less than half price.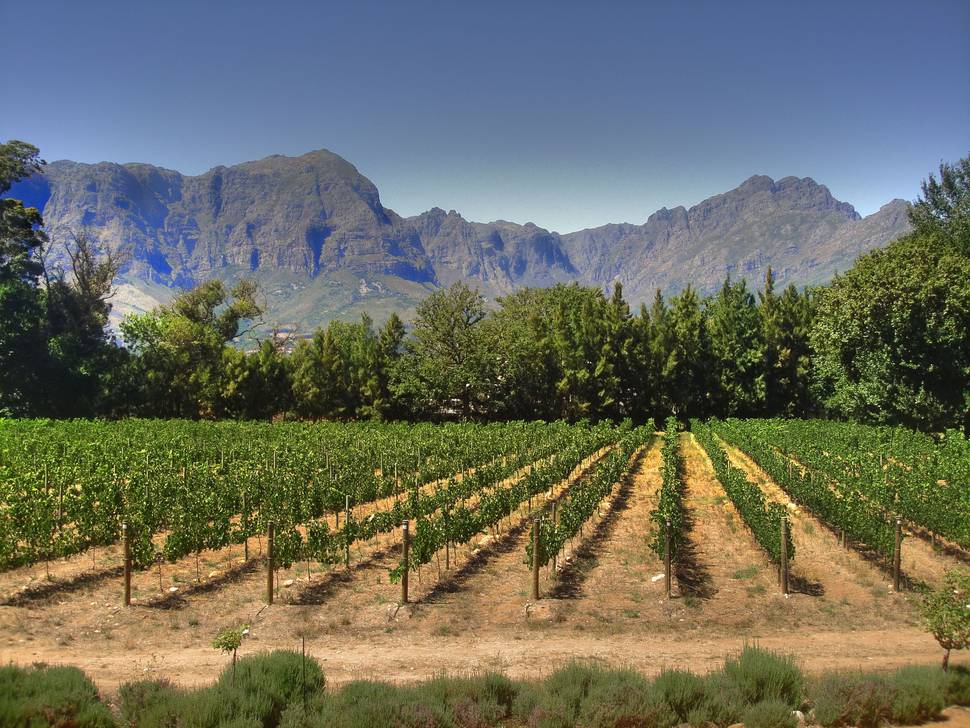 Even though considered as a 'new world' wine country, the first grapes were pressed in South Africa back in 1659 and today it's the ninth largest wine producer on the planet. In fact, there are more than 200 cellars within a couple of hours drive of Cape Town alone. So, for vino appreciators a winery-hopping trip here will not only be fruitful (pun intended) but it'll also be serious value for money.
Standard tastings cost roughly between $1 and $5. And if you don't want to leave the city, once each month the wineries come to you during the 'Tuning the Vine' event, which comprises a designated bar crawl where you can taste quality wines for only $15. Bargain!
SURFING
As the great white capital of world, taking the plunge in the waters surrounding Cape Town may not fill surfers with confidence. However, vigorous patrols and shark nets mean that the world class waves are within easy (safe) reach. Here there are enough spots and killer breaks to rival Bali, from coves with gentle swells, to long beaches with mammoth waves suitable for only the most daredevil of surf-hounds.
Pros can make a beeline for Dungeons on the Cape Peninsula. Known for its monster swells — terrifying waves that can reach as high as 18-metres-plus — this offshore reef off Hours Bay is definitely not for beginners.
The hidden gem of Scarborough, which is also favoured by locals, makes for great intermediate surf. But perhaps the best all-rounder — and the perfect spot for beginners - is Muizenberg.
Situated only around a 30-minute drive from the CBD, its rainbow-coloured beach shacks are highly Instagrammable and resident surf school, Gary's Surf School offers bargainous lessons. If you've already got your surfing stripes, no problem. Rentals here are super-cheap at just over $7 for an hour's board and wetsuit hire.
COFFEE
Bali is quickly gaining a reputation for its burgeoning coffee scene, but in both price and quality it can't compete with South Africa.
While in Bali you'll pay around $2.80 for a coffee, according to the report, a quality latte or flat white in one of Cape Town's trendy, artisan cafes will set you back between $2 -$2.70. A growing array of coffee shops combined with the fact that coffee is indigenous to Africa means that there are now more than 33 speciality roasters in the city alone.
For unbeatable value, Xpresso — also known as the 'R10 store' (that's $1!) — is the place to go. Everyone on the menu, from coffees to croissants, and pies to sandwiches, is a dollar.
Coffee snobs can't visit the Mother City without visiting the mother of all coffee shops, Truth Coffee. Voted the world's best by British newspaper, The Daily Telegraph, for a second year running, the hipster hangout trumps Melbourne's array of lauded coffee shops.
EATING OUT
A three-course meal will set you back approx. $68.70 in Bali, but in Cape Town you can expect to spend approximately $48 — that's a saving of almost $20 for the wallet-wary.
Penny-pinchers will love HQ on Mondays, where you can get two premium steaks with chips and salad for $10. For something more special, and for a meal with one hell of a view, grab a table on the deck at Two Oceans Restaurant. Positioned to take in the point where the Atlantic and Indian oceans meet, you won't have to pay big bucks for the view. Mains here are only $20 and desserts a paltry $6.
Back in town at the trendy Pot Luck Club you can also get 360-degree views across the city and Table Mountain with a serving of sophisticated tapas costing $3 to $16. And for cheap eats with a side of local culture, head to Mzoli's in the Gugulethu township. An African BBQ or 'braai' joint, here cutlery is kept to a minimum but you can gorge on meat here for a few dollars. And if famed TV chef Jamie Oliver visited and gave it a thumbs up, then it must be good.
COCKTAILS
Another favourite for cash-strapped visitors here are cocktails. At around $5 a pop, the drinks are dangerously cheap. Plus, the scenic cityscape and surrounding mountains male it the perfect location to sip a sundowner or two.
On the beautiful V & A Waterfront, local institution Ferryman's Tavern, serves them up for around $4 to regulars and visitors alike. While for a smart girls (or boys) night, Asoka is renowned for its extensive list of cocktails, expertly mixed by hip resident mixologists. There $6 'jade garden' — Tanqueray gin shaken with fresh lemon, mint, jasmine infused syrup and elderflower cordial — is a must try.
WILDLIFE ENCOUNTERS
Bali has the Monkey Forest *shudder* and diving and snorkelling, but Cape Town is unrivalled when it comes to animal encounters. And best of all, these up-close experiences are very easy on the wallet.
Fancy snorkelling with hundreds of fur seals? At Duiker Island, which is home to 15,500 of them, you can take the plunge for about $63 all up, including gear. And within the Table Mountain National Park you can sea kayak with a colony of around 3000 playful African penguins for $26.
But the pinnacle of Cape Town wildlife experiences is undoubtedly cage diving with great whites. A true bucket list encounter, South Africa is regarded as having the largest population of the fearsome ocean dwellers. And handily Gansbaai — two-hours from Cape Town - is known as the great white shark capital of the world. Various cage diving companies offering daredevils the chance to get up close to the giant predators. Shark Diving Expeditions offer day trips at only $138. That's a bargain for an experience right out of a David Attenborough doco.
SHOP TILL YOU DROP
Bali still has its inexpensive markets, but increasingly the pricey boutiques of Seminyak and Ubud are becoming the norm. In Cape Town low production costs, a favourable exchange rate and bargainous high street stores (where you can get a pair of jeans or chinos for as little as $15!) make it a thrifty shoppers paradise. It's also jam-packed with factory outlets and one of the biggest is Access Park. A literal one-stop-shop hundreds of brands are here at drastically marked-down prices.