Rich in history, chaotic charm and delicious cuisine, you can't go wrong when choosing between Ho Chi Minh City or Hanoi for a Vietnam trip, writes Kate Ford.
What to do
HCMC:
The main attractions of Ho Chi Minh City, or Saigon as it is still widely known, are well-trodden. From the beauty of the Notre-Dame Cathedral to the ugly confrontations of the War Remnants Museum and the malodorous bustle of the Ben Thanh Market, these spots represent Vietnamese history and culture and are worth visiting.
A recent addition to Saigon's charms is the craft beer scene. Although boutique drops cost more than local labels (which you can find for as little as 50c a glass), stopping by a craft beer bar is a nice way to spend a hot afternoon. Order a flight of beer at Pasteur St Brewing Company and enjoy savouring the flavours.
If you have time, get out of District 1 and wander through the neighbourhoods. Reminiscent of Beijing's cluttered hutongs, the streets are always roaring with motorbikes and food vendors.
HANOI: In this whirring web of a city, much of the entertainment comes from just watching the world go by.
Visit the Old Quarter - 36 clogged streets that form the arteries to Hanoi's heart. Shops' wares burst on to the footpath and compete for real estate with motorbikes. People sell everything from doughnuts to shoe-shining services to counterfeit books.
The weekend night markets are a must-visit. Much of the Old Quarter is closed to vehicles as street performers, food stalls and markets take over the roads.
Vietnam's war wounds still seem fresh and there are plenty of museums that focus on the country's tumultuous past. The Military History Museum walks you through Vietnam's past and is home to the famous tank that ploughed through Saigon's Independence Palace gates.
Nearby you will find Ho Chi Minh's Mausoleum. The line to see Vietnam's embalmed former leader is long but moves quickly.
What to eat
HCMC:
Vietnamese cuisine is swarming with fresh flavours, herbs and spices that mingle in every dish. The noodle soup pho is Vietnam's most well-known dish and Saigon has countless places to eat it, from street stalls to fancy restaurants all basically within a noodle's distance of each other.
Don't leave without wolfing down a banh mi, the Vietnamese sandwich. For $1 you can get a tasty one from Banh Mi Kep Cha Bo on Pasteur St, with pork, coriander and spicy sauce burrowed in soft bread.
Our favourite dish was at Banh Xeo 46a. It may not look like much from the outside but this was our oasis in the sticky Saigon heat. Order a banh xeo (a pancake which looks more like an omelette) with pork, shrimp, mung beans and onions. Tear off some pancake, wrap it in lettuce, dip it in fish sauce and you have a bountiful bite of different textures and flavours. Order a side of cha gio, the most delicious deep-fried pork spring rolls.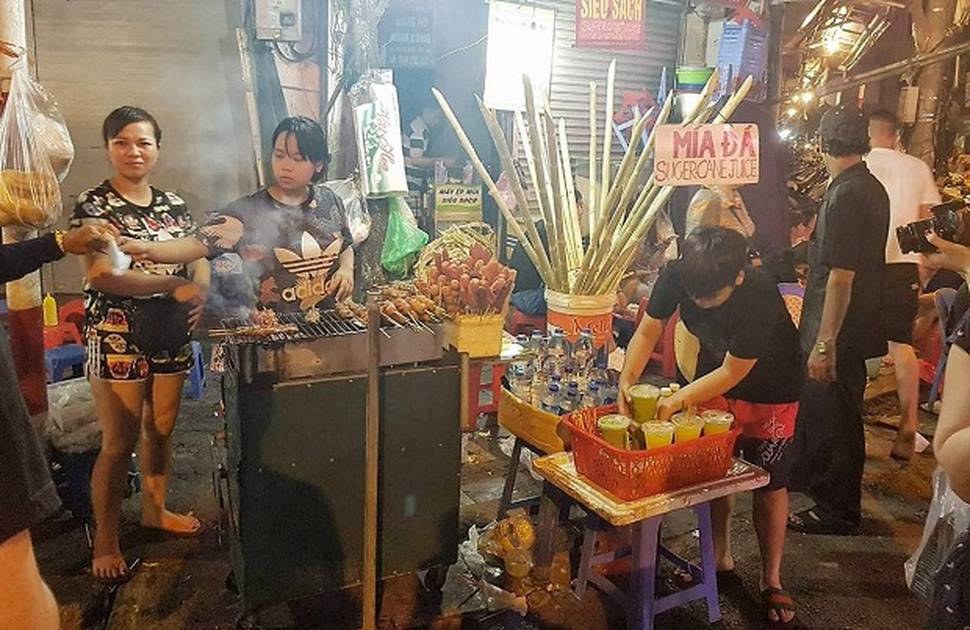 HANOI:
Hanoi's specialty is bun cha, a barbecue pork and rice vermicelli dish. We wore our tourist hats and ate at Bun Cha Huong Lien, where in May last year President Obama slurped noodles with chef Anthony Bourdain. Clearly capitalising on their famous guests (why wouldn't you?), pictures of Obama line the walls and Combo Obama is on the menu: bun cha with spring rolls and a Hanoi beer. Despite the fame, you still park up your plastic stools at no-frills stainless-steel tables for a delicious bowl at a great price.
You really don't need to spend much to get a delicious meal in Hanoi. Try another bun cha bowl at Bun Cha Dac Kim, or wedge into a spare seat at Pho 10 for a simple beef pho you can lavish with all the condiments.
Where to stay
HCMC:
We booked an Airbnb homestay located just out of District 1 for $25 a night. It was a unique experience living like locals in their labyrinthine buildings that can run up to four storeys high. As expected, the facilities were different to a hotel; the bed was low and hard and the bathroom was more like a wet room.
It wasn't a bad option by any means but if you are more accustomed to Western comforts, book a hotel. There are plenty of options from mid-range, no-name brands to the famous
Rex Hotel.
HANOI: There are numerous low-cost accommodation spots in Hanoi but you won't get anything very nice for less than $50 a night. We stayed at Bonsella Hotel in the Old Quarter, an affordable option in an excellent location. Those with the budget can go up a few notches of luxury at the Sofitel Legend Metropole.
FACT BOX
GETTING THERE
Air New Zealand offers a seasonal twice-weekly direct service from Auckland to Ho Chi Minh City, from June 24 to October 25.
Or, if you're on a budget and don't mind a more "scenic" route, Air Asia flies to HCMC and Hanoi, via Gold Coast and Kuala Lumpur.
Bear in mind the Air Asia route will take about 23 hours, compared with Air New Zealand's direct 11-hour flight.