Thousands of snow-seekers from around New Zealand and the world descend on Queenstown every winter, but for those who don't wish to stay in busy hotels, there are plenty of ultra-luxurious private hideaways to rent in the resort town.
Here are Queenstown's best boltholes:
Jagged Edge
One of New Zealand's most exquisite homes, Jagged Edge is a world-class architectural statement often favoured by international celebrities and CEOs. Suspended high above the sparkling waters of Lake Wakatipu, the three-bedroom, three-bathroom upscale bach boasts extraordinary glass walls, maximising the exceptional vistas.
When not entranced by the incredible views, guests can swim in the infinity pool overlooking the lake and mountains, make use of the media room or peruse the underground wine cellar.
Jagged Edge also has a guest house which can be rented for $4000 a night, either in conjunction with the main residence or on its own. At the guest house, the views are just as exquisite and the surroundings just as luxurious — take your pick from five bedrooms and six bathrooms, then relax on the expansive balcony deck or work up a sweat in the fully-equipped gym. End the day with a dip in the outdoor heated pool, a sauna session or a pinot noir in the spa.
From $5000 per night.

Terrace Lodge
was designed for entertaining: with a large kitchen and additional scullery, as well as extensive indoor and outdoor dining areas, this is a MasterChef's dream home. It encompasses four bedrooms, three bathrooms, a media room and a large outdoor area with an open fire and spa pool, so there's enough space for families or groups to spread out and enjoy the seclusion.
From $2500 per night.

Forty Two -Luxury Central Townhouse
Situated only a block back from Lake Wakatipu and facing The Remarkables mountain range, the you'll be treated to a truly breathtaking view at Forty Two. Native New Zealand materials help this luxury townhouse blend seamlessly into the spectacular natural surroundings.

The property is laid out is over three distinctive floors, with three spacious bedrooms and an outdoor entertainment area that's perfect for a barbeque. The shops and restaurants of downtown Queenstown are an easy five minute stroll away.
From $1695 per night.
Ekara House
Perched high atop Queenstown Hill, Ekara House is one of the Southern Lakes' prime luxury residences. The views here are unrivalled, from the Remarkables and Lake Wakatipu to the bright lights of Queenstown's CBD sitting below. Stylish and contemporary, the home features five luxuriously appointed bedrooms, two large living and dining areas, two kitchens, multiple balconies and a separate self-contained studio.
From $2300 per night.

Pikorua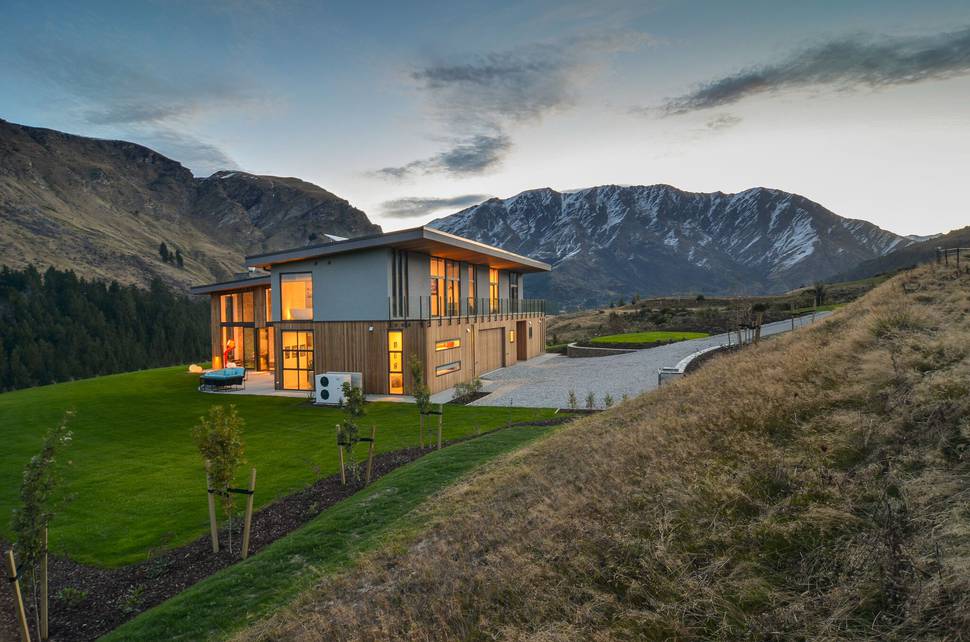 , a privately located contemporary home balanced on an elevated knoll, is elegant, modern and spacious, yet warm and welcoming at the same time. With exquisite art works showcased throughout the five-bedroom, five-bathroom home, as well as state-of-the-art appliances, a master suite with a unique open ensuite and a courtyard offering the kind of views you see in a Tourism New Zealand brochure, Pikorua is the ultimate in luxury.
From $1500 per night.

Queenscliff
Set high on Queenstown Hill, this spacious home can be entered through a private internal lift to the grand foyer. This property boasts stunning views over Lake Wakatipu through to the Remarkables. With four bedrooms and two separate lounge areas, there's plenty of space to spread out over. The top floor contains the master suite — where you'll find the best view in the house.
Queenscliff provides golf clubs and mountain bikes for guests to use, as well as rucksacks and chilly bins for that perfect picnic by the lake. Stargazers can make use of an impressive telescope, or simply relax in the three outdoor areas.
From $900 a night