Seafood and eat it — it's a philosophy that's easy to follow, writes Elisabeth Easther.
Tropical North Queensland is known as the part of Australia Where Rainforest Meets Reef, where you'll find two World Heritage Sites, Great Barrier Reef and the Daintree Rainforest, side by side. More than just heaven for nature lovers and adventure junkies, this region has also earned a reputation for fabulous food and, with seafood starring on almost every menu, it could also be dubbed The Land of the Fingerbowl.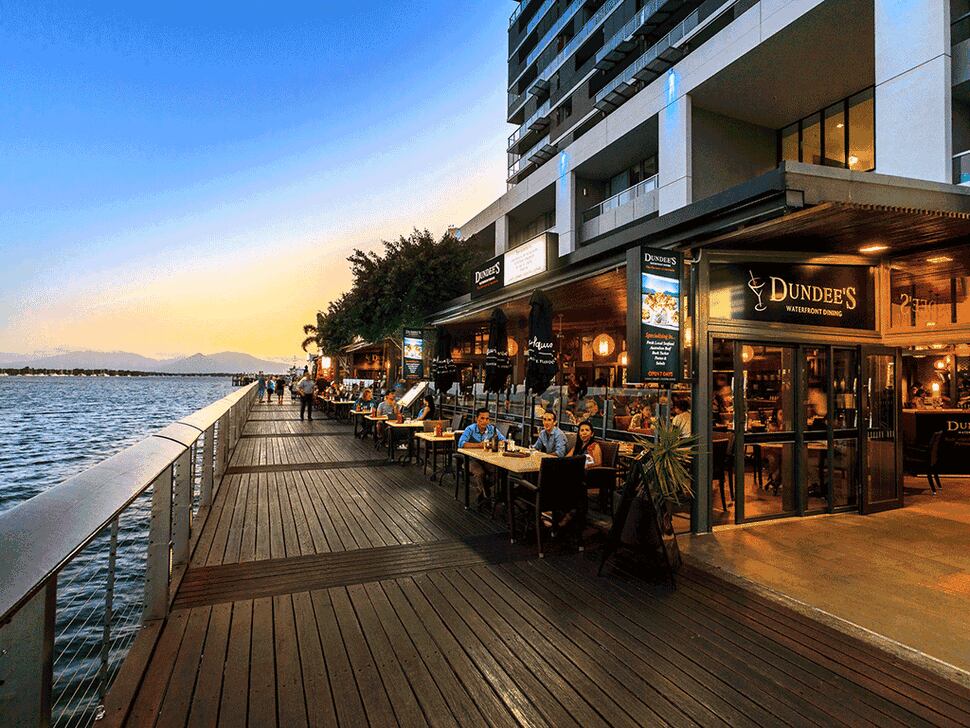 Dundees, as its name suggests, is quintessential Australian dining, and yes they do serve crocodile. Smack bang on the Cairns waterfront, this busy bistro is an institution, fine dining with a relaxed twist and the queues outside prove its popularity with locals and tourists — so be sure to book ahead. Aside from the views across to the marina, from where the reef boats come and go, you're in the perfect position to watch the world go by.
Then there's the food. Confronted with so many scrumptious options, a tasting platter always makes life easy, with the platter for two featuring a beautiful selection of prosciutto scallops, tempura soft-shell crab, natural oysters, crusted calamari, smoked salmon and chilled prawns. The grill is also mouth-watering, with everything Wagyu to T-bone, cutlets to chook. How do you like it? Blue? Cremated? Chef won't judge. And who can say no to a bucket of bugs and prawns, served chilled with Mary Rose sauce? Sadly we were too full for pudding. Note to self: must remember to leave more room next time.
Barnacle Bill's Seafood Restaurant, Cairns
Zephyr Restaurant, Fitzroy Island
Forty-five minutes from Cairns by fast cat, Fitzroy Island is everything you imagine a tropical island paradise should be. Ridiculously blue sea, pristine white sands and palm-fringed beaches. Yes, you could do a day trip but your heart would break to have to leave so soon, so stay a night at the island's resort and don't even think about cooking dinner.
You could settle for casual dining at Foxy's, a sand-on-the-floor kind of joint but you'll have so much more pleasure at Zephyr's. Dine inside or out, right by the sea, the imaginative cuisine is described as modern Australian with a seafood focus. We decided, for our entrees, to sample the tempura soft shell crab (with sandalwood-smoked watermelon sorbet salad) and Kangaroo Carpaccio. For mains, a paperbark-smoked swordfish and a herb-encrusted lamb rack hit the spot, and while all the dishes were relatively unusual, they were delicious without being gimmicky. And finally, at Zephyr's, there was room for dessert — flourless orange pudding with dragon fruit sorbet and Persian floss — hurrah.
CHECKLIST
Getting there: Air New Zealand flies direct from Auckland to Cairns between April and October.
Further information: queensland.com.