So you fancy escaping the city but don't want to spend all day in your car? Here's everything you need to know about Auckland's most accessible regional parks.
AWHITU
If you really want to get away from it all this summer, Awhitu Regional Park could be the place. On the city's southwest coast, 33km north of Waiuku, the picturesque spot is perfect for a day or two's wandering through parkland pastures, exploring wetlands, and enjoying peaceful, sandy beaches and picnic and barbecue areas. The park has been open to the public since 1975, after the former Auckland Regional Council bought it from the Brooks family. The park continues to operate as a working farm.
• Brook Beach and Kauritutahi Beach are great spots for swimming, or chilling out on the white sand. Kauritutahi has a small jetty you can jump off at high tide.
• If sailing on the Manukau Harbour is more your thing, make use of the Featon Ave boat ramp available two hours either side of high tide. For an all-tide ramp, head to Matakawau Rd, 10km from the park. Water access was a vital lifeline to the outside world when Awhitu had no roads. Supplies and visitors came in, while kauri posts and farm products went out.
• Keen to stay longer and explore? There are camping facilities at the Brook Homestead and Peninsula campgrounds. Awhitu Lodge is also available to rent for up to six people.
• Keen walkers will enjoy the Settlers Valley Walk, which takes in wetlands and beaches before a climb that offers stunning views of the Manukau Harbour. Then take a walk down to Settlers Valley, planted to celebrate the 150th anniversary of European settlement.
• For adventurous types, bring your mountain bike and ride through the farm, but watch out for restricted areas with regenerating bush. If you love golf, there's the nine-hole Awhitu Golf Club.
• North of Awhitu Regional Park is the Manukau Heads Lighthouse. The 140-year-old lighthouse offers views of the Manukau Bar, Waitakere Ranges, Auckland city, and on a clear day Mt Taranaki can be seen. Entry by donation.
• Awhitu Regional Park and foreshore has a large number of ground nesting birds throughout, so a "no dogs" policy is in place.
• Bhana's Foodmarket is the place to go for essential supplies during your time in Awhitu. Otherwise stock up in Waiuku before you head north.
WHATIPU, WAITAKERE RANGES REGIONAL PARK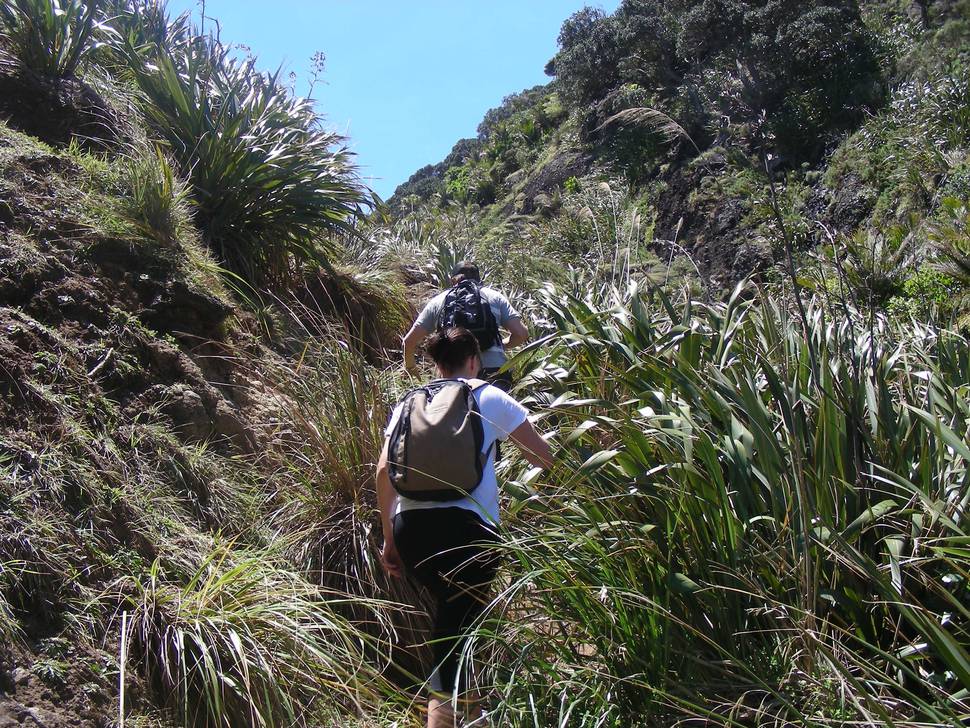 For those looking to the west this summer, Whatipu Scientific Reserve in the Waitakere Ranges Regional Park has stunning views and a unique wetland ecology that will appeal, in particular, to conservationists. Owned by the Department of Conservation and managed by the Auckland Council Regional Parks team, Whatipu is south of Karekare, on the edge of the entrance to the Manukau Harbour. Accessible by metal road from Huia, Whatipu is 42km from central Auckland.
• Whatipu is a hiker's dream. There are seven tracks ranging in distance from 400m to 3.6km, with bush, streams and clifftops all part of the magnificent scenery. Test your endurance by taking on one or several of the tracks, many of which link up. Or take a walk around the coast for a unique view of the Manukau Harbour.
• There are four campsites in and around Whatipu. Pararaha Valley campground, Tunnel Point campground and Whatipu Caves campground are all in the regional park, and Whatipu Lodge campground is a private facility. Access to toilet facilities and fresh water varies from site to site.
• Fishing, surfing and bird watching are other popular activities for visitors. Please be aware that the area needs to be carefully protected, so dogs are allowed on only certain walking tracks and parking is limited.
• The area has a rich history, with local Maori gathering birds, berries and seafood resources from the area over 800 years, and a timber mill was set up during the kauri boom in the late 1800s. In the 20th century, baches dominated the beachfront until it became a regional park.
• You'll need provisions on your way to Whatipu, so stop in at the Huia Foodstore for essential supplies.
• There's also plenty to see and do in the wider Waitakere area. Take a stroll along the Waitakere Dam Walk, where you'll see some of the dams that provide 26 per cent of Auckland's water. The dams in the Waitakere Ranges were opened between 1910 and 1971.
• You should also visit the Arataki Visitor Centre, at the gateway to the regional park. Check out the amazing carvings, pick up maps and get the latest track information. Take a walk along the nature trail, and learn about the environmental programmes in the area.
ATIU CREEK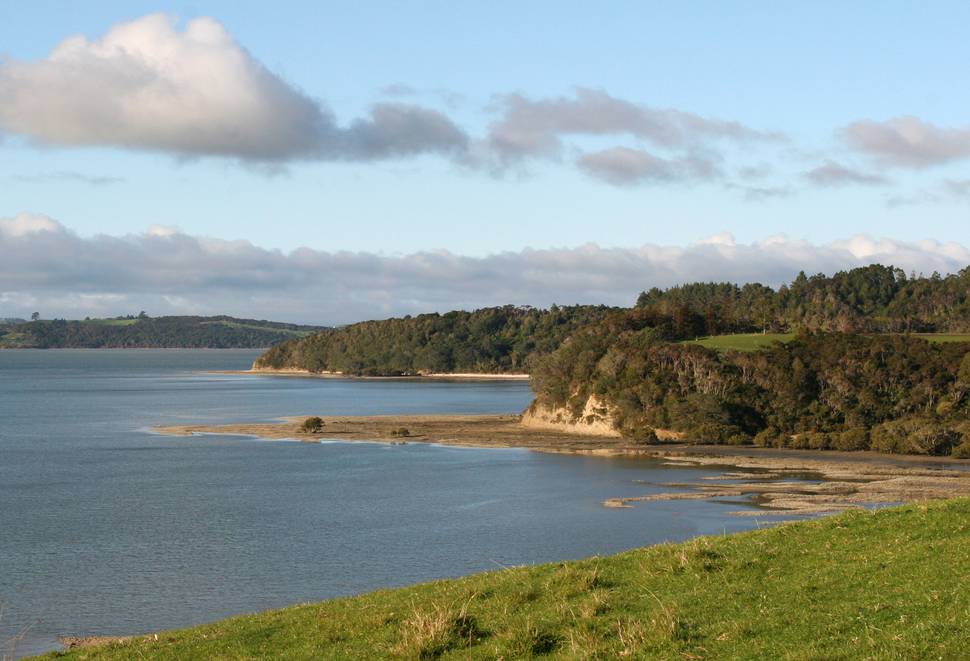 Atiu Creek Regional Park is a magical spot on the Kaipara Harbour at the very north of the city, 25 minutes west of Wellsford. Former owners Jackie and Pierre Chatelanat gifted the site to the Auckland Regional Council in 2006 so the public could enjoy access to the harbour.
• Atiu Creek is paradise for outdoor adventurers. One of the more unusual attractions is an orienteering course, with 40 markers spread throughout the park. Grab a brochure from the park noticeboard for more information.
• Mountain bikers are also well-served, with seven different tracks to choose from. They range from 500m to 7.8km, catering for beginners to the more experienced rider. Most tracks are shared by walkers, bikers and horse riders as well as sheep and cattle - so look out for each other.
• Horses are a great option at Atiu Creek. A riding pass and key are needed to access the park with a horse.
• Cast a line and try to catch a fish or two at the headlands between Solomon's Bay and Mullet Creek. Or enjoy the fantastic views over the Atiu Estuary or the Oruawaharoa River. Other water-based activities like swimming, kayaking and scuba diving are not recommended at Atiu Creek, because of the strong currents and mud flats.
• Animals are a key feature of the park, which doubles as a working farm with the cows and sheep both popular with visitors. Bird-watchers are also in their element, with kereru, morepork, tui and grey warblers all a common sight.
• If you're keen to stay overnight, camping facilities for portable vehicles are available so you can enjoy the park for an extended period. Some vehicles aren't suitable to travel on the steep gravel roads up to the park.
• Courtyard House, which sleeps up to 23, is available for bookings, though demand is heavy in summer. There's a paddock alongside for your horse.
• Evidence of several large pa fortifications remains at the park, with gardening areas, food storage pits and food refuse sites. The wider Kaipara area is known for its involvement in kauri logging and gum digging in the 1800s and 1900s.
WAITAWA
One of Auckland Council's newest regional parks, Waitawa is growing rapidly and has all sorts of activities that make for a fun and active day (or more!) out.
Located 50km from central Auckland on the region's southeastern coast, 2km west of the small coastal settlement of Kawakawa Bay, the parkland at Waitawa is on a headland.
The history of the site is unique, as from 1958 it was used for explosives manufacturing — and a concrete T-shaped wharf formerly used for ships carrying dangerous cargoes is still in place.
The 188ha of parkland comprises a number landscapes including coastal and exotic forests, pastures, three small peninsulas and two beautiful coastal bays, with access to a third.
• One of the park's biggest attractions is the Waitawa Disc Golf Course (also known as "frisbee golf"). The 18-hole course winds over hilly terrain, and is suitable for all skill levels. Allow about two hours for a game, or one hour for the beginners' loop.
• The park is part of Te Ara Moana — the "sea-going pathway", so is a perfect destination for kayakers. The pathways starts at Omana Regional Park, and Waitawa offers campsites just for kayakers.
• The mountain bike tracks have been designed with families in mind, offering a mix of beginner tracks as well as intermediate. Biking is a great way to see the park, you could take a track to the beach to finish with a swim and a picnic.
• Waitawa is popular for fishing, with spots from the wharf, beaches and rocky headlands, and is within the Auckland and Kermadec Fishery Management area.
• The land at Waitawa is of great importance to Maori as it is on a traditional boundary between Te Urikaraka (Ngati Paoa) and Ngati Kohua (Ngai Tai/Te Waiohua). The area has a long and rich history of human occupation, reflected in the many archaeological sites on the parkland at Waitawa and the wider area.
• Camping is reserved for kayakers, but Waitawa Bach is bookable, and sleeps up to six people.
OMANA
Omana Regional Park on Auckland's southeast coast offers outstanding views of the inner Hauraki Gulf. The 40ha of land has a mixture of open farm land, regenerating forest, pohutukawa-fringed cliff tops, mudflats, rocky sea shore and a sandy beach.
Omana is the ideal family park with rock pools to explore, swimming at high tide, farm animals to feed, and an intriguing pa site. The park is 42km from central Auckland, and the gate is open for vehicles from 6am to 9pm during summer, with 24-hour pedestrian access.
• Kids will love the imaginative playground which incorporates climbable art and challenges. It has all the traditional bits, but with a twist. Four carved pou (posts) reflect the Ngai Tai iwi's connections to this area, representing four birds that visit the park and were important to early Maori life. The play equipment includes interpretation and storytelling, and a painted and carved whare.
• Omana's bookable campground is situated on gently sloping ground with tall hedgerows.
• Wildlife lovers will have plenty to keep them occupied. Go bird watching (look out for pied oystercatchers, piwakawaka, shags and more), check out the rock pool ecosystems or show your city kids the grazing farm animals.
• If you're spending a day picnicking with friends and family, bring the cricket set or a frisbee as Omana has fantastic flat grass areas suitable for games. There are bookable sites for groups as well, plus barbecues.
• Omana has great walking tracks suitable for most fitness levels. The Perimeter Walk takes about an hour and includes native forest, tidal estuaries, open paddocks, coastal views, shady pohutukawa and the Maori pä site. Take the short detour to the lookout and you will be rewarded with expansive views to Waiheke Island. The Farm Walk is a gentle stroll with pram access.
• At the end of a great day in the park you could visit nearby Maraetai for fish'n'chips by the water.
SAFETY AND ENVIRONMENTAL TIPS FOR REGIONAL PARKS
• All regional parks are rubbish-free. Whether you call it rubbish, trash or garbage, please bag it all up and recycle it or put it in your bin when you return home.
• Check tides in advance if you're planning to swim.
• Do not climb or jump from waterfalls, and stay away from the edges.
• Follow safety precautions when hiking — check online for maps, and advice on skill levels for tracks. Plan where you are going, check the weather, take the right gear (map, suitable clothing/footwear, snacks and water and phone), stay on marked tracks, and tell someone where you are going.
• Stick to marked accessways for fishing.
• Be aware of kauri dieback disease: stay on marked tracks, make sure you have clean footwear and scrub your shoes when passing any hygiene station.