Michael Wayne searches for Hawaii's national identity, with fears it may have been totally crushed by the stars and stripes
Thoughts of the Hawaiian capital Honolulu usually involve palm trees, luaus and sun-soaked beaches.
But as I sit in my room, rain is soaking the city, and I contemplate the reality. Ugly skyscrapers tower over the palm trees. Swimming pools are everywhere, as if someone knew there would need to be an alternative to the pallid Waikiki Beach.
I look out over a spread of middle-aged beachgoers, whose abundant display of flesh reveal they've been indulging a little too much in the island's plentiful supply of pizza, burgers and alcohol.
To an outsider, Hawaii's national identity is inscrutable. Where is it? What is it? Has it been totally crushed by the stars and stripes?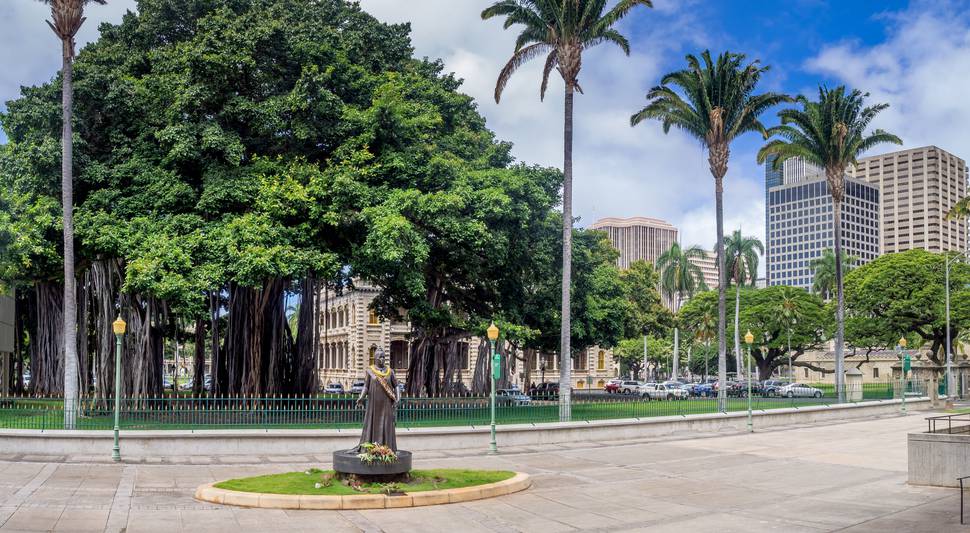 The US instigated a military overthrow of the Hawaiian royal family in 1893, and five years later annexed the islands. America's thirst for expansion in the 19th century also saw the country claim Puerto Rico, Guam, the Philippines and Cuba.
The Hawaiian archipelago forms the northern tip of Polynesia, but its king sits on a throne far away in Washington. The islands' lack of self-governance has fuelled growing resentment among sovereignty advocates, who blame problems among Hawaii's native communities such as homelessness, poverty and the erosion of native culture on their lack of autonomy.
Hawaii does have its own flag, of course. Its eight stripes of white, red and blue represent the eight main islands, but then there's the Union Jack in the upper left corner (in honour of Hawaii's previous alliance with Britain).
It seems to me that Hawaii's culture has been reduced to the names of local streets. The Kamehameha royal dynasty lives on via a highway. The deities and spirits of its indigenous belief system have been replaced by greed, avarice, lust and gluttony, while its idols have been usurped by Sheraton, Hilton and Trump.
A bright light in the darkness is the Bernice Pauahi Bishop Museum in Honolulu. The museum is Hawaii's largest, and prides itself on serving and representing the interests of Native Hawaiians. Interestingly, it was founded by an American.
The Bishop Museum's collection is just as interesting for what it leaves out as what it includes. Its otherwise comprehensive journey through Hawaiian history says little about the arrival of the Europeans in 1778, when Captain James Cook came across what he named the "Sandwich Islands" (in honour of a British Lord).
Cook was killed by natives in 1779 in a fight over a stolen cutter, an event many Native Hawaiians speak of proudly even today. The museum is also reticent about life under US statehood. A brief dip into the subject ends the general tour, while an angry exhibit showcasing the misrepresentation of Hawaiian culture throughout the 20th century, particularly in music, gets its own room.
A recent push in the US government sought to afford Native Hawaiians the same status as Native Americans, recognition that would finally allow them government benefits. But recognition isn't the same as sovereignty.
Americans may bleat about bringing freedom to nations around the world; maybe they should ask the Hawaiians what they think of their freedom - if they have a spare moment between serving drinks to respond.
"This place is wholly corrupt," says Charlie, my taxi driver. "You 'can't' gamble here, but of course you can." For the past 15 minutes, Charlie has been spouting his theories and opinions on his homeland.
"The cops know about what're called 'game rooms', but because they're getting paid off, they ignore them. Every now and then there's a raid, sure, but that's only when they haven't been paid."
It's an explosive revelation. I ask how he knows. "It's kind of an open secret here," Charlie says. "Plus you hear a lot in taxis."
Charlie tells me that the game rooms are dangerous places. "Little girl got shot in the back in one of them just a few weeks back," he says. "I would absolutely not go to one." A pause. "Again."
Sure enough, Cutie's Cafe in Honolulu's Chinatown has been closed since September, when a woman was shot dead during an attempted robbery. Police later exposed the cafe as an illegal gaming room.
We pull up at my destination, and Charlie turns around to look at me. "I could take you to one, though, if you wanna go." He sounds hopeful, and looks pathetic.
Charlie's spicier statements echo others I've heard around the island. The order of the day in Oahu seems to be a numb "business as usual". It's as if the island has its fingers in its ears and is singing to block out any harbingers of doom at the gates. One trip to "the biggest open-air mall in the United States" and you'll discover the singing is very loud, indeed.
"The homelessness here is out of control," says my Airbnb host Sarah, originally from Maine, who has lived here for almost a decade. "But that's clearly not as important as getting those tourist dollars.
"It's beautiful here," Sarah says, as she looks wistfully out of the window at the sun setting on the city. She's right.
"But it's become too American. It's not what it used to be."
Honolulu was once known for its International Market Place, a collection of local stalls selling handmade gifts and native souvenirs. Steve, a local bartender, tells me most locals have gone.
"How exactly is Saks 5th Avenue a local seller?" he says. "That's what I don't understand. They jacked up the rent in there so all the local sellers had to leave. Now it's just the big boys, so it's just another mall."
Inside the Market Place, well-dressed tourists peruse $US5,000 ($7091) handbags. "Locals don't shop there," Steve sighs. "They can't afford to. I don't know anyone who can."
It seems the Japanese can. The bond between Japan and the US is probably at its strongest here in Hawaii, once the site of their greatest rift: Pearl Harbor. Japanese shops and restaurants are everywhere, and Japanese tourists are almost as numerous as mainland Americans. It occurs to me that for the Japanese, it's a way to experience America without having to actually go there.
In the distance behind Honolulu there are impressive mountains and the occasional rainbow. The other islands, particularly Kaua'i, are less spoiled by their colonial overlords. The native beauty Captain Cook found when he first arrived is still here ... it's just been pushed to one side to make way for yet another display of American hubris.
It's hard to pinpoint exactly what the US has done for Hawaii; it's a very one- sided relationship. America has gained a summer getaway, a tropical backyard it has sullied with its own values, and a sin bin to which its citizens can travel for fun in the sun without need of a passport. It has also gained a military watchtower over the Pacific.
The Hawaiians, meanwhile, have lost their identity, their independence, and their culture - but gained a Macy's.
* The writer travelled at his own expense.
- AAP