Stephanie Holmes checks into Christchurch's newest sleeping experience — Jucy Snooze.
Location:
The billboards at Christchurch airport say Jucy Snooze is a 9-minute walk away, and to visit the information desk for a map. I arrived on the hotel's first day of opening, and the maps hadn't made their way to the desk yet. I relied on Google Maps on my smartphone, which was a bad idea as it led me on an unnecessarily long route around an industrial area, so it actually took about 20 minutes. On the way back to the airport, I took the right route and I can confirm it was actually nine minutes. For future reference, look for the Spitfire Mall, turn left and you're there.
Check in experience: I arrived on opening day when finishing touches were still being made, so the self-service check-in kiosks weren't up and running yet. But there were four staff on hand who were exceptionally friendly and helpful, and got me checked in and up to my room with no hassles. Fifteen people were staying on the hotel's first day open, and the staff are expecting a lot more to come.
Room:
A private queen en suite room on the first floor. It was a decent size, and the space is well-managed, with lots of underbed storage for suitcases/backpacks, a wall-mounted Smart TV, and window that opens to allow fresh air in. There are also twin and family rooms available, but the big selling point for Jucy Snooze is its pod rooms. Each pod room sleeps eight - think a kind of high-tech backpackers dorm room. Each pod has a king single mattress, USB ports, a light, a pocket to keep books/magazines etc, and a roller blind for privacy. Pods also have their own spacious storage lockers for luggage. I didn't sleep in a pod, but I tried one out for size - it's actually bigger and more comfortable than you'd think. And the next morning, I spoke to a guy who did sleep in one and he said he had a really good night's sleep - the only problem was a blue light within the pod that he couldn't work out how to turn off. So maybe take an eyemask.
Common areas: This is the crowning glory of Jucy Snooze - a large kitchen/dining/lounge area that will no doubt be a winner with the backpacker crowd. There are hammocks, a swing seat, fairylights, plenty of tables and chairs, as well as an outdoor deck with tables and chairs and a grassed area. When I went down to get a cup of tea in the evening, a Chinese couple were cooking an elaborate dinner, and two European girls were making use of the hammocks. I can imagine a fair few social gatherings will take place in the coming summer months - it's a great space to relax.
Wi-Fi: Free, fast and reliable, available in all areas.
Bed: My queen size bed was very comfortable, with great pillows and good weight duvet. The only problem I had was a cold draft coming from the window - essential for ventilation because of the room's fire doors and extractor fan, manager Ana told me. In the hot summer months, a nice breeze won't be a problem, but in winter you might need to sleep in a scarf.
View: An industrial area, facing on to a main highway. But you're not here for the views, you're here for a cheap, convenient airport location.
Bathroom: Fine - shower with good pressure, toilet, sink. In the private rooms, fluffy white towels are provided. The pod rooms have shared bathrooms in the main corridors, which are spacious with plenty of showers.
Food & Beverage: There's a vending machine in the common room. A few minutes' walk away is the Spitfire Mall, which has a variety of chain restaurants (McDonald's, Mexicali, Tank and the like), plus there's a Countdown supermarket so you can buy your own groceries and cook them in Jucy's kitchen.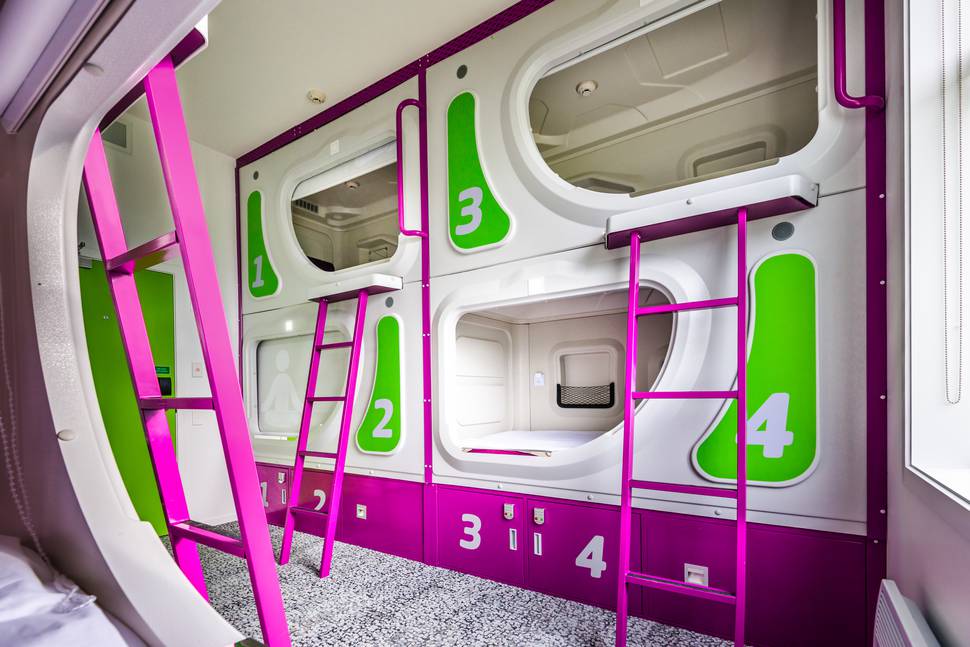 Entertainment:
As mentioned, the Wi-Fi was excellent, so I caught up on some OnDemand TV on my laptop. The private rooms have Smart TVs, which offer Freeview channels, can mirror your smartphone, and have bluetooth, and apps for Spotify, YouTube, Facebook, Twitter and web browsing. If you're hoping to duck in and out of Christchurch CBD and surrounding areas, you'll need a car - otherwise an Uber costs about $20 to New Regent St.
Perfect for: Backpackers, or anyone who doesn't want to spend too much on a place to sleep. At $37 a night, and with 24-hour check in, the pods are ideal for those who arrive into Christchurch late at night and are heading off in a rental car/campervan the next day. Or for anyone who has a very early flight in the morning, why not stay here so you don't have to get up at such an ungodly hour to make your check-in.
In a nutshell: Cheap and cheerful airport accommodation alternative.