Sports fan Andrew Alderson shares his tips for conquering the great Singapore credit card marathon.
Picture this. You land in Singapore on a Friday night and are chauffeured to the centrally located Hotel Jen Orchard Gateway to prepare for tomorrow's business meeting. A message awaits at reception. The meeting has been postponed by a day.
Fear not.
Few destinations are better equipped to mitigate this predicament. Simply keep this 10-point social emergency plan handy.
1 Massage your credit card. It needs to be supple for a busy workout ... and chant the mantra from American Sterling Hayden's book Wanderer: "Which shall it be: bankruptcy of purse or bankruptcy of life?" Practise your signature - Bon Viveur - with a flourish.
2 Take an MRT train to Clarke Quay. It's two stops and one change from Hotel Jen. You could cab - the reasonable prices, air-conditioned bliss and journeys along bougainvillea-lined avenues are appealing - but it's hard to ignore the MRT network's efficiency and value.
3 Stroll to Brewerkz, a microbrewery bar at Riverside Point. It's busy, but with room to move; it's convivial, but with volumes that allow conversation; it's warm, but the zephyr blowing in the windows will prevent sweat beads from building on your brow.
Soak up the soundtracks of Simon and Garfunkel, Fleetwood Mac and Earth, Wind and Fire. Watch a bevy of sport on the big-screen televisions above the bar. Indulge in a craft beer menu wielded by knowledgeable wait staff. At 5 per cent, the Hopback Ale makes for a quality beer; risk more tiddliness by sampling the 6 per cent Indian Pale Ale. The chilli cheese fries might dam up your arteries, but they're a perfect foil against the booze.
4 Apply Cinderella Theory (nothing-good-happens-after-midnight) so you wake early and feel refreshed. Remove your running shoes and lean them against a wall.
Smirk knowing that's as close as you'll get to lacing them up.
Dress smart-casual and head downstairs to graze on scrambled eggs, bacon and hash browns at the buffet.
5 Walk half an hour to the National Gallery Singapore via the 18-hectare Fort Canning Park, site of the British surrender to the Japanese in February, 1942. Now it's a lush venue for celebrations, concerts, theatre productions and festivals.
6 Such ambling will whet your appetite for lunch at Aura in the gallery complex. Hey, not so fast. It's time to peruse the art museum, which completed a S$532 million ($529 million) refurbishment in November.
Those lacking a penchant for art might head for the Smoke and Mirrors rooftop bar. Settle in with a cool beverage and watch the action at the Singapore Cricket Club on The Padang across St Andrew's Rd. It's like being in a corporate box at a stadium, but without any distracting chatter. On a quiet morning, all you hear is the echo of willow on leather and the odd "Howzat!"
The stumps and bails of the Marina Bay Sands resort provide the perfect backdrop to this fusion of sport and culture. Ella Fitzgerald's version of Summertime wafts across the deck.
When the players take drinks, refill your own glass and admire the 4.7m-wide, 400kg stainless-steel curved bar counter that was crane-lifted in four pieces and welded onsite. For further fresh air, saunter among the tropical greenery of the Ng Teng Fong roof garden on the same floor.
Though some sports fans' appreciation of art is limited to thoughts of Jackson Pollock the morning after a brutal vindaloo, the museum provides scope for those willing to open their minds. The 64,000m2 of light and airy space, the percussion of well-cobbled boots on hardwood floors and the building's history weaved among a reported 8000 works make for a therapeutic experience. This writer's highlight was Manit Sriwanichpoom's 1998 exhibition devoted to "The Pink Man" who he describes as travelling "not to learn but to consume: to collect exotic destinations, to shop, to show off. He searches but he never learns because he's insincere". The piece debuted as a comment on the Asian financial crisis, but remains thought-provoking today.
The venue once housed the Supreme Court and City Hall. It's where the Japanese formally signed their surrender of Singapore to the British in 1945. Inaugural Singaporean Prime Minister Lee Kuan Yew was sworn into office here in 1959, before taking the country from what's described as "third-world to first-world" in a generation.
7 Ponder your visit by taking a seat in the burnt-orange booths at Aura. The 90-seat, Italian-influenced restaurant has an eight-course lunch menu for the gourmet palate. Highlights include the simplicity of the stracciatella and tomato bruschetta, and the fleshy Hokkaido scallops dunked in beetroot swirls.
8 Back at the hotel, commandeer the air-conditioning. Give yourself two hours to rejuvenate with a siesta. Emerge for a dip in the rooftop pool and a bake on a sun lounger as you take in 20-storey aerial views of the city.
9 Don your No1s and descend into the Somerset MRT station. Exit at City Hall and walk five minutes to Chijmes, an 1850s convent converted into a hub of restaurants and bars. Let gastronomic wizards wow you with a 10-course Asian fusion degustation menu at Coriander Leaf. The temptation is to lick your plate after each course to ensure no flavour escapes.
Nominating a winner from the harissa lamb chops, Nepalese minced chicken momo dumplings, soft-shell crab, or even the sugar snap peas in sesame rice wine dressing is a daunting task. Fudge the decision by awarding the prize to "hospitality" after scoffing a conveyor belt of delights. Don't leave without checking out the whisky collection at Auld Alliance - there are 1000 different bottles on display.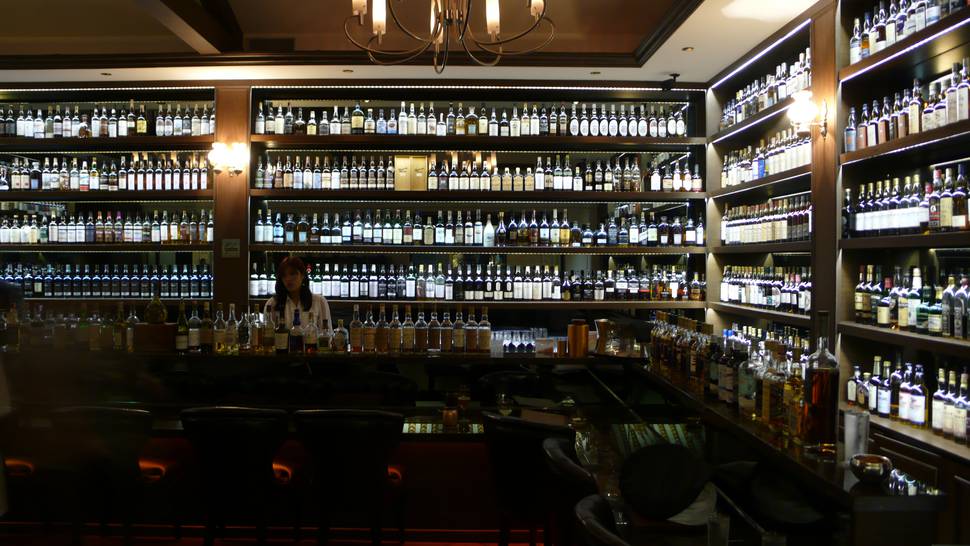 10
Trundle 200m across Bras Basah Rd and enter the
. In one of the few places you can litter in this city state, crunch across a carpet of discarded peanut shells for a Singapore Sling. The famous slug of gin, pineapple juice et al, allegedly created by bartender Ngiam Tong Boon in 1915, sets you back $31, but you're partaking in a century of history. Whew. It's time to let your credit card warm down from the cardio workout. Exit and breathe deeply in the night air. Grab a sub 10-minute cab ride to the hotel. Prepare for re-entry into the real world.
SINGAPORE BUDGET PLAN
Estimated costs (in NZ$):
• Brewerkz (chilli fries and couple of beers) - $50
• Smirk at the unpacked running shoes you won't use - free
• National Gallery Singapore (for non-Singaporeans, although free 12 days of the year if you get lucky) - $20 adults; $15 children
• Smoke and Mirrors (two drinks and observing Singapore Cricket Club match from balcony) - $30
• Aura set menu (including two glasses of wine) - $80
• Coriander Leaf set menu - $100
• Raffles Hotel (Singapore Sling and free peanuts) - $31
• Hotel Jen Orchardway (breakfast, siesta, pool dip and sun-lounger baking included) - $240 (one night)
• Transport (MRT, taxis, walking) - $40
• Total - $591
CHECKLIST
Getting there
Singapore Airlines flies daily between Auckland and Singapore. Return Economy Class fares start from $1099 for travel between now and December 7. There's a sale for travel between February 1 and September 15, with return fares starting from $980 (sale ends on October 31).
Online
yoursingapore.com