Shandelle Battersby takes refuge from Raro's heat at a secluded beachfront spot.
Location:
About five minutes from the airport on the northwestern part of this small and beautiful island, which is, at most, a four-hour flight from Auckland.
Room: A second-storey spacious poolside studio with a private patio. The resort has 35 rooms, some of which have disabled facilities. All are self-catering, air-conditioned and have a telly, though Raro only has one TV channel. There are a few DVDs at reception you can borrow, a book swap and a few board games in the restaurant area. Staff leave a big bottle of water in the fridge.
Check-in experience: The Air New Zealand flight I took gets in at 12.45am, so by the time you get through Customs, it makes for a late night. Hostess Kimi will meet you off the flight with a cheery kia orana, if you're not picking up a rental car.
The bed: Two singles joined together to make a king, happily located under the air-conditioning unit. Raro is hot! You can leave the shutters open if you wish, as they have insect screens.
The bathroom: Stand-alone shower, and a handy drying rack.
Toiletries: A basic range called Pacific's Frangipani.
Food and drink: I recommend both the onsite Drumbeat Bar (open for cocktails pre-dinner) and the Anchorage restaurant (breakfast, lunch and dinner).
I had some excellent smoked marlin bruschetta and sampled the locally made beer Matutu, which is preservative-free and bottled by hand. It's fantastic.
A tropical breakfast (read continental) is complimentary. On Sundays there is a sunset barbecue with local entertainment.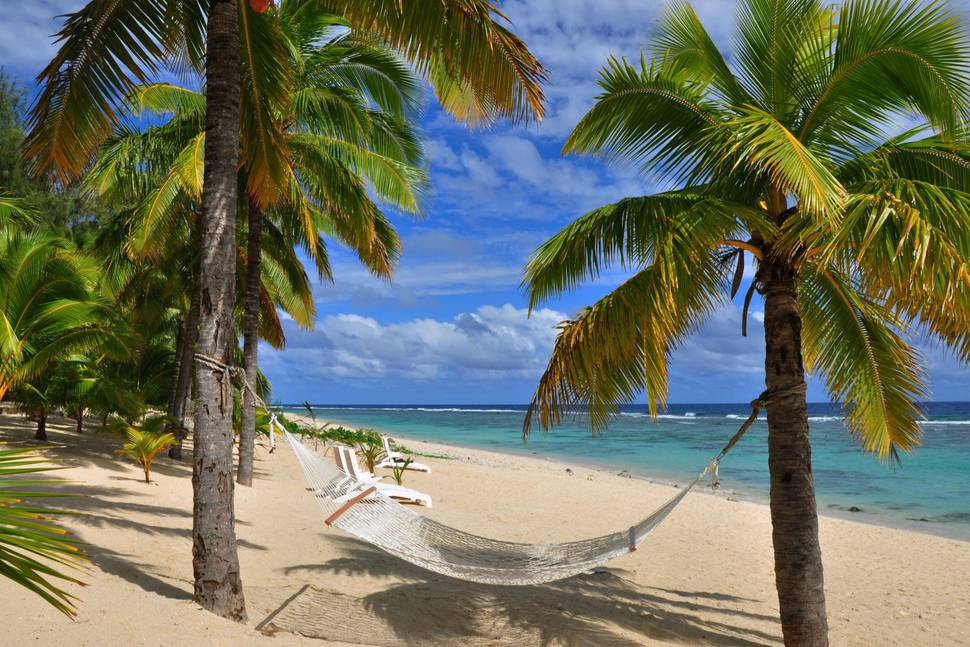 Exercise:
There are two saltwater pools to choose from, one of which is by the Drumbeat Bar. The beach is a short walk away through a grassy area with hammocks and is everything you've seen on the postcards and more. You can borrow reef shoes and snorkel gear from reception for no charge.
The views: On one side is the pool, on the other is one of the island's many cemeteries. Some of the rooms overlook the lagoon. The best view, though, is of its namesake.
Noise: Just a little reverb from the pool, but that shuts at 10pm. A rooster will invariably wake you in the morning - they roam everywhere here.
What's in the neighbourhood? Everything is in the neighbourhood in Raro. Main centre Avarua is eight minutes by car.
Price:
From $153pp.
Free wi-fi? Nope, but you can buy wi-fi codes at reception. Internet is expensive everywhere in Raro.
What's so good about this place? It's great for families, the food, drinks and service are good, the beachfront is secluded, and it's handy to the airport. Note that kids have to be at least 12 to stay there.
CHECKLIST
Sunset Resort is at Ara Tapu, on Rarotonga in the Cook Islands. Phone: +682 28028.