Katie Wright rejuvenates body and mind at a luxury spa resort in Da Nang.
When I'm asked to complete a well-being questionnaire a day before setting off on holiday, I put a big cross over an angry-looking face, indicating five out of five for my stress level.
It's 11pm on a Saturday, and I've just finished painting my bathroom. I have to be up at 6am to leave for the airport and I haven't even thought about packing yet.
Fast-forward 24 hours and, if I had to take the test again, I'd be circling the smiley face at the opposite end of the scale. I'm sitting, mojito in hand, watching dusk descend over Vietnam's east coast, and I couldn't be calmer.
Arriving at the Fusion Maia Danang, I'm whisked off to the spa for the two daily treatments that are part of the resort's holistic health approach.
After the flight to Hanoi, a bamboo roll massage - where a warm bamboo stick is used to work lemongrass-scented oil into aching muscles - is exactly what I need. Next is the best manicure I've had - an hour-long session that goes way beyond the hurried file and polish I get at home.
Open from 10am to 10pm every day, the spa never feels crowded, even though the majority of guests take advantage of their full allocation of spa treats, sampling everything from facials to reiki and a selection of massages.
On day two, I opt for the stretch release massage.
My therapist has more muscles than the rest of her colleagues and it soon becomes clear why: for the next hour I'm stretched and pummelled (delightfully) into oblivion. It feels glorious, and is the perfect preparation for my next activity.
In a studio overlooking the beachfront in central Da Nang, I take part in an aerial yoga class led by a firm-but-friendly German instructor.
At first, my fellow beginners and I are a bit shy about the mantras we're required to chant, but we soon get into the swing of things, clinging to wide lengths of silk suspended from the ceiling, using the ropes to support ever-more taxing poses until we're hanging like bats.
In the afternoon I head south along the coast to Hoi An. The town, a Unesco World Heritage site, was a crucial location for Dutch, Portuguese, Chinese and Japanese traders in the 16th century, and the architecture reflects the history - yellow and blue European-style houses sit alongside red-roofed temples from which the smell of incense wafts.
I stroll through the centre of town and across the Japanese Covered Bridge, then try my hand at bartering for lacquered bowls and a tea set from one of the stalls that line the streets.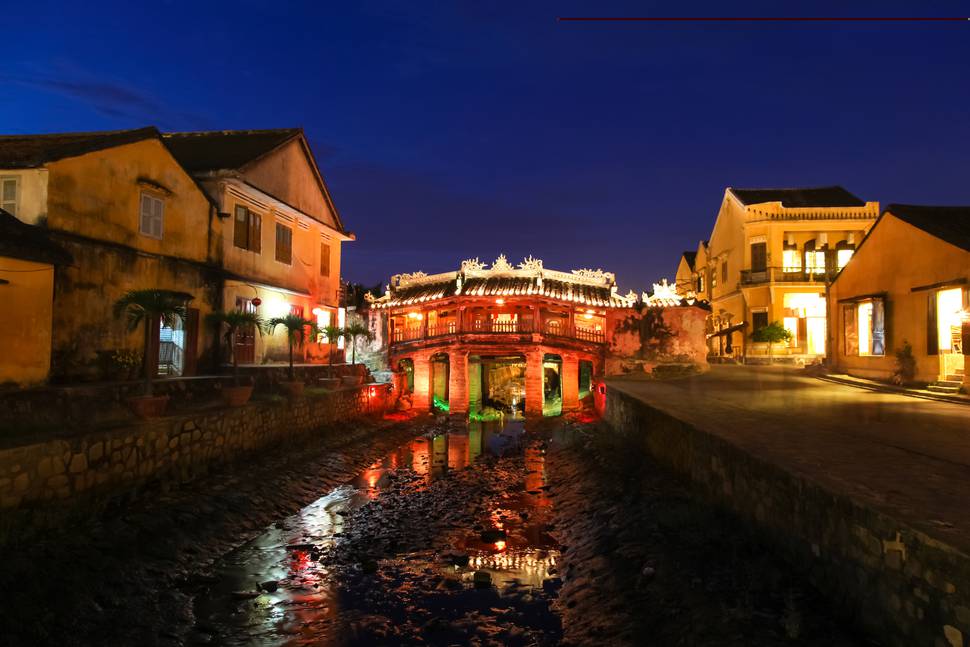 With the sun set and my appetite piqued, I head over to Morning Glory, a busy restaurant owned by former street food seller Miss Vy.
Named after an indigenous green, leafy vegetable, Miss Vy's third eatery specialises in authentic Vietnamese cuisine, so it's no surprise when I'm served the best prawn summer rolls I've tasted. I tuck into a deliciously salty smoked aubergine and pork hotpot before calling it a night.
Getting up at 5am while on holiday is something I avoid, but I make an exception when one of the Fusionistas tells me a sunrise yoga class is not to be missed. She's right. Standing inside the candlelit "energy circle" drawn in the sand and watching the sun rise over the sea is a breathtaking way to start the day.
And by 7am, it's too hot even to think about exercise, so I'm delighted to find a table set with tantalising juices, infusions and smoothies.
At the main restaurant's large buffet, you'll find little pots of trendy chia seed pudding, "sprinkles" of antioxidant-rich matcha and tall jugs of vegetable juices -- but also cheeses, pates and pastries for when you want to indulge.
I decide eggs benedict is in order, but not before I stop off at the spa for a coffee body scrub and aromatherapy massage. That afternoon I climb 90 steps to reach the seven-tiered pagoda at the top of the nearby Marble Mountains.
These five tree-topped peaks conceal cool, dark caves, and shafts of light shine through the fug of incense lit around Buddha statues.
Outside, in the shade of the pagoda, my guide leads me in a session of tai chi. Despite the heat and humidity, performing a series of slow, gentle movements is relaxing and refreshing.
That night, I sleep like a baby. In fact, every night I sleep incredibly well, so another 5am wake-up call, this time for sunrise meditation, doesn't faze me.
I've managed to make a serious dent in my sleep deficit, and as I settle down for the flight home, I don't feel the guilt that comes at the end of a holiday that involves too many mojitos and not enough exercise.
Vietnam may be a long way to go to recharge your batteries, but when the result is total mind and body rejuvenation, it's worth it.
Checklist
GETTING THERE
Helloworld has a special on flights to Hanoi or Saigon with Air New Zealand. Return flights from Auckland, Wellington and Christchurch start from $1139, for travel between July 28-September 20 and October 13-27.