No matter what your interests are, the many faces of the Gold Coast offer superb holidays for couples, as Wendy Dunlop explains.
On a hot air balloon ride over the Gold Coast you're treated to magical views, as warm ocean currents meet a lush green hinterland for 30km from Coolangatta to Southport.
Floating high over the coast and countryside is a great way to get your bearings upon arrival. Our spectacular journey took us over the homesteads and farmhouses of Beaudesert accompanied by a soundtrack of bird call through the morning air.
The setting is perfect for a couple's holiday, with plenty to do for those seeking sun or the chance to shop or surf by day and eat and drink by night.
Basked in golden warmth and light, the balloon drifts gently towards the velvety folds of Lamington National Park, where a champagne breakfast at O'Reilly's Canungra vineyard awaited us.
Specialising in chambourcin grapes, the vineyard was established by Catherine O'Reilly - a sixth generation descendant of the O'Reilly family, who founded local tourism in 1926 - and offers tastings, lunches and cellar door sales.
Nearby, O'Reilly's Rainforest Retreat resides in the heart of the National Park - a great place to relax when you're tired of the hustle and bustle of city life. Accommodation includes an original lodge, as well as contemporary apartments and villas.
Take a day trip to the park and spend some time on its treetop walkway, communing with hundreds of vivid rosella parrots. And if you're not keen on walking, there's super-silent eco-friendly Segways to take you close to the nearby waterfalls and extraordinary birds of prey that inhabit the creeks, caves and valleys.
The retreat is also home to the Lost World Spa - a perfect opportunity to indulge in some self-care, with products especially designed to help guests relax, detox and de-stress.
And if all that relaxation starts getting replaced with an itch for shopping, you'll know it's time to head to Surfer's Paradise - where the Pacific Fair megamall is the place to be for retail therapy. Here, international brands vie with exciting local designers and specialty shops vary from boutique to big name stores.
If you're after something a little more eccentric, make the most of the markets that occur on weekends at Carrera or Twilight at Surfers. Here you'll find quirky works of art, ambience and good-humoured repartee from local buskers.
After drinks at the top of Skypoint, the tallest building in Surfers Paradise - with another amazing view - Broadbeach is a short stroll away. It's a food destination with fabulous music and an atmosphere to boot.
Then take a quick monorail ride to Jupiter's Casino, where you can try your luck with a fearless flutter, buy a ticket to a glitzy show in the theatre, enjoy an intimate late night supper or stay over in one of the luxurious hotel rooms or suites.
For more thrills and spills, it's impossible to forget the impressive amount of theme parks the Gold Coast is home to. Test your nerves on a spectrum of terror and horror, skills or spills, tops to drops, wet and wild or total fantasy, whether you visit Movie World, Dream World, Sea World or try the trifecta if you dare.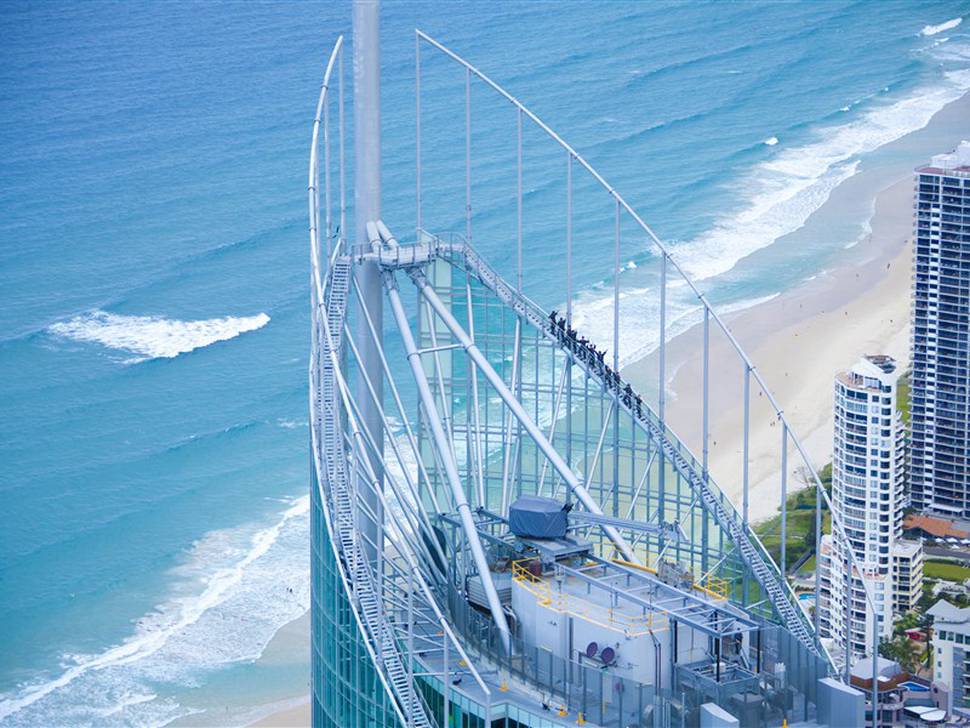 Once you've exhausted all the manmade mayhem on offer, get back to nature with a day on Tambourine Mountain, where the mountain-top village of Eagle Heights also gives your taste buds a vacation.
With stunning views of the Surfers skyline, the village boasts a picturesque kilometre of shops, galleries, restaurants and a raft of local delicacies. Check out Witches Chase ice cream, yoghurt and cheeses and organic produce to plan your own picnic.
Eagle Heights is also home to a coffee plantation with a reputation for excellent roasting beans with a rich flavour for you to savour, right there in hilltop splendour. If you get hooked, they deliver all around the world.
But the creme de la creme of Mt Tambourine's gastronomy scene is Songbirds Rainforest Retreat, established a decade ago by New Zealander Bonnie Rodwell - owner of the New Zealand fashion label BONZ. The retreat is known for its impeccable food and peaceful rainforest location, with a philosophy of "passion before profit" and emphasis on organic-only produce and biodynamic wines.
A stay at its luxury villas situated among the lush bush and clamouring bird life offers food for the soul. There are options to arrange private massage or yoga sessions, or set the scene for romance with champagne and roses.
There's also plenty of opportunity to commune with nature on the nearby rainforest Skywalk, one of Mt Tambourine's newest attractions, that takes you through a green wonderland of Queensland's vivid flora and fauna. The 1.5km walkway takes you from forest floor to treetop canopy along trails, cantilevered bridges and suspended pathways and platforms.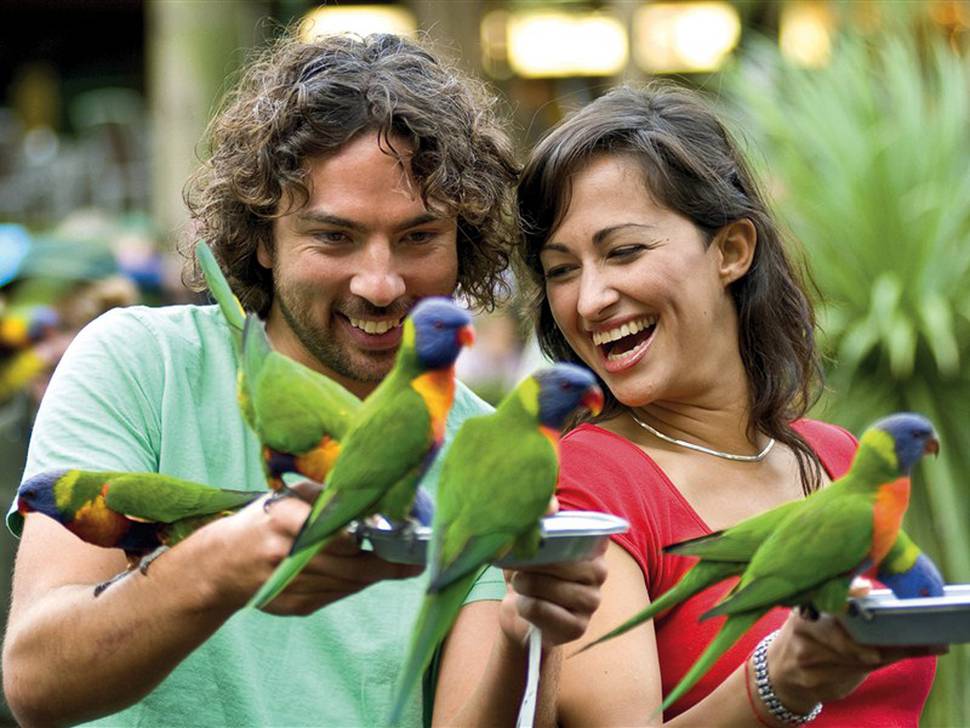 It's a worthy way to end a day on the mountain, before heading back to hit the beach - which no trip to the Gold Coast would be complete without.
On the golden, glittering coast, the splash of waves is never far away. With cloudless skies and languorous days of sun, surf and sand, the Gold Coast continues to be one of the most appealing holiday hot destinations for Kiwi couples - and it's easy to see why.
To read more about Queensland click here