Chris Lynch explores the contrasting lifestyles of Venice Beach and its surrounding areas
Venice Beach is distinctively Californian and a must see area of Los Angeles.
It's a paradox in many ways - luxury homes and apartments with incredible sea views stretch the length of the beach, accompanied by gritty urban playing fields with skate parks, volley and basketball courts.
Somehow, the contrasting lifestyles of the rich - and not so rich - blend together perfectly, creating a unique vibe you won't experience anywhere else in Los Angeles.
If you like visiting world famous locations, but find crowds overwhelming, visit Los Angeles during the New Zealand summer break. Venice Beach, for example, is much quieter, given our summer is their winter - if there is such a thing in California! You'll get away with wearing a t-shirt while walking along the world famous Venice Beach Boardwalk.
Here you can buy just about anything you never knew you wanted, from tarot card readings to temporary tattoos. If you need a break from the weird and wacky, walk a few metres towards the sea, and step onto the oceanfront walk.
You'll see plenty of locals exercising; a great motivator to make you keep walking. The people-watching here is a sport on its own.
There are plenty of places along Venice Beach to hire everything beach-related, including bicycles, skateboards, surfboards, wet suits, boogie boards and even paddle boards.
Speaking of exercise, just a few steps from the sand is Muscle Beach Gym. Once the home gym of bodybuilders Arnold Schwarzenegger and Lou Ferrigno, the facility still serves the community as the only outdoor gym where Schwarzenegger lookalikes are everywhere.
Although, Venice is known for its canals, beaches, artists and vendors, its metropolitan reputation also deserves recognition.
Several blocks from Venice Beach is Abbott Kinney Boulevard - an attraction in its own right, with high-end shops, top restaurants and art galleries. It's coffee heaven for those keen to sip on something better than the usual American filtered coffee.
Although some shops could be described as high-end, there are plenty of cafes with affordable prices. Intelligentsia Coffee is a local favourate and comes with a good tourist reputation. Like so many eateries on the boulevard, they're not well sign-posted - blink and you'll miss it. It took several walks up and down the street to find this place, but once I did, the taste of their coffee soon outweighed the frustration.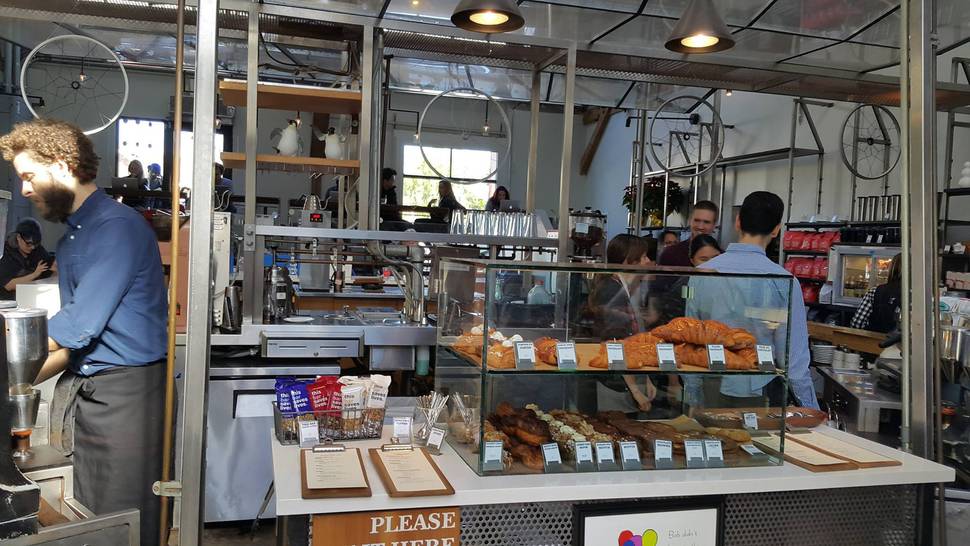 For an incredible food experience with generous portion sizes, head to Gjelina. It's apparently the 'go to' place for local chefs, to eat, not cook, and it's not hard to see why. Gjelina specialises in seasonal New American cuisine. You can eat in, in their rustic-chic dining room or take out.
If you're after accommodation in heart of Venice Beach, Hotel Erwin is the place to be. It's funky and extremely comfortable.
Forget grand lobbies and over the top lighting - this is a trendy, sleek modern hotel, but keeps the urban style of Venice Beach. It's located right on the boardwalk and beach, near restaurants, bars, and other local attractions.
It also has the only rooftop bar and lounge in Venice Beach with a truly relaxing non-judgmental atmosphere with the best sea views in Los Angeles. Because it's so popular, it's best to book, even if you're staying at the hotel.
I hadn't booked, but staff were friendly and accommodating and found me a sea view seat - they make sure you have a good experience and that extends to their excellent cocktail menu.
If you keep walking north along the ocean front walk from Venice Beach, you'll eventually end up at Santa Monica's most famous landmark, the Santa Monica Pier.
It's home to several restaurants, vendors and Pacific Park; a family friendly amusement park, which includes the world's most recognisable ferris wheel and roller coaster.
Read more:
Los Angeles: Jogging with the stars
Los Angeles: Heavenly features
Los Angeles: Flirting with Spider-Man
Santa Monica: Relax to the hippie vibe
On any given day, you'll see buskers performing, although they're not quite as wacky as the ones in Venice Beach. There are several gift stores along the pier if you need souvenirs, but if you're after a more serious shopping experience, head just a few blocks from the pier.
Third Street Promenade is an upscale shopping, dining and entertainment area in downtown Santa Monica. The promenade is home to well-known brands, as well as more unique stores.
At the south end of the promenade is Santa Monica Place, an outdoor mall which features more high-end retailers such as Bloomingdales and Nordstrom, as well as boutique stores like Coach, Burberry and Juicy Couture.
And if you need time out from shopping, head to the Rooftop Dining Deck, which features an outdoor dining patio, plus five restaurants ranging from upscale to swank to comfy.
For more information:
DiscoverLA
Visit the USA