Need some inspiration for the year ahead? Here are some brilliant things to do around the country.
1. Crankworx
The world's largest mountain bike festival is coming to Rotorua, kicking off the 2015 mountain bike season with five days of world-class riding and competition.
Rotorua - billed by the Crankworx promoters as the "mountain biking mecca of NZ" - will be a part of the pump track series and will host speed and style, slopestyle, downhill and enduro events.
There will also be other events for amateur and non-bikers, including a music festival featuring top New Zealand artists.
Rotorua is fast stamping its mark on the international mountain biking scene thanks to the world-renowned Whakarewarewa Forest and the newly launched Skyline Gravity Park - the only year-round gondola-accessed mountain bike park in the world.
Red Bull's magazine The Red Bulletin ranked Whakarewarewa Forest in the top eight mountain biking destinations in the world in 2013, the only Southern Hemisphere location to feature on the list.
Crankworx promises "five days of out-of-this-world action, throwing down the best mountain biking pro athletes on the planet for competitions, concerts and culture".
The festival runs from March 25-29.
2. Queenstown Winter Festival
Forty years ago locals decided the arrival of the snow was a good excuse for a party and the Queenstown Winter Festival was born. They organised races on the mountain and in town, lollies for the kids, beers for the grown-ups, a concert or two and a local ball.
Four decades later, the frivolity remains but the 45,000 attendees injecting $57 million into the economy is more than a slight increase in the festival's scale. Between June 19 and 28 it will be all action in the South Island's premier alpine playground and the majority of the events will be a little more polished than those at the inaugural festival.
Sadly this year cow-pat throwing did not make the bill but visitors probably will not be too disappointed making do with the stunning vistas, firework displays and musical acts during the 10-day entertainment extravaganza.
3. Beervana, Wellington
Early August (dates to be finalised): New Zealand's craft beer explosion has been as marked as the country's conversion from sheep to dairy. Beervana is a two-day celebration in the cottage industry's capital, Wellington. As its organisers say, beer has come a long way and there are now plenty of them being lovingly crafted all over the nation of rugby, racing and beer. At Westpac Stadium on Friday, August 22 and Saturday, August 23 more than 200 different beers from both established and emerging brewers will be showcased, along with tastings, chats with the brewers, beer seminars and top food. Tickets available at ticketek.co.nz.
4. A Hobbit tour
As the final credits rolled on the 87th movie in Sir Peter Jackson's Tolkien series, New Zealand closed a door and moved on. We've had a love affair with all things Hobbity since the first of Sir Peter's films set in Middle-earth premiered 14 years ago.
With the last of the films finally completed, bereft fans can keep the Tolkien experience alive by visiting film locations, sculptures and costumes.
Wellington is the logical place to start a Hobbit tour. Visitors flying into the capital are confronted with a massive Gollum, a giant eagle carrying Gandolf and a sleepy Smaug, just starting to wake.
The Weta Cave in Miramar is guarded by grotesque trolls but if you make it past them, try the 45-minute guided tour of the facility that created much of the Hobbit world.
Hobbiton and the Shire are nestled in lush farmland in Matamata. And for those looking for an adventure, walk the path taken by Frodo and Sam along the Tongariro Alpine Crossing.
And, if that's not enough, Hobbit fans can get up close and personal to costumes and props of the movies, which will be scattered throughout Wellington until the end of February.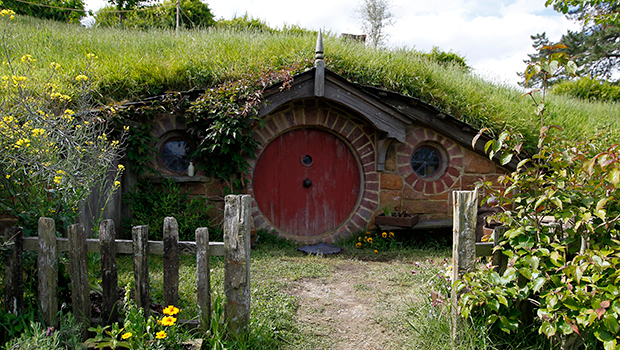 Hobbit houses from the movie set of the Hobbiton in Matamata. Photo / Christine Cornege

5. Great Walks
There are nine Great Walks and if you've done anything between zero and eight of them, you owe it to yourself to strap on your boots for another. People fly from all around the world to do these things, and they're right here on your doorstep. Make this the year you get busy.
6. Kiwi food, anywhere
Plan a domestic road trip around a Kiwi food festival. For starters: The wild food of Hokitika (March 14), the Whangarei Fritter Festival (March 28), the oysters of Bluff (May 23) or the Kawhia Kai Festival (February 7). Nail your main course at Hawkes Bay's Food and Wine Classic (November 6-15) or the celebrated Wellington on a Plate (August 14-30).
7. Kerosene Creek, Bay of Plenty
Possibly the greatest of our natural springs. And this hot spring with a stream running and cascading into it through thick bush is completely free.
Access to Kerosene Creek is from Old Waiotapu Rd, 35km south of Rotorua.
Go at once!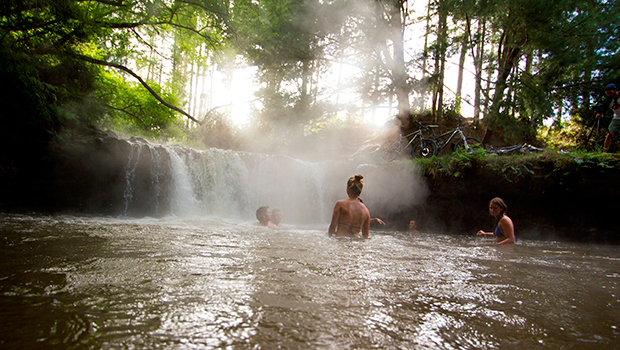 A visit to a natural hot spring Kerosene Creek in the Bay of Plenty is a must for 2015. Photo / Destination Rotorua

8. Get a taste of Kiwi luxury
Got the coins for a once-in-a-lifetime splurge? Book yourself a weekend at one of New Zealand's outrageously fabulous luxury lodges. You can check out a heap of them at lodgesofnz.co.nz.
Or tee off at one of the country's great golf courses - Kauri Cliffs is the best we've played, but you couldn't go wrong at Gulf Harbour, Cape Kidnappers or The Hills.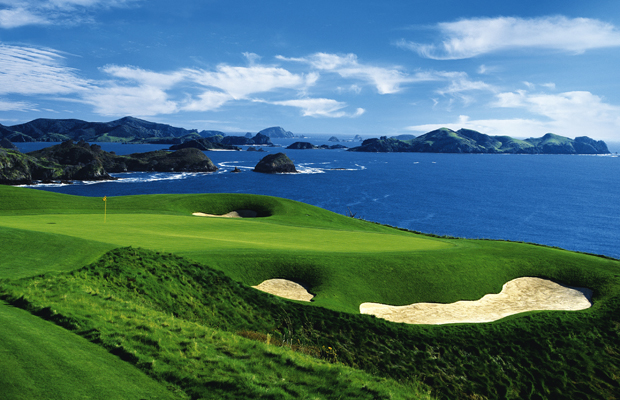 Tee off at Kauri Cliffs golf course in Northland. Photo / Supplied

9. Canterbury club skifields
North Island skiers are more likely to know their way around Courchevel than a Canterbury club field. Make this the year you reverse the trend. The camaraderie, the campfires and whiskeys, the nutcracker lifts - it's classic Kiwi wintersport, with classic Kiwis for company. For details, go to christchurchnz.com.
10. The Rimutaka Cycle Trail
We're pretty keen on the rise of cycle trails around New Zealand and Rimutaka's appearance on one of Lonely Planet's oft-published must-do lists is worth celebrating.
The 115km trail runs alongside the Hutt River and across the Rimutaka Ranges, taking in a historic rail trail, Wairarapa countryside and stunning Pacific coastline.
Lonely Planet said: "Wellingtonians are wont to boast about their beautiful surrounds, from mountains to the sea. This new trail shows off some of the best of it."
The Rimutaka Cycle Trail was opened as part of the Nga Haerenga - The New Zealand Cycle Trail in October 2013 as one of the network's Great Rides. Make this the year you work up a sweat on it.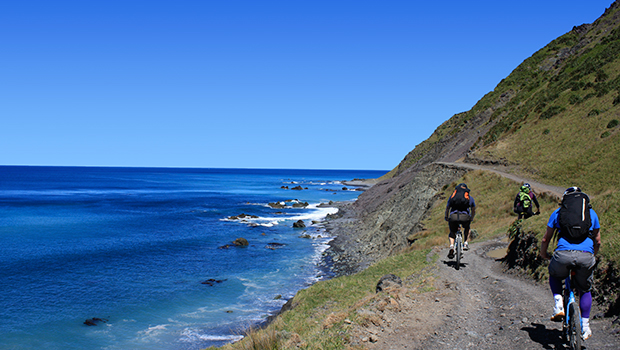 Work up a sweat on the Rimutaka Cycle Trail. Photo / Supplied

11. Cricket World Cup, Christchurch
Of course, you could watch ICC Cricket World Cup matches in many places - including Auckland. But the opening match in Christchurch, with New Zealand playing Sri Lanka, promises to be a very special occasion.
Cricket has a rich heritage in the Garden City, with many famous Lancaster Park test matches and the great fast bowler Sir Richard Hadlee being the local hero.
But the earthquakes ripped away major sporting events from the region, leaving a huge hole in the lives of many Cantabrians. Next month, Christchurch hosts the opening ceremony two days before hosting the first match on February 14 - Valentine's Day.
The revamped Hagley Oval made a triumphant post-quake return to international cricket on Boxing Day last year. Spectators and players alike gave the boutique, grass-banked ground a resounding thumbs-up.
The city will host two other matches during the four-yearly tournament: Pakistan v West Indies on February 21 and England v Scotland on February 23.
With its sports-mad populace starved of top-level competition for so long, Canterbury will put on an unmissable Cricket World Cup party.
12. Swim on both coasts in a day
This one is actually probably most easily achieved in Auckland - take a swim at Cornwallis as the tide is coming in, then drive into town to catch the tide just as it's turned at Pt Chev. But determined travellers could make a nice expedition of it with a dash between 90 Mile Beach and Houhora. Feeling masochistic? Bookend your Lindis Pass drive with a dip in the Pacific at Pegasus Bay and a ball-shriveller on the West Coast.
13. Attend an A&P show
Long before the theme-park delights of Anaheim and Gold Coast became so accessible, a Kiwi kid's first encounter with a thrill ride would come at the local A&P show - perhaps with a ride on a tractor or aboard a rust-encrusted and non-OSH approved ferris wheel.
There are still many cracking A&P shows around New Zealand - and they give you the perfect excuse to get out to a part of the country you've been ignoring.
If you've got kids and they've never witnessed a woodchopping race while holding a sauce-covered hotdog, you need to buck up your ideas.
Rotorua's A&P Show is on January 24 and 25 at the Agrodome. Closer to home, Franklin's big event is in Pukekohe on February 21-22.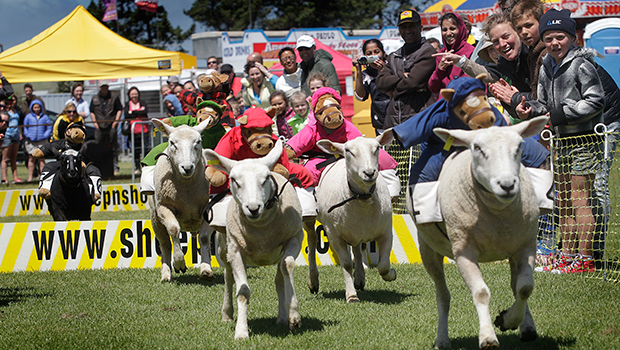 Sheep racing at Wanganui A&P show. Photo / Bevan Conley

14. A great Kiwi roadie
Somewhere in New Zealand, there's a highway - or more likely a dusty metal road - that you've always meant to drive.
The West Coast section of SH6, taking in Punakaiki; the East Cape; the Gentle Annie between Napier and Taihape; the winding Whaanga Coast road between Raglan and Ruapuke. Take your pick, then get out there and see some of our paths less-travelled.
15. Walk to a glacier ... while they're still there
The stunning glacier views of New Zealand are celebrated the world over. So this year, why not make the most of it? Franz Josef and Fox are the two most well-known.
Franz is the more accessible, with great views just a short stroll from the carpark, but to get the most out of both look at hiring a local guiding company.
Finish your trip to Franz Josef with a visit to the new hot pools in the township.
In Fox, head for Lake Matheson - a 20-minute walk around the lake delivers a stunning view back towards Mt Cook/Aorere and Mt Tasman, with a glorious reflection on the waters. It's a view that will make you smug about living here.
- Contributors: John Weekes, Sophie Ryan, Rob Kidd, Rebecca Quilliam, Kurt Bayer, Patrice Dougan, Nichola Papatsoumas, Winston Aldworth.

Join the discussion on our Herald Life Facebook page