This diverse river city offers adventures, galleries, top cafes and more, writes Elisabeth Easther.
Where is it?
200km north of Wellington, 75km northwest of Palmerston North.
Origin of name: Whanganui means "big bay" or "big harbour".
Population: 43,100
Town's heart: The awa (river).
Famous locals: Loads of All Blacks have been bred here. Tariana Turia, Mother Suzanne Aubert from Jerusalem who's in line for sainthood, James K. Baxter, Governor-General Sir Jerry Mateparae, chef Peter Gordon and physicist Sir Paul Callaghan.
Infamous local: Michael Laws, former mayor and broadcaster, certainly made his presence felt although he no longer lives in Whanganui.
Scandalous: In 1920 the then-mayor shot a local poet in a sordid tale of sex and blackmail - terribly riveting it was.
Best website: whanganuinz.com.
Big business: Agriculture and tourism pay a lot of bills. So do the Cavalier Bremworth carpet factory, Affco, Tasman Tanning and a fair whack of engineering and manufacturing.
Pretty old: Whanganui has the highest concentration of heritage buildings in the country.
Glass act: This place is home to New Zealand's only glass school. More than 300 artists are thought to live in the region, 40 of those glass artists. New Zealand's only opera school is in the city, too.
Town fiestas: The internationally renowned Cemetery Circuit has been raced for more than 60 years and is the Southern Hemisphere's equivalent of the Isle of Man motorcycle road race. At the end of March artists open their studios over two weekends while the Vintage Weekend (over Wellington Anniversary Weekend in January) is three days of fun with the River City Caboodle featuring vintage cars and displays, even a soapbox derby. The Billy Webb Challenge, New Zealand's longest river rowing race, is also a doozy. There's an opera week, literary festival, basketball and jetboat sprints.
Here for a short time? Visit the river traders' and farmers' market on the riverbank on Saturday morning, admire the heritage buildings, wander along the river, across the bridge, pop up the tower, and check out the galleries and museums. In short, soak up the atmosphere.
For the kids: Visit amazing beaches or ride bikes along the river's boardwalks and trails. Go to Riverland Family Park for karting, mini golf, pools and more, right next to the ...
Best park: Kowhai Park is legendary with giant trees, small train, wet play area. The main playground has dinosaurs, octopuses and a giant pumpkin. Further along the river you'll find treehouses, flying fox and skateboard park.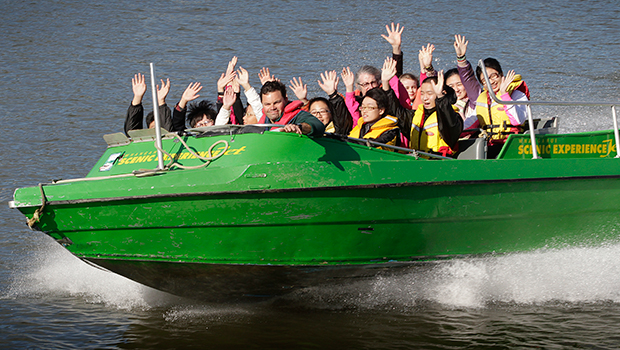 The jetboat ride on the Whanganui river promises to deliver thrills. Photo / Wanganui Chronicle
But wait there's more: Bason Botanic Gardens - on the other side of the city towards Taranaki - are stunning.
Best facilities: The i-site, housed in a beautiful heritage building, plays native birdsong throughout and the tweeting is most prominent when you're in the loo.
Best walks: South Beach is isolated and rugged with the best driftwood. Virginia Lake is popular for walking, running and cycling. Strolling along the river is delightful, too.
The greatest walk: One of New Zealand's nine Great Walks is actually the Whanganui River by canoe - everyone should do it at least once because it's amazing.
Best views: From Durie Hill Tower, take the underground elevator 66m to enjoy views across the city, river and out to the sea. Built of shell rock with visible fossils and just 100m away, Memorial Tower is 3.5m higher if you're fit enough to tackle 175 steps up the spiral staircase. On a fine day you'll see Ruapehu and Taranaki.
Best place to pull over: Whanganui River Rd follows the river to Pipiriki, stacked with history. There are heaps of places to stop; Aramoana Viewpoint is highly recommended.
Do: Go to Jerusalem and visit the convent, beautiful marae and old Kawana Flour Mill.
Best swim: You can't beat the beach but the river is also perfect for making a splash. Jump off the jetty or go to Mosquito Point where there's a super tyre swing.
Best museum: Whanganui Regional Museum is filled with taonga. It'll soon open the world's largest exhibit of moa bones, including one of only six intact moa eggs.
Nice arts: The Sarjeant Gallery, bequeathed to the city by Henry Sarjeant, blows people's minds. There are loads of smaller galleries.
Best shop: Impossible to pick - so browse the boutiques, the vintage and antique stores.
Tops for coffee: Where to start? Mud Ducks, Element Cafe, The Big O (for orange), The Yellow House, Parnells Cafe, Mint Cafe ...
Best food: The Red Lion Inn, for fab food and views. George's Fisheries at 40 Victoria Avenue is cute as a button with takeaway on one side and a restaurant on the other side.
Wet your whistle: Riverside Bar has music most nights and views every day. the Rutland Arms Inn, housed in a heritage building, does craft beer tastings. Also try the Red Lion.
Best mountain biking: The Mountains to Sea trail (including the 42 Traverse) runs from Ruapehu District to the Tasman Sea at Whanganui - epic. Riding along the river is also cool.
Best adventures: Anything on the river from jetboating to a multi-day canoe adventure.
Best kept secret: Puanga Festival, the local equivalent of Matariki, includes a dawn ceremony on the riverbank at Putiki - goosebumps guaranteed.
Wildlife: Bushy Park Sanctuary is a predator-fenced sanctuary teeming with native birds and lovely for walking. The nankeen night heron lives near the Whanganui River as does the endangered whio (blue duck).
Warning: Manakitanga (hospitality) plays a big part in local life, so don't be surprised if you up sticks and move here.
Locals say: Ko au te awa, ko te awa ko au.
Which translates as: I am the river and the river is me.
Thanks to Lyn Cheyne for revealing some of Whanganui's abundant charms.