Elisabeth Easther followed her heart to Maungatautari in the hope that Sirocco, her kakapo friend, would recall their fleeting fling.
Two years ago, when Sirocco the kakapo was greeting his fans at a Waikato bird sanctuary, I was fortunate enough to meet him in the flesh. I took the public tour, and was invited to hold the personable parrot in my arms, an experience that made quite an impression on me.
So when I heard the big bird was returning to the mountain where he'd stolen my heart, I simply had to go back. Had our fleeting encounter meant as much to him as it had to me?
Some readers may think I've taken anthropomorphism a step too far, but Sirocco is a bird-world rock star. He has more Twitter followers than you can shake a stick at (last count 10,600) and his swagger would give Mick Jagger's a run for its money. One little girl summed it up perfectly when she declared him so handsome, a bird princess would surely want to marry him. Although Sirocco isn't so fond of his own kind, having been reared by humans, but I wasn't about to burst the kid's romantic bubble.
If you don't believe the hype, go see Sirocco for yourself because, for the next six weeks, he's receiving visitors at Sanctuary Mountain Maungatautari.
Forty minutes from Cambridge and 30 minutes from Te Awamutu, this 3400ha ecological sanctuary is wrapped in 47km of pest-proof fence.
Now that almost all mammalian pests have been eradicated, bar the odd mouse, the bird and plant life on that extinct volcanic cone is flourishing.
My much-anticipated second date with Sirocco began at the sanctuary's cosy visitor centre one misty Saturday evening. Our tour group, herded into three vans, was driven through the impressive gates and into the darkness. The vehicles laboured up the steep incline in their lowest gears before releasing us outside a tin hut in the middle of the forest where we were given an endearing lesson in history and conservation before being invited into Sirocco's parlour.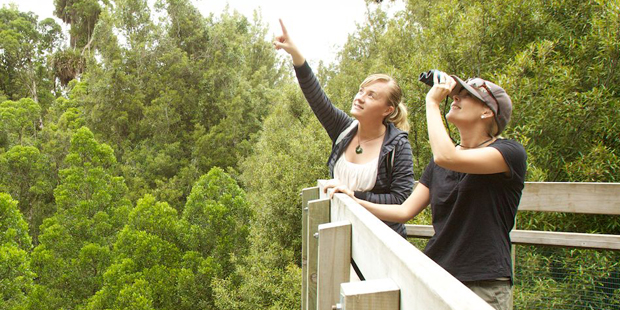 The Maungatautari sanctuary.
We were warned there's no guarantee he'll put on a show -- even seasoned troopers have their off days -- but lucky for us Sirocco was in fine feathered form, preening and striking poses like a pro. As for him remembering me and our one-night stand, I was flattered when he gazed directly at me through the glass; his squawking was music to my ears. I took being singled out as acknowledgement of our brief encounter, although I know it meant more to me than to him.
Long-distance relationships are never easy, and inter-species entanglements even more fraught, so we said our goodbyes and I wandered, heavy-hearted, back down to the visitor centre. In the darkness our guides pointed out large wetas and constellations of glow-worms while morepork and kiwi called out to each other. I knew it was time to move on.
Returning to Maungatautari Lodge, our cosy nest for the weekend, I knew I'd be sad for a bit. But this delightful farm stay with its delicious food, pools and garden proved the perfect place to reflect on life, love and loss. Waking the next morning, I gazed out across lush farmland, down to the river and up to the mountain's peak where my nocturnal friend was surely bedding down for the day.
Good-bye Sirocco, I whispered to myself, we'll always have Maungatautari.
Need to know?
• Sanctuary Mountain Maungatautari: This is the largest ecological island on mainland New Zealand, a treasure by night or day.
• Sirocco Tour Details
Sirocco is visiting Maungatautari until September 16. Visiting daily at various times each evening. Bookings essential. Tickets: $27.50-$49.50.
This lovingly restored country hideaway sits in a tranquil rural setting, with stunning gardens, swimming pool and spa, and you'll be guaranteed a warm welcome from proprietor Diane and Monty, the chocolate labrador. The perfect base for cycling and exploring the area.
• Elisabeth and her companion were guests of Maungatautari Ecological Island Trust and Maungatautari Lodge.