Links with the past are strong in this town built on gold, writes Elisabeth Easther.
Where is it?
On the banks of the Arrow River, in Otago, 21 minutes' drive from Queenstown or 270km from Dunedin.
Origin of name: Named for the River Arrow, which was called the Arrow because its junction point with Bush Creek resembles the outline of an arrowhead.
Population: 2445, it's one of the fastest-growing towns in New Zealand.
Town slogan: It used to be "Born of Gold" but was recently changed to "Where History Meets Nature".
Town mascot: The gold mining and everything to do with gold.
Finders keepers: You can still go gold panning in Arrowtown, and if you find some, you get to keep it.
Go for gold: The New Zealand Gold Panning Champs are held here, run by Otago Goldfields Heritage Trust. This event is very competitive and the winner goes to the Australasian champs.
Pretty as a picture: Arrowtown has four very distinct seasons and looks beautiful in all of them.
Famous local: Sir Michael Hill lives just out of town. Apparently he's utterly charming to have around the town and calls into the post office and dairy just like anyone else.
Best website: arrowtown.com.
Biggest business: Tourism, without a doubt. It's just so pretty and quaint with so many things to do.
Sources of pride: The main street, the gorgeous cottages, historic houses and the flaming deciduous trees.
Town fiestas: Arrowtown Autumn Festival is good old-fashioned fun, and the hill is constantly changing from one spectacular colour to another. With about 8000 people in town on the main day, the streets are packed with markets, the Arrow Miners Band with an average age of 80, and the Buckingham Belles cancan dancers. There's also the Motatapu Adventure Run, which is huge. The NZ Open, one of the largest golfing events happens here, and the Lake Hayes Show is 100 next year.
Best reason to stop: It's an opportunity to step back in time and, whoever you are, you'll find something to tickle your fancy: nature, wine, the outdoors or history, which never gets old.
Best activity for the kids: Take them gold panning. Or how about a walk around the river track? There are fantastic wee parks too.
Best park: Fire Engine Park has lots of little bits and pieces for all ages. It's right next to the fire station, and if your little ones are lucky, the engine might rush out with its bells, lights and whistles all going off. Alma Stevenson Park is also super and named for a wonderful woman who did a lot for the community.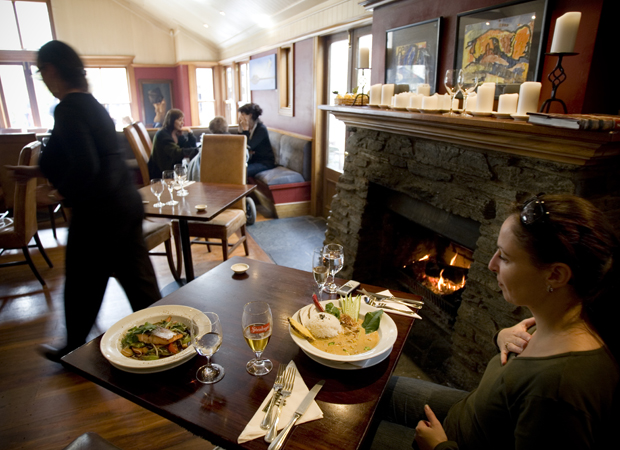 Head to Saffron Restaurant if you want to push the boat out. Photo / Dean Purcell
Best place for a drink: La Rumbla is amazing, they do a wide selection of beautiful cocktails and tapas, it's very chilled out. Or to meet the locals, go to the Fork and Tap for beer and pizza.
How about this? Go to the bowling club and have a game of bowls, then relax with the locals over a reasonably priced pint of beer.
Best food: La Rumbla or The Postmasters for more relaxed family dining. Or if you want to push the boat out, Saffron Restaurant is for you. The Stables is good for a relaxed night out, ditto Off Piste Pizza.
Best flat white: During the day go to Provisions — their sticky buns are amazing. Or Cafe Mondo — they do amazing gluten-free food.
Best bakery: You've not lived until you've had an Arrowtown Pie — they've been served to presidents and prime ministers.
Best shop: Ogle is full of quirky gifts and souvenirs. At The Jade & Opal Factory you can watch jewellery being made, which is fascinating.
Best museum: Lakes District Museum is great for kids and grown-ups too. The information centre is there too.
Art gallery: David John Gallery — do their art trail while you're at it.
Best cinema: Dorothy Browns has old-fashioned silk on the ceilings, an intermission to refill your glasses, blankets and big seats and pillows. Sigh.
Best walk: The Arrow River Trail is an easy 50 minutes and it will seem as if the city is a million miles away. Tobins Track is super, and at the top there are two seats you can rest on, with views right out to Frankton. Or how about Sawpit Gully's two- to three-hour loop? Find information on all these tracks and more here.
Best view: Tobins Track and Sawpit Gully provide fantastic views out over Millbrook and through to the Remarkables ski field; this is an amazing walk to do, no matter what time of year it is.
Best swim: The Arrow River in summer, there are lots of gorgeous holes. As soon as you get to the river track, just below town, you can see where the swimming spots are.
Best mountain biking: Ride to Gibbston and back, a three-hour return trip, although it'll take longer if you stop at a vineyard. Or take a trip to Macetown, six hours return. Every fitness level is catered for.
Best adventure: Jump in a 4WD and bump along to Macetown. Visit AJ Hackett's Bungy emporium or sample the three ski fields within half an hour's drive of each other. Or visit Queenstown for a jolly day.
Of course: Sir Michael Hill's championship golf course is amazing and visitors can play there by arrangement.
Best place to pull over: Lake Hayes, about five minutes away, is stunning. There's a beautiful lake view, perfect for a picnic and there's nothing like looking at the lake when it turns to glass, reflecting the world back at you.
Here for a short time? Go for a walk, relax and enjoy the mellow pace, don't just zip through at top speed.
Best-kept secret: Where the last of the gold is.
Wildlife: There are lots of birds in the wild, and you can get close to kiwi at the Kiwi Birdlife Park. Peregrine Winery at Gibbston has a special programme to protect the falcons.
Visitors say: If there be gold in them there hills — where is it?
Locals say: Mine your own business.
Thanks to Julie Hughes, fifth-generation Arrowtowner and head of Arrowtown Events for waving the Arrowtown flag.