There's no end of things to see and do in the 'white city', writes Elisabeth Easther.
Origin of name:
Translates as "muddy or discoloured waters", but don't let that put you off because the name actually springs from a Maori legend about two brothers vying for the heart and hand of a Waikato chief, and the story is about the washing that preceded the successful brother's courtship.
Population: 7555 (estimate).
Where is it: Formerly part of Franklin District, Waiuku is now the southernmost town in Auckland City. It's 40km southwest of Auckland and 12km north of the Waikato River mouth.
Getting there: Drop in on a drive up the Awhitu Peninsula or out to Karioitahi Beach.
Town slogan: Historic Town on the Sunset Coast or Living History - you choose.
Best local website: franklincountry.com.
Famous locals: Rugby World Cup-winning superstar Stephen Donald, Elsie Locke (peace activist and author), Stumpy Holmes (rally car driver) and Dame Nganeko Minhinnick (conservationist). Zinzan Brooke was also born in Waiuku.
Biggest industry: Glenbrook Steel Mill, farming and horticulture, too.
Festivals: Steel 'n' Wheels Festival, The Christmas lights and Santa Parade, The Steam and Vintage Country Festival. Glenbrook Vintage Rail does two Thomas the Tank Engine weekends each year.
Best reason to stop: It's pretty as a postcard and bursting with history.
Best place for kids: The Glenbrook Vintage Railway runs into Waiuku - take the 12km return trip, through rolling countryside and back in time. They run most weekends between Labour Weekend and Queen's Birthday Weekend.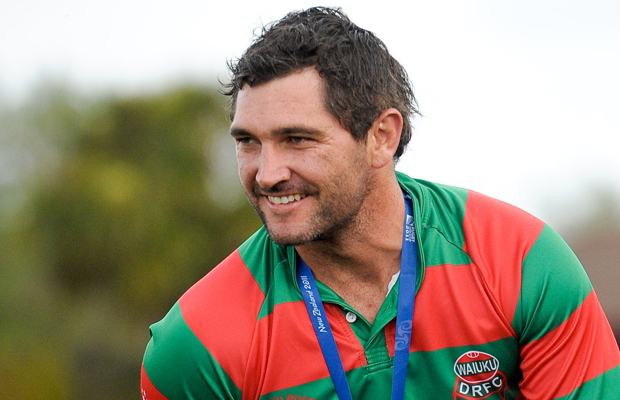 Rugby World Cup-winning superstar Stephen Donald hails from Waiuku. Photo / Herald on Sunday
Best place for a drink: The Kentish Hotel, built in 1851, holds one of the oldest pub licenses in the country.
Best food: Starboard Side at The Kentish Hotel; The Shires for family dining; Kinaree for Thai.
Best bakery: Upper Crust and Waiuku Bakery, next to the excellent Sushi Gallery. Petite Cakes does a nice line in cupcakes.
Hidden culinary secret: When they're not doing home kills ($60 for a sheep, very reasonable), the Waiuku Village Butchery does some excellent chorizo.
Best museum: Waiuku Museum and Pioneer Folk Park is filled with colonial items and sailing artefacts. Or stroll along the Heritage Trail, which includes Pollok Cottage (1890), The Creamery (1890s), the jail (1865). The Wesley Methodist Church, (1883) is a beauty, and across the road is the even older Anglican Church (1881).
Best art gallery: Hartmann House sells local crafts, honey and produce. The Pollok Co-Operative up the Awhitu Peninsula also does craft, preserves and produce, and there's a sculpture garden next door.
The local press: The Post newspaper celebrates 100 years next year.
Best walk: A path from Tamakae Reserve to Edgewater Parade is under construction and will be a beauty when it's done. The Lady Jane Franklin Botanic Reserve is good for a gander, lovely views from there. Further out there's Karioitahi Beach and Hamilton's Gap partway up the peninsula.
Best view: From the Signal Station at the top of the Awhitu Peninsula you get stunning views of the Tasman Sea, Manukau Harbour, Auckland City and the bar on which the HMS Orpheus ran aground 150 years ago.
Best place to pull over: The wayside stop before Pollok, where you'll be rewarded with a great view of the Tasman Sea. Graham's Beach is great too.
Best community facilities: Sandspit Reserve for swimming, there's a playground and gas barbecues, too. Things are similarly sorted at Graham's Beach.
Best swim: Waitangi Falls are lovely for a picnic and a paddle, but take care, those rocks can be slippery. The ocean at Karioitahi surf beach is amazing for an energetic immersion but take care, it can be very dangerous. Sandspit Beach in town is pleasant but tidal
Wildlife: The lower reaches of the harbour and Tamakae Reserve are bursting with bird life. Look for the native kuaka (or godwit), pied stilts and Australian white-faced herons. Go to Waipipi Bird Park for exotic avian encounters. Keep your eyes peeled for wild fallow deer near the Pollok Co-op.
Fancy this: The old scowmen used to call Waiuku the White City because the mist used to roll down and meet the crushed shells on the pavement, turning everything white.
Check this out: Book ahead and take a tour of the Glenbrook Steel Mill, it's rather fascinating.
But wait there's more: Try horse trekking, land yachting, paraponting, paragliding, fishing or surfing when you're in Waiuku. Or visit Waiuku State Forest, 1000ha of tracks, running paths and cycling and open to the public most of the year.
Make sure: You ride the Glenbrook Vintage Rail, open again for business at Labour Weekend.
Locals say: Go Beaver!
Visitors say: Who is this Beaver chap?
Thanks to Bill Deed, local historian and man about town, for being so frank.